Cryptocurrency Exchange
BitMart Exchange Review: Supported Currencies, Trading Fees, Deposit, Withdrawal & More
BitMart Exchange is a multi-cryptocurrency exchange, It has adopted an advanced multi-layer and multi-cluster system architecture to ensure the security, stability, and scalability of the system.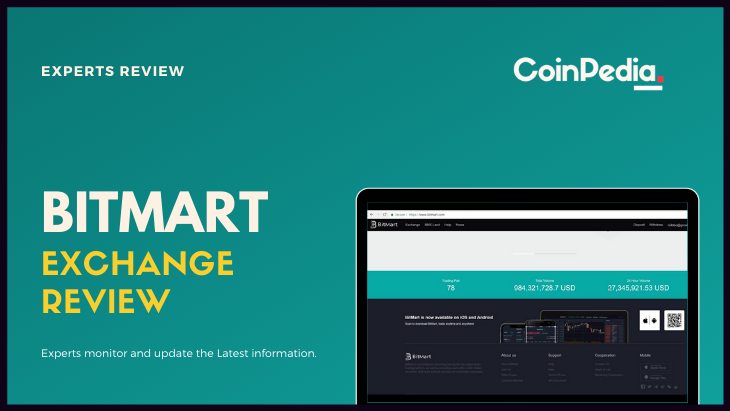 With a vast number of users from across the world, Bitcoin has been more popular than ever before. With so many global consumers, it is no surprise that bitcoin exchanges are growing quickly.
BitMart exchange came into existence in 2017. It is one of the top cryptocurrency exchanges by volume.
In this article, we will provide you with a full guide on the BitMart exchange review and look at things such as its functionality, prices, pros and cons, and much more. Let us look at this analysis of the BitMart Exchange in-depth now
Overview
| | |
| --- | --- |
| Legal Name | BitMart Exchange |
| Headquarters | New York |
| CEO | Sheldon X |
| Year Founded | 2017 |
| Exchange Type | Centralized |
| Trading Fees | Maker: 0.25%/ Taker: 0.25% |
| Deposit Methods | Credit Card and Cryptocurrency |
| Supported Cryptos | 50+ supported cryptocurrencies including Bitcoin (BTC), Bitcoin Cash (BCH), Ethereum (ETH), Litecoin (LTC), Ripple (XRP), and more |
| Fiat | US Dollar (USD), Euro (EUR) and more |
| Customer Service | Email |
| Trading Options | Spot Trading |
What is BitMart?
BitMart is a crypto trading platform created by cryptocurrency enthusiasts. The BitMart Foundation has offices all over the world but is based in the Cayman Islands. The network offers spot trading, OTC trading, futures contract trading, and other digital assets services.
The trading platform has been translated into 6 languages, including Russian and English. For convenience, the official Android, iOS, and Mac OS applications have also been developed.
BitMart Features
Payment methods: It accepts a wide range of payment options, you can purchase Bitcoin with a credit card, bank transfer, gift cards, Paypal, cash deposits, etc.
Fees: The deposits made are fully free of charge, while the withdrawal fees vary from coin to coin and are often tailored to blockchain conditions. The trading fees are 0.25% for both the makers and takers
Security: To increase the level of account security, two-step user authentication and a pin code for trading operations were added to the trading platform.
Customer Support: For all questions that arise, you can contact those support by email or on the official page in Telegram. Online chat on the platform has not yet been provided.
Mobile App: BitMart also offers its platform as a mobile application. Thus you can start trading crypto at BitMart on the go through your mobile device.
BitMart Fees and Limits
BitMart does not distinguish between takers and makers. Instead, they charge flat fees of 0.25% regardless of both of them. The trading fees are also decreased on the basis of the trading volume and the reserves of the BitMart native token, the BMX.
This exchange charges a withdrawal fee of 0.0005 BTC when you withdraw BTC. This fee is much smaller than the industry average. BitMart thus has a very attractive price in terms of both trading costs and withdrawal costs.
BitMart Supported Currencies
The BitMart Exchange supports over more than 50+ currencies. Some of the major ones include:
Bitcoin
Bitcoin Cash
Ethereum
Litecoin
Ripple
Bitcoin Gold
Stellar
Chainlink
Uniswap
XRP
TRON
BitMart Token
BitMart Token (BMX) is the native token for the BitMart exchange. It is an ERC20 token provided by BitMart. There is a cumulative capacity of 1 billion tokens in BMX. This ERC20 token can be used on the BitMart website to register for trading or transaction cost discounts.
BMX tokens can also be used to earn trading fee dividends via the BitMart Mission X Group Listing Market. The advantages of keeping BMX tokens are as follows:
Use BMX and you will earn a 25 % discount on trading rates.
The holder of the BMX can vote for listings
BitMart Mobile App
There is also a native mobile application offered by BitMart. Thus you can start trading crypto at BitMart on the go through your smartphone.
How to register on BitMart?
Navigate to Bitmart's official website, click on the "Get started" tab.
Provide a valid email address or phone number. Now set a strong password for the account.
Then thoroughly Read and agree to the terms and conditions of the platform.
Enter on the Registration button.
Next, you have to wait for the confirmation code, enter the data in a special field, thereby activating the account.
Once done with a verification, the user can start with trading.
How to Recover Bitmart's Password?
On the login page, enter your valid Bitmart email id.
Click on the forgot password.
If the account is registered with a given email id, you will receive a verification code or link.
Clicking on that link will redirect you to set a new password.
How to Buy a Bitmart Token?
Go to the BitMart homepage. Click "Buy Coins" to enter the interface.
Choose the coin you would like to buy. Click "NEXT".
Enter the amount you would like to buy. Click "Buy Now".
Enter your email address. Then click "Continue".
Confirm your purchase. Then click "Buy Now".
You can check order status by clicking "Track My Transaction" Option.
How to Sell a Bitmart Token?
Go to the BitMart homepage. Click "Sell Coins" to enter the interface.
Choose the coin you would like to buy. Click "NEXT".
Enter the amount you would like to buy. Click "Sell Now".
Enter your email address. Then click "Continue".
Confirm your purchase. Then click "Sell Now".
You can check order status by clicking "Track My Transaction" Option.
How to Deposit on Bitmart?
Login to your Bitmart account, navigate to the "Balance" tab.
Tap on "Deposit" on the upper right corner. For example, if you want to deposit Bitcoin, click on the deposit for BTC.
You will see a deposit address created by the system. You can use this deposit address to deposit BTC into your BitMart account.
How to Withdraw on Bitmart?
Login to your account, navigate to the 'Balance' tab.
Now a standard list of cryptocurrencies available for withdrawal will open.
Enter 'Withdraw' in the line with the currency to be withdrawn.
Enter the amount to be withdrawn and the address of receipt.
Bitmart token: (BMX).
Bitmart created its own token BMX based on the ERC20 standard, which can be used on this platform to access the new projects listed and get eligible for a discount on the trading or transaction fees charged. By using BMX to pay transaction fees, users can earn a 25% discount on trading rates.
Also, users can make use of various benefits associated with this native token, as they can also be used to earn trading fee dividends through the BitMart Mission X community Listing Market.
Referral Commissions and Other Services:
The Bitmart Affiliate Program:
Bitmart Affiliate Program gives you an opportunity to earn exciting rewards for each successful registration using your referral code. Refer your friends to join the Bitmart community and can get up to 70% commission fees.
Do you also want to be an affiliate? Here are the steps to participate.
If you still don't have a Bitmart account, download it from any of the available platforms.
Login:
If you're using a mobile app, login and enter "Invite Friends" on the app.
If you're using a browser, login and enter "Earn 70% commission".
Next step:
Mobile app users click "Invite now".
If using a browser, tap on "My sharing method" section, here you can copy the invite link and share it to your friends.
By clicking onto the invite link, your friends can sign up for a Bitmart account.
After completing all the above steps, you will start earning rewards or commissions from your friend's trading fees. The more friends you invite, the more commission you earn.
Conclusion:
To conclude our Bitmart exchange review 2021, it is one of the emerging cryptocurrency trading platforms with new updates every day. As its interface is intuitive to use, users can take advantage of its latest features.
Recent Updates
1.Access to Advanced Fiat-crypto transaction.
To provide a user-friendly trading experience, Bitmart offers simple and easy Fiat-crypto solutions to its users. In addition to this Bitmart is now partnered with SafeMoon, which serves real-time Fiat-to-Crypto transactions with user-friendly channels supporting various debit or credit cards.
2. Dragonbite to introduce token $BITE on Bitmart.
Recently, Dragonbite announced an important strategic collaboration with Bitmart. Under a signed project, Dragonbite promises to provide liquidity to the leading trading platform.
Dragonbite's dApp will give access to customers to convert reward points including vouchers, gift cards, and coupons to BITE, this token further allows customers to purchase cryptocurrencies.
3. Bitmart exchange listed SafeMoon on their digital asset platform.
SafeMoon protocol is a DeFi token that performs a manual burn strategy with burns controlled by the team and promoted depending on achievements.
Sheldon Xia, Founder and CEO at BitMart, said that:
"SafeMoon is a DeFi project with a magnificent mission and roadmap. We are confident that the SafeMoon model and protocol would be a great addition to Bitmart Exchange as well as the whole Defi market."
Bitmart FAQ:
Q1. Is Bitmart safe and secure?
Bitmart is one of the trustworthy cryptocurrency exchange platforms and uses significant security measures to protect users' private information. There have been no recorded hacks, security breaches since its establishment in 2017.
Q2. Is Account verification necessary in Bitmart?
Yes, Account verification is necessary for any user in order to get access to the full functionality of Bitmart.
Q3. How to reach out if I have further questions during the trading process?
Bitmart customer services will be available 24*7 to help to resolve queries. You can subscribe to their telegram channel to send your questions. Or you are free to submit your issue ticket here.
Q4. Does Bitmart give any commission for referring friends?
Yes, Bitmart gives you a chance to win attractive commissions up to 70% for each successful registration using your referral Id.
Q5. How many trading pairs can I trade on Bitmart?
At present, Bitmart supports over 300+ trading pairs.
Bitmart Ratings:
Currency Support

Online Reputation

Trading and transaction fees

Customer Support:
Pros
Discount on trading fees via BMX token.

Hassle free interface to its users.

It supports staking, lending and futures contracts.
Cons
Comparatively it supports less number of Cryptocurrencies.
Was this writing helpful?
No
Yes