Crypto Tracking Tools
CryptFolio Portfolio Tracking
CryptFolio is a powerful web-based platform for managing and tracking more than 2,400 currencies, cryptocurrencies and Ethereum tokens. The application is a single platform to track and manage all of your cryptocurrency assets – including your exchange wallets, cryptocurrency addresses, and mining pool accounts.
Using CryptFolio, you are able to track your portfolio, prices, and the markets of all cryptocurrencies with a single app. Easy-to-understand charts and reports help you to understand the performance of your portfolio. It can also help you execute your preferred investment or trading strategy. Also, just keep an eye on the value of your portfolio, if you're a long time HODLer.
Adding your accounts
To add accounts to your portfolio, you can either create an API key and secret for each wallet that you share with the application. Also, you can provide CryptFolio with your public currency addresses for each cryptocurrency that you hold. In the background, CryptFolio will then automatically download the balances and transactions for each of your accounts, and put them together into your charts and reports.
Similarly, when you add an Ethereum address to your portfolio, the platform will also download the historical balances and transactions for all of the supported Ethereum tokens associated with that address.
Also Read About: Cryptotrackr App Review | Delta Crypto Portfolio Tracker Review
As of this article, CryptFolio supports 21 different types of wallets, including Binance, Bitstamp, Coinbase, GDAX, NiceHash, Bitminter, external API, and many others. You can add as many of these different accounts into your portfolio as you wish. And you can create multiple portfolios – for example, one for your trading, one for family, and one for your personal holdings.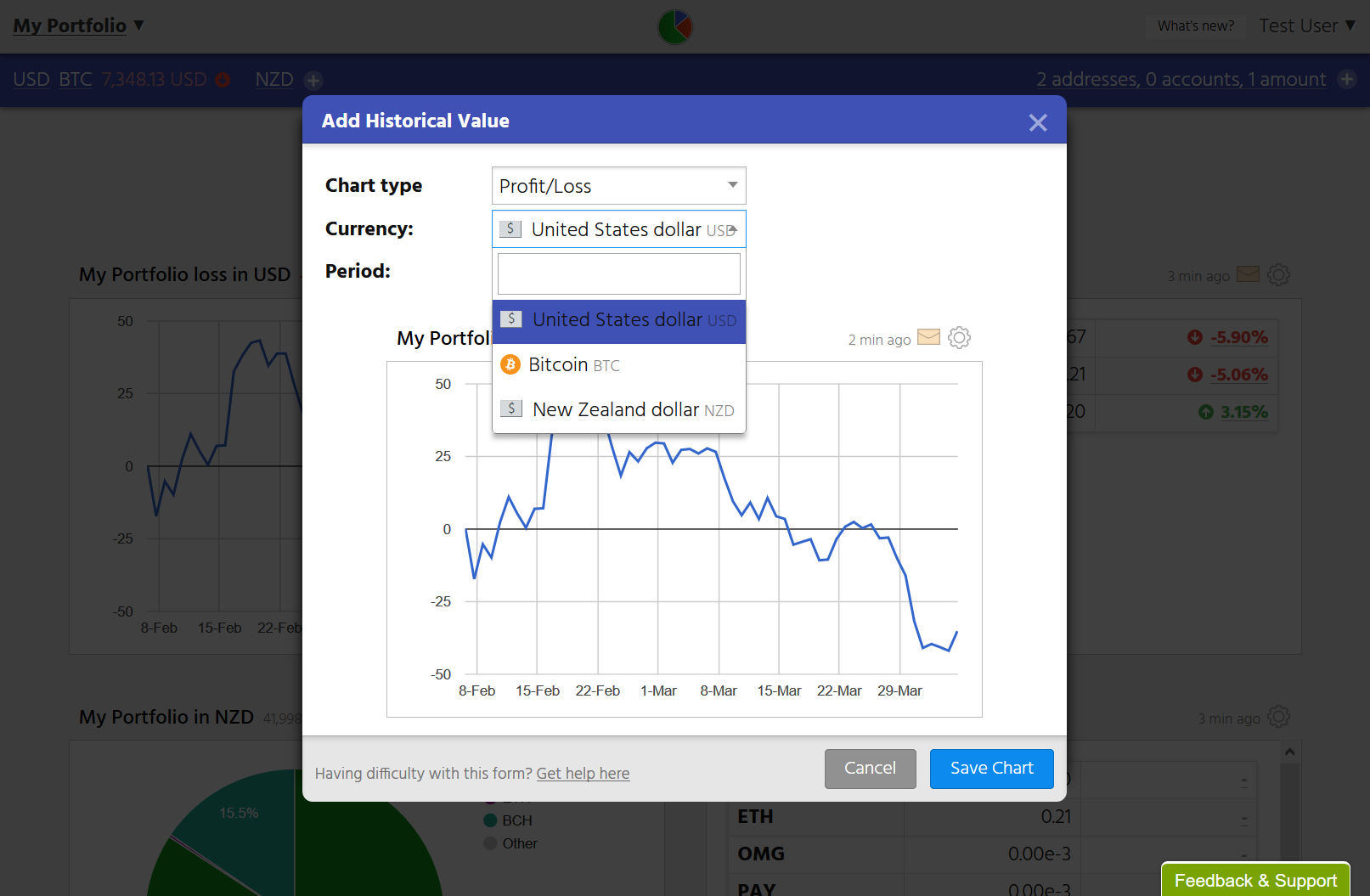 Charts and notifications
All of your CryptFolio charts can be configured to different currencies, periods, resolutions, and layouts. Traders and experienced users can add technical indicators to any chart on their portfolio. Thus helping you to analyse cryptocurrency markets and the performance of your portfolio.
With any of the accounts in your portfolio, you can view the historical transactions associated with that account. You can download them as a CSV file for record-keeping purposes. Else, also to upload them into other financial software such as Xero, Quicken or Excel.
You can also set up automated notifications on the site. CryptFolio can send you the notifications that you care about. Such as when exchange rates or your portfolio value changes significantly. So that you can stay one step ahead of the market without having to log into your portfolio app every hour of every day.
Accessibility
The CryptFolio platform is fully available on desktop, tablet, and mobile. The company is committed to accessibility and are actively working to increase the accessibility and usability of their website, and in doing so adhere to many of the available standards and guidelines on accessibility.
Security
CryptFolio takes data security very seriously, and their five data security principles enshrine their commitment to security. Security is built into the organisation, application and infrastructure.
The irreversibility of cryptocurrency means that you must always be very careful when sharing your data with any third party. CryptFolio insists that all of the credentials, addresses, and API keys. Therefore, that you use in your portfolio must always be read-only. Therefore, cannot ever be used to perform transactions with your funds.
CryptFolio takes this commitment to the security of your funds one step further by refusing to ever support services or applications. However,which are inherently insecure, could not provide read-only credentials, or could expose any user private information.
You can also sign up anonymously, wherever possible and permitted by local and international law, and the platform maintains a guide on how to use CryptFolio anonymously.
Tax reporting
New in 2018, CryptFolio now also offers tools and services to help you with completing tax reporting requirements, such as your income tax, GST, VAT, IR3, IR4 and other returns.
Many states consider cryptocurrency to be a kind of inventory asset, requiring the use of inventory reporting. Existing tools are not available with the high resolution or diversity common in cryptocurrency trading. CryptFolio is built from the ground up to support the specific needs of cryptocurrency inventory.
First-in first-out (FIFO) reports can calculate your purchases, sales, and your realised and unrealised gains for any period and currency. These tax reporting tools are designed to be in use by either the experienced trader, or in collaboration with your own accountant and their existing processes.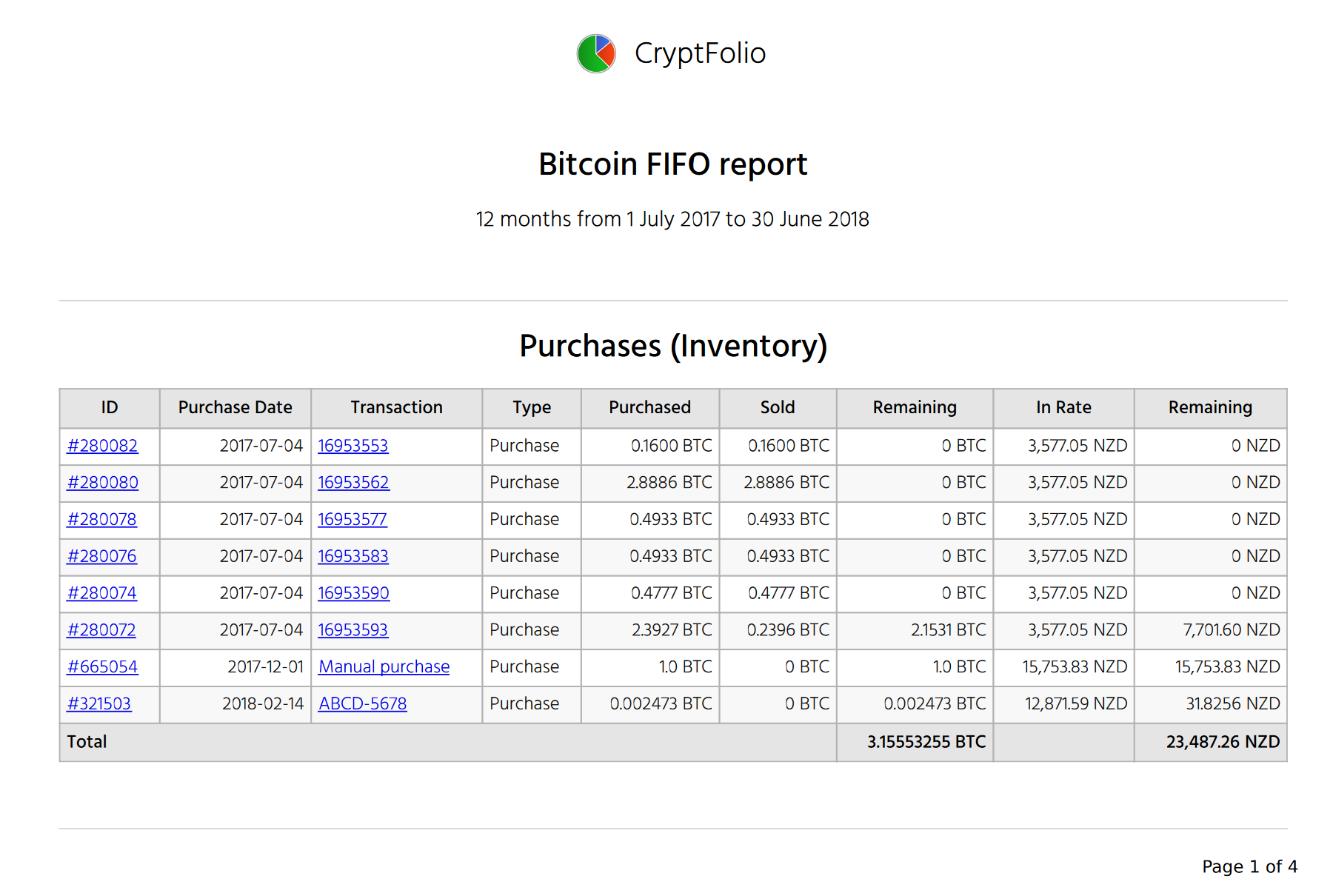 Signing up
Signing up to CryptFolio is a quick and easy process, and free. The company offers free, unlimited trial accounts, with additional features and support provided with active subscriptions starting at $6/month. Payments can be accepted by both credit card, or any number of cryptocurrencies, including Litecoin, Dash, Dogecoin and Ethereum.
After selecting your preferred method of signing in, the application guides you through the process of adding your first accounts, and configuring your first notifications. This is a three-step process and wizards help you along every step of the way.
Within a few minutes you will have set up your portfolio, and you'll immediately be able to start looking at your portfolio charts. And gain insight into the mood and behavior of the cryptocurrency markets.
CryptFolio is a powerful platform that is continually being improved, and their engineers frequently add features suggested by the CryptFolio community.
Company Information: Website | Twitter | Facebook
Browse the ultimate list of crypto portfolio tracking tools. Got a tracking tool to list? Reach us at [email protected]
Was this writing helpful?
No Yes