Cryptocurrency Exchange
WAVES EXCHANGE REVIEW – 2020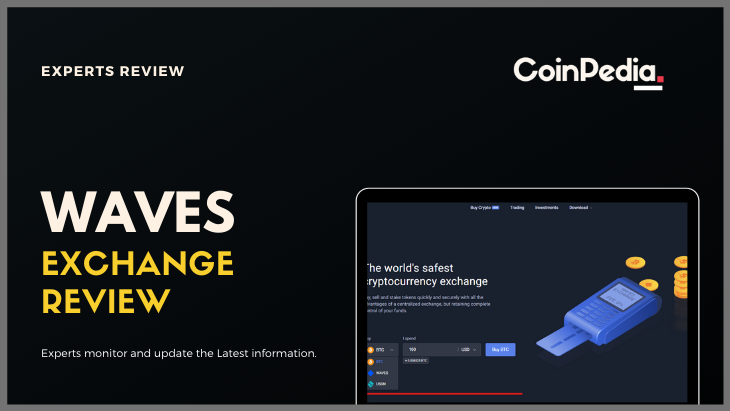 If you're an expert or Just started with Cryptocurrency (or thinking to), finding a good and reliable cryptocurrency exchange platform is troublesome. Coinpedia lists out all the standard crypto exchanges in the space and presents a detailed review and this review is about Waves Exchange. This review will represent Origin, Pros and Cons, Fees, Supported coins and the other authentic details you can rely on.
Waves Exchange Introduction
Started in the year 2017 by Sasha Ivanov, Waves Dex was a Decentralized exchange system, the exchange gained good traction of 2 years and in Dec 2019 it was changed to be a Hybrid Crypto exchange platform.
The Hybrid nature of this exchange is about being both Decentralized for security and Centralized with advanced features of a Standard Crypto exchange. The platform also allows users to Transfer, Stake, Trade and much more.
Waves endows a unique experience to its customers by rendering modified features relative from a conventional crypto exchange. What sets it apart is, it is erected on its own blockchain and aims to provide more than a decentralized network like fast and Secure trading, Staking options, API's. Low cost trading and a Mobile app.
Along with enabling Fiat currencies, Waves renders BTC, ETH, XRP ,WAVES and more than 30,000. Being a decentralized exchange, Waves evades any national laws and regulations that might be applied on cryptocurrency exchanges.
You can easily get hold of details on the team behind the exchange, this reflects the willingness of the platform to maintain transparency.
Pros and Cons
Pros
Low Trading fees
Hybrid structure for secure and standard exchange process
Multiple assets to trade with
User friendly access with compliance support
Card payment option
Cons
Fiat currency can only be deposited, no option to withdraw in fiat mode
High markup on Card payments
Volumes on some coins is relatively low
A lot of tokens involved
LATEST UPDATES
Decentralized exchange (DEX) Waves DEX shut down to resume operations as a hybrid exchange
Now you can buy BTC using a card right from your wallet on Waves Exchange.
Client's update 1.3.13 released!
They have added the referral statistic on 'Staking' page. Now you can track the number of referrals.
You can find the video tutorial about buying and staking $USDN on 'Staking' page.
Small interface updates and efficiency improvements.
you can get 'passive income' with Waves Exchange. You can buy and stake USDN to earn 10% annually from your funds!
Waves Exchange Rolls Out Covid-19 Prediction Market
FEES AND ACCEPTED PAYMENTS
One of the most commendable features of Waves platform is low transaction fees and latency. The exchange levies a negligible and uniform commission on each order giving it a competitive edge over the other exchanges.
Trading is held on personal Waves Client wallets. This gives the users a gateway from those hefty deposit and withdrawal fees which you could be charged on other crypto exchanges. The traders safety of their digital assets is also maintained as the digital assets are stored in their personal wallets.
Trading Fee
0.003 Waves for Asset/Asset pair (or equivalent in USDN, BTC, ETH, USDT, LTC, ZEC, BCH, BSV, DASH, XMR and WEST.),
0.007 Waves for Asset/Smart-asset pair (or equivalent in USDN, BTC, ETH, USDT, LTC, ZEC, BCH, BSV, DASH, XMR and WEST.),
0.011 Waves for Smart-asset/Smart-asset pair (or equivalent in USDN, BTC, ETH, USDT, LTC, ZEC, BCH, BSV, DASH, XMR and WEST.).
DEPOSIT AND WITHDRAWALS
If you are a user of Waves exchange, you will be required to download the Waves application in order to conduct withdrawals and deposits.
You can send and receive cryptocurrency in your wallet from a Waves account or from an External source, such as wallets of other vendors.
You can receive crypto assets through the non- Wave user, by selecting the asset you wish to receive, and then you will be required to copy the address or the generated QR code. While sending crypto assets to a Non- waves Exchange may lead to charging you 0.01 Waves transaction fees.
Waves exchange even allows you to use sponsored fees to pay for outgoing transactions, that means that you can change the default Waves fee to another sponsored token.
SUPPORTED COINS
The waves platform supports fiat currencies including USD, EUR and TRY (Turkish Lira), furnishing a platform which is friendly for amateur traders. You can even spot the popular cryptocurrencies for trading on the platform, such as BTC, ETH, LTC, ZEC, BCH, BSV, DASH and XMR.
Waves exhibits a 24-hour trading volume of $2,185,567.
ACCOUNT SET UP
For account creation you can either use Waves exchange App or downloadable standalone versions for Windows, Mac or Linux.
Before signing up as a trader in the Waves community, you should be aware of few points. Your keys are not kept private through .dat file in the Waves exchange wallet, instead there is a SEED which grants access to them. SEED is a string of 15 English words and basically a passphrase to your funds- you could loose access to your account if you lose your SEED.
How to Register in Waves exchange
STEP1 Visit the official website of Waves Exchange
STE2- Click on "Get Started" tab to initiate the account creation process.
STEP3- You will be directed to a page where you will observe two fields- "Create Password" and "Confirm Password". Fill in a strong password and click on the "Continue" tab.
STEP4- Now you will be required to choose your Avatar. Select your account name and click "Continue" to start using Waves exchange.
Backing up SEED Phrase
It is highly recommended to generate a back up copy of the SEED phrase, as there is no other way of account restoration in case of loosing of the phrase.
Click on the account avatar and go to Settings > Security:
Locate the SEED Phrase field, and click "Show". You will be required to input the account password and SEED phrase will be displayed.
IS THE EXCHANGE SAFE?
Waves is one of the most secure platforms out there, as the servers of this decentralized exchange are spread out across the globe. This "Spread out servers" pose a great advantage as this leads to lower risk of server downtime and also prove that decentralised exchange is immune to hacking or attacks as, if even one server is taken down there is no difference in the network of servers.
The best part about waves platform is, your assets are present in your personal wallets and cannot be accessed by anyone but you.
So, even if the exchange gets hacked, nobody will be able to access your assets, although in a conventional exchange you wouldn't enjoy this privilege.
Your assets are in great danger in a conventional crypto exchange at times of security breach. Even when you register yourself, you are not required to give in your personal details but through a SEED phrase your security is ensured.
The SEED is by default a string of 15 English words and basically your passphrase to your funds – if you lose your SEED, you lose access to your account.
Well, you must be wondering, does Waves exchange require you to have a password when you are granted a SEED phrase?
The password has two purposes:
It encrypts the SEED locally so the SEED is never sent to the network unprotected.
Your account will be cached so you don't have to import the SEED from new every time you want to log in. The password secures that only you can log into your account which is stored in the local storage. If you happen to lose your password, you can simply delete the account from the local storage, restore account by using your SEED.
Waves even provides a detailed guide regarding security measures to be employed by the users to ensure a secure experience.
CUSTOMER SUPPORT AND REVIEWS
The Waves users were impressed by the speed of the exchange. The UI can be compared with that of popular exchanges and mainstream trading platforms.
The exchange consists of all the top trading tools and charting features which are expected by professionals and expert traders, along with being equally friendly for amateur traders and users.
Even the layout is easily understandable where one can study recent trades, volumes, trading pairs and list of tokens.
A candlestick chart is with adjustable scale and volume bars, with depth chart and mid- spread price beneath.
Customer support is just fine at Waves exchange, and can be reached via email or live chat. You can even contact them through social media platforms like Facebook, Reddit, Twitter and Telegram. The customer executive includes an active community of crypto enthusiasts who posts comprehensive and helpful information and attend to variety of questions and queries.
Waves Mobile Application
Waves exchange platform is fully compatible with mobile devices through web interface. All the features can be accessed in the mobile version and the interface looks and feels just the same. There is also a downloadable Waves wallet application that can be used to store your Waves cryptocurrency and other Cryptocurrencies.
Conclusion
Waves exchange is an impressive endeavour, and is in process to become a crucial part of the entire cryptocurrency universe. Despite being in an early stage as the Hybrid model , the fee model is very competitive. We can also trust the platform blindly with our assets due to its decentralized nature. That being said, the markup for credit card payments is simply unacceptable.
Was this writing helpful?
No
Yes