Cryptocurrency Exchange
RippleFox Exchange Review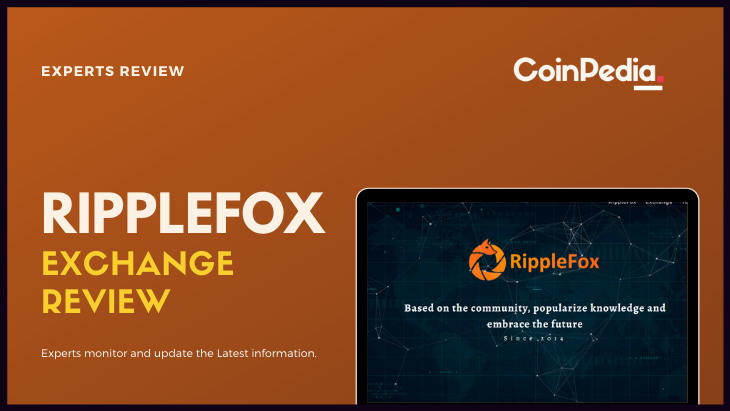 Our Ripplefox review will help you understand Ripple exchange, Ripple trading platform, how to trade ripple, security and its fees. The review will also highlight Do's and Dont's for a ripple trader.
RippleFox Exchange Review
QUICK NAVIGATION:
About RippleFox
RippleFox is a gateway that was launched in 2014. It uses ripple as the main currency for exchange. Ripple can be exchanged against both flat and other cryptocurrency. RippleFox also use the stellar network to make payments.
Features of RippleFox
RippleFox is a platform that forms a bridge between banks and end customer. It is a financial solution that enables banks to process the transactions at a faster rate by using real-time transfers on international platforms. Banks are using the technology of Ripple to open new revenues thus delivering high customer experience.
Ripple was established in 2012 by Chris Larsen and Jed McCaleb at San Francisco. Currently, a team of over 150 professionals is working for this platform. Ripple offers a universal payment infrastructure that is fast and also scalable.
Talking about the timelines, flat or traditional currency takes almost 3-4 days for completing a transaction. Bitcoin takes approximately 1+ mins and Ethereum takes 2+ mins. When it comes to Ripple, the transaction is as fast as 4 secs, which is an exceptional rate. Ripple can carry out as many as 1000 transactions per sec.
Ripple works on the concept of Blockchain technology. It is open-source and accessible to all. The platform is extremely stable since inception hence it is a good and reliable source and can be used for institutional and enterprises.
The most important feature of Ripple is liquidity. Ripple provides liquidity to both banks and payment providers. Through Ripple, payment providers can expand their reach into new international markets. By doing so, they lower the exchange rate thus; the payments can be settled at a faster rate.
Using Ripple as the platform, banks can maintain their liquidity by making real-time transactions.
Thus, RippleFox relies on Ripple for trading and exchange.
Supported coins: XRP
You can trade XRP and CNY using this Ripplefox trade.
How to use a Ripple account?
To make a new account on Ripple, a Ripple trader can log on to www.ripplefox.com. Go to the Tools option and select a Ripple account from the drop-down menu.
Enter the Ripple Address or name and raise the concerned query. The Ripple trader can also check the ripple balance before initiating a trade or exchange.
How to use a stellar account?
To make a stellar account, a Ripple trader can click on the tools option and select the Stellar account from the drop-down. It is directed to a new window, a trader can enter the stellar account address and generate the query. The account balance is also updated in the same window.
Ripple Trading platform
The Ripplefox trading platform is in its simplest form. There are no fancy charts, trading pair lists, etc. This makes it easy for new crypto investors, while more experienced traders will feel something missing.
Understanding the Ripple market
Click on tools and select the Ripple market from the drop-down list. RippleFox collects the data from the top most gateways available for crypto. It also shows the balance report for the various currencies such as Euro (EUR), US Dollar (USD), Yen (JPY), Bitcoin (BTC) and Korean Won (KRW). The deposit for CNY is free but the withdrawal fee is 0.3%.
There are graphical tools for each of the crypto and traditional currency. It shows the market fluctuations date for every 24 hours slab, thus helping the users with their investment plans.
Many platforms such as Bitstamp, MrRipple, Gate Hub, Ripple China, Tokyo JPY, etc use Ripple as a token. Ripplefox acts as a gateway and shows the address of the following currency with its current market value and trends.
Ripplefox Fees
Ripple Trading platform fees-
Ripplefox does not charge separate Maker / Taker fees. Instead, it follows the concept of the Flat fee. The fees are 0.20% for all trade transactions.
Withdrawal Fees-
Unlike other exchanges, Ripplefox charges percentage on withdrawal. Fees are 0.20% per withdrawal.
Is it safe to use Ripplefox.com?
Ripplefox.com uses two-factor authentication (2FA) to protect your account. So users have to verify that they are the account holder before they can log in. 2FA means you get extra security against any hacking attempts. It also helps in decreasing the risk of identity theft.
Thus, RippleFox is a fast and secure platform for the cryptocurrency. RippleFox has a community of experts too. A user can inquire or look for suggestions. Another interesting feature of RippleFox is the tutorials uploaded on the website for the user's convenience.
Latest Update
As per a live tracker report, there was a hack attempt on 19 May 2019. 4,000,000 XLM (561,988 USD) transferred from RippleFox to unknown wallet. The exchange has not confirmed on this news yet.
Also read: Binance Exchange Review | Bitpanda Review | BitBay Market.
What is your opinion on this Ripplefox review? Do share your thoughts on our Twitter and Facebook pages.
Was this writing helpful?
No
Yes