Cryptocurrency Exchange
eToroX Crypto Exchange: Complete Review of a Secure Trading Platform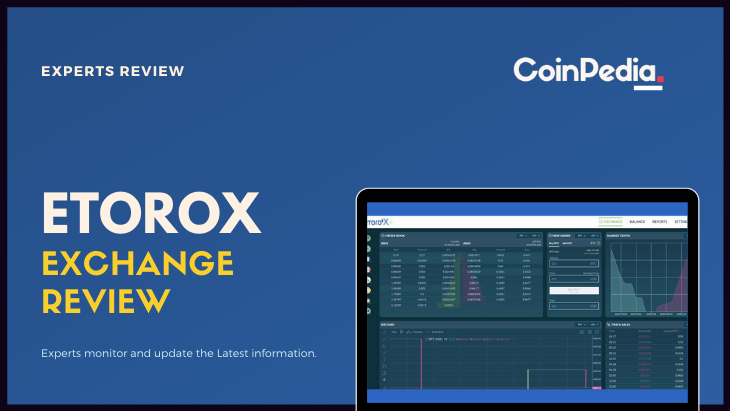 Overview
Legal Name
eToroX Exchange
Headquarters
Limassol, Cyprus
CEO
Yoni Assia
Year Founded
2018
Exchange Type
Centralized
Trading Fees
Maker: 0.1%-0.03%/
Taker: 0.24%-0.12%
Deposit Methods
Credit Card (Visa, MasterCard, Maestro), PayPal, Neteller, and Skrill.
Supported Cryptos
Bitcoin, Ethereum, Ripple, Bitcoin Cash, Litecoin, Stellar
Fiat
United States Dollar (USD), Euro (EUR)
Customer Service
Email, Phone
Trading Options
Spot Trading, Margin Trading
The evolving world of cryptocurrencies is giving rise to a number of cryptocurrency exchanges being established around the globe. One such exchange which is very popular and on the verge of growth is eToroX.
eToroX is a regulated cryptocurrency exchange that supplies a variety of coins for trading.
In this eToroX review, we will be looking at everything you need to know about the exchange. We will consider its key features, fees, registration, trading, and much more. Let us look into this review in detail now,
What is eToroX?
etoroX is an advanced, crypto-only exchange that currently supports stablecoins instead of fiat currencies for most of its trading pairs. eToro originally started out as RetailFX and was founded in Tel Aviv, Israel in 2006 by brothers Yoni and Ronen Assia. it got its due licensing and regulatory nod in Gibraltar in April 2019.
eToro crypto exchange operates as a global digital assets and cryptocurrency company with its coverage extending to more than 100 countries. The company has offices in the UK, Australia, Cyprus, and China. eToroX continues to grow and has raised over $150m since 2007 across a number of different fundraising rounds
eToroX Services
eToro wallet: The eToro wallet is available for iOS and Android and it allows the following features:

Transfer of crypto assets from the eToro trading platform.
For crypto assets to be sent and received from other wallets.
For crypto assets to be converted into other crypto assets.

eToroX exchange: The eToro exchange is a regulated and licensed cryptocurrency only exchange. In order to use the exchange, you will need a verified eToro account -this can be done through eToroX allows you to trade different cryptocurrencies and eToro stable coins.
eToroX Fees and Limits
eToro Trading works on a maker-taker model. Makers, people who add limit orders to the order book are charged with a fee between 0.1%-0.03% depending on their order size.
Takers, people who fulfill existing orders from the order book are charged with etoro fees between 0.24%-0.12% depending on the order size.
There are no charges on deposits to eToroX. Withdrawals have a fee that differs depending on which coins you're withdrawing.
eToroX Supported Currencies
eToroX supports the following cryptocurrencies:
Bitcoin Cash
Litecoin
Stellar
It also has a number of stable coins pegged to major currencies such as the USD and EUR as well as to gold and silver. These are:
eToroX Mobile App
eToroX provides a native mobile app that isavailable on both Google Play and the iStore, free of charge. The app allows you to trade, access your wallet, fund your account, receive notifications, and check your transaction history.
How to register on eToroX?
Step 1: Head to the official site and click on "Sign Up", from here you will be required to enter your email address, password, and country of residence, and agree to the terms and conditions privacy policy.
Step 2: An email will be sent to your address, and after clicking the link in the confirmation email you will be prompted to etero sign in to your account
Step 3: You will also be prompted to complete your account verification from the main exchange dashboard. To commence verification, open the "settings" page and click on the "start verification" button.
Step 4: You can begin the process by verifying your phone number and moving on to fully confirm your account which involves uploading all the necessary documentation.
How to recover the eToroX password?
In certain cases, to recover the eToroX password, Click on the "Forgot Password" option at the right bottom side of the screen. Then enter your personal information and user id after which you can reset your password.
How to deposit on eToroX?
Step 1: Log in to your account dashboard on eToroX
Step 2: To access your crypto wallet, navigate to your account dashboard
Step 3: Access your balance and click on the symbol of the crypto you desire to deposit.
Step 4: Once this is done, the wallet address will be displayed, and ready to be copied.
Step 5: Copy this address and enter the same in the recipient column on the platform you are using to fund your eToroX account.
Step 6: Once you click 'submit', expect to see your new balance reflect soon.
How to withdraw on eToroX?
Step 1: Log in to your account dashboard on eToroX
Step 2: On the top right corner of your account dashboard, click on 'balance'
Step 3: Click on the symbol of the crypto you are withdrawing. The pop-up will appear, and here, select 'withdraw'.
Step 4: Enter the amount you are withdrawing in the column provided. Go to the withdrawal recipient ID and paste the wallet address
Step 5: You will be prompted to provide a 2FA code- this can either be a Google Authentication Code or a code sent to your mobile device. Enter the 2FA code and submit.
Step 6: Your destination wallet will be updated with the amount withdrawn.
How to buy cryptocurrencies on eToroX?
Step 1: Log in to your eToroX account
Step 2: Select the digital asset you wish to buy. When a pop-up menu appears, click "Buy".
Step 3: Input the amount you wish to buy.
Step 4: To complete the purchase, enter your credit card details on the Simplex interface that appears. Currently, you can only use GBP or EUR for the purchase.
Step 5: Check that the transaction details are correct and then hit "Buy"
How to sell cryptocurrencies on eToroX?
Step 1: Log in to your eToroX account
Step 2: Choose the desired assets from the lists provided which you want to sell. Once the popup appears then click "Sell".
Step 3: Check out the details and input the amount you want to sell.
Step 4: Select the wallet you are selling from and enter the details.
Step 5: Cross-Check and review that the transaction details are correct and then click "Sell".
eToroX Pros and Cons
Pros
Fully regulated exchange
Comprehensive Security Protocols
Transparent Trading and Wallet Fees
Wide Range of Fiat Pegged Assets
It provides unique tokens
Cons
Limited range of crypto assets to trade
No support for USD in credit card fiat purchases
Email-based customer support, no live chat
The use of a third-party service provider for payment processing increases transaction fees.
Conclusion
eToroX includes many of the features expected of a high-level crypto exchange such as an intuitive user interface, comprehensive charting tools, and a mobile app. As per the eToro review, the exchange is supported by an established and innovative team.
eToroX is certified as a DLT provider by the Gibraltar Financial Services Commission and protects the integrity of its service through enforcing stringent KYC verification for all its users. As a result, the platform will suit anyone coming from a trading background who is used to a certain level of trust and guarantees.
Thus eToroX is a good choice for anyone looking for a mix of convenience, security, and transparency.
Recent Updates
On Feb 03, 2020, eToroX Adds Support For Ethereum Classic (ETC)
On May 04, 2020, A Professional New Look and Feel for eToroX Exchange was launched.
On June 05, 2020, eToroX announced ONT now available on the exchange.
On July 04, 2020, The personal profile on eToroX was upgraded to make the interface clearer and easier to use.
Was this writing helpful?
No
Yes