Cryptocurrency Exchange
LBank.info Exchange Review 2019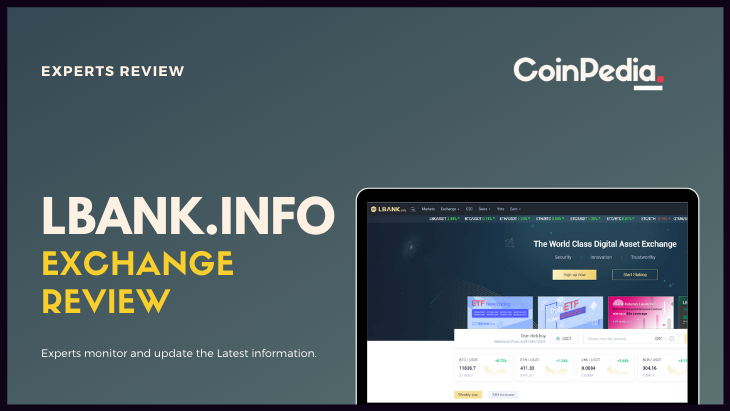 There is a wide range of cryptocurrency exchange in the market. Which one to choose is a big question. This LBank review will help you understand LBank exchange platform.
LBank Review –
About LBank.info
LBank Trading
How to deposit and withdraw coins on LBank?
LBank Trading Fees
LBank Security
Latest Updates and Announcements
Final verdict
About LBank.info
LBank.info cryptocurrency exchange platform specializes in managing digital asset trading. The company came into existence in October 2016 and has fair growth rate.
At present, LBank offers such as BTC to BTC, ETH, ZEC, QTUM, VEN's digital asset exchange service, and the currency can be exchanged for continuous increase. So, let us look in the detail at the kind of services and products of the platform.
At the time of writing this review, LBank.info is ranked 12th by trading volume on Coinmarketcap.
LBank Trade
There are lot of cryptocurrencies on the platform. The platform manages the US dollar, Euro, Chinese Yen and then all the other powerful currencies and accepts bank transfers. The cryptocurrencies includes Bitcoin, Litecoin, Qtum, Bitcoin Cash, Zcash, NEO, Ethereum, Ethereum Classic, and some less popular coins such as Nebulas, VeChain, Bodhi, YoYow.. LBank allowing its user to trade anonymously if they want to trade one cryptocurrency with another one.
How to deposit and withdraw coins?
Deposit (Take Bitcoin as the example)
Create new account by signup.
Once you Login Click on "My Account" and select "Bitcoin- Deposit" to enter the deposit page.
Choose the token you want to deposit and click "agree".
Copy or scan the code to your own BTC wallet. Subsequently, use your personal wallet to transfer the asset to the address.
Withdrawal
After completing verification process you are eligible for withdrawal:
Click on "My Account" and select "Bitcoin- Withdraw" to enter the Withdrawal page.
Select existing or click to add the address and the withdraw amount, then select the network fee which is available in 4 grades currently.
The higher fee means the faster transfer. verify the content of your withdrawal verification and finally click the button "Confirm withdrawal" to submit the application successfully.
Please wait for the financial review after submitting. Eventually, after the approval, it will be confirmed by the blocks and arrived automatically.
LBank.info Fees
As compare to other cryptocurrency exchanges, this platform charges comparatively less. All the deposits are free. But withdrawal fees varies from crypto to crypto. The lBank exchange trading fee is 0.1% per trade , whereas similarly other cryptocurrency exchanges charges between 0.20% to 0.25%.

LBank.info Security

The exchange implements latest security features like 'bind the e-mail' and 'Bind your telephone' . Moreover, it has two main levels of verification namely, C1 and C2 real name authentication.
– C1 Authentication: This feature is for prepay and transaction processes. Indeed, with the C1 Authentication process, you can complete prepayment and trading operations.
– C2 Authentication: This feature is to improve the quality of cash-out operations. In this context, the account is limited to cash-out operations. This feature comes after C1 verification.
Latest Updates and Announcements :
Sep 9, 2019: LBank will shift to BNB main network
Sep 3, 2019: LBank will adjust transaction fees and "invitation of rebates"
Aug 31, 2019: LBank lower the USDT coin handling fee
Jun, 2019:

LBank Was the Top Crypto-to-Crypto Exchange in July with a 42% rise in trades in June 2019

Feb 11, 2019: BXA Trading King 」Final Ranking and Rewarding
Feb 11, 2019: LBank is about to open a pre-sale event for the TUDA Coin (TUDA)
Final Verdict
Overall, this cryptocurrency exchange is growing and gaining the interest of many clients in the Asian markets. Moreover, the lBank trading fees is very low and competitive and also, it has wide variety of cryptocurrencies and markets to trade in. However, the exchange is not so friendly for English speaking traders as support is very limited
Moreover, this exchange supports fiat currencies, anonymous trading and appears to have sufficient liquidity on most pairs.
Also read the related information: Bitquick Review| Coinsuper Review| Zipmex Fees
Do you still have question or doubts! mail us at  [email protected] and follow us on  Twitter and Facebook pages.
Was this writing helpful?
No
Yes