Cryptocurrency Exchange
BitQuick Exchange – The Easiest Exchange To Trade Bitcoins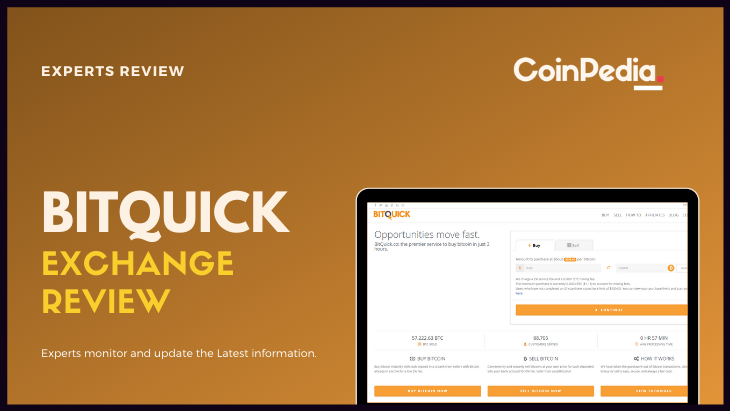 Overview
| | |
| --- | --- |
| Legal Name | BitQuick Exchange |
| Headquarters | Cincinnati, Ohio, United States. |
| CEO | Jad Mubaslat |
| Year Founded | 2013 |
| Exchange Type | Centralized |
| Trading Fees | Maker: 0.0%/ Taker: 2.0% |
| Deposit Methods | Cryptocurrency |
| Supported Cryptos | Bitcoin (BTC) |
| Fiat | US Dollars (USD) |
| Customer Service | Email |
| Trading Options | Spot Trading |
Those who want privacy or even anonymity, should be aware of the BitQuick exchange when buying Bitcoin.
So, if you are a bitcoin investor, then you will find one of the simplest methods to buy Bitcoins in this BitQuick review.
In this article, we will provide you with the complete guide on the BitQuick exchange and look into its aspects such as its features, fees, pros and cons and much more. Let us look into detail in this BitQuick exchange review now,
What is BitQuick?
BitQuick is a Bitcoin peer-to – peer exchange that enables traders to purchase coins from one another. BitQuick is run and operated by Athena Bitcoin Inc, which is based in the US and has offices in Chicago, Saint Louis and Dallas.
As buyers and sellers complete the necessary steps to finalise the deal, it retains both bitcoin and fiat currency. BitQuick is one of the best ways to purchase and sell the world's traded cryptocurrency with a limited transaction process and easy fee structure.
BitQuick Features
Easy to use Interface: The interface looks great. It is clean and easy to use. The website is responsive, and it looks good on mobile devices.
Privacy: BitQuick is quite private as they do not require too much verification from users. It will never release any of this personal information to any third parties and remain uninformed about their users' identities
Fees: Buyers fees are 2% for cash deposit purchases. You can often sell your coins for higher than market rate, and on top of that BitQuick does not charge sellers any fees.
Customer Support: The BitQuick support is offered only via email and ticket, and they respond fairly quickly, within a couple of hours.
Security: They offer a third-party Escrow wallet for storing the currency during the transactions and have a proof of reserve display which allows anyone to see the amount of coins held in each of the Escrow accounts.
BitQuick Fees and Limits
The Fee structure at BitQuick is quite simple. They operate a flat rate of 2% on all purchases. There are no fees charged to the seller of the coins. Mining fees are fixed at 0.0001 BTC for BTC-deals.
This exchange does not allow wire transfers or credit card deposits. Only cash deposits are being accepted.
BitQuick Supported Currencies
The only tradable cryptocurrency which is supported by the BitQuick exchange is Bitcoin (BTC)
BitQuick Supported Countries
According to the website, they offer support for the following countries.
BitQuick Mobile App
There is no downloadable app for either iOS or Android devices, even though the web platform can be accessed via mobile phones. You can still do phone transactions, but the feeling is the same as if you were sitting in front of your computer.
How to register on BitQuick?
The users do not even have to open an account to make a trade. They need just to enter an external wallet address and provide an email. Sellers have to fill a form that requires little information regarding it.
But that is great compared to the verification processes on other exchanges. In some cases, the SMS verification or document submission may be requested by the exchange.
How to buy cryptocurrencies on BitQuick?
Step 1: Go to BitQuick website and in the "Buy" page click "Launch Quick Buy".
Step 2: Enter the amount or value of BTC you wish to purchase and click "Next".
Step 3: Choose a payment method, either cash deposit through bank or money transfer service.
Step 4: Choose the exact bank or money transfer system that suits you and click "Next".
Step 5: Verify your email and phone number and click "Buy Bitcoin".
Step 6: You will receive a receipt with deposit codes that you should take to the bank counter and pay in person.
Step 7: Take with you the bank deposit receipt and upload the document to BitQuick to receive bitcoins.
How to sell cryptocurrencies on BitQuick?
Step 1: Login to your account. Then click the "sell" button
Step 2: Now you will be taken to the online form. Here you are required to fill out all the details that are related to your listing.
Step 3: You will fill in information such as the Bank Account that you would like to use, the price that you are willing to offer them for as well as the amounts that you are willing to sell
Step 4: You will be sent a Bitcoin address that you can send the funds to.
Step 5: Once you have completed this, you will need to wait for the buyer to find you.
Step 6: Once you have received the funds from the buyer in your bank then you can confirm the completion of the sale with BitQuick and they will release the funds.
BitQuick Pros and Cons
Pros
Easy-to-use interface
Headquartered in the US
Full transparency
Quick transactions
Cons
Comparatively high fees
Bitcoin buy prices often above market rate
Site has been subject to a server attack in the past
Conclusion
In BitQuick, You do not have to store your funds with the exchange and face risks from exchange hacks. It is also less error prone as all you need to receive your coins in a Bitcoin address. It is also a great way for a seller to advertise their coins without paying a fee and receiving the funds right into their bank account.
BitQuick is indeed one of the easiest and most secure ways for you to buy Bitcoin with cash. If you are looking for a Bitcoin marketplace that allows you to buy in cash and remain anonymous then BitQuick is definitely worth a look.
Recent Updates
On Aug 25, 2020, Bitquick announced the Service had been restored, for the lost control of the DNS.
On June 18, 2020, ElSalvador is beginning to reopen. We are working to make sure the small businesses survive and can reopen.
On June 15, 2020, Getting ready to do another distribution to help keep the community fed as they still have not been allowed to return to work
Was this writing helpful?
No
Yes