Cryptocurrency Price Prediction
Tezos Price Prediction 2023, 2024, 2025: Is XTZ Crypto A Good Investment For Future?
XTZ price could soar as high as $2.85 by the end of 2023

Tezos price with a potential surge could go as high as $14.38 by the end of 2030
Tezos road to stardom was not an easy one, given the challenges, the coin has fast gained ground. Moreover, the network also boasts an energy-efficient algorithm, which is also scalable. The native asset of the Tezos network "XTZ", has been under due consideration of investors and traders.
XTZ has already been listed including over top ten crypto exchanges in just two years of its inception. Are you considering XTZ price for your portfolio, but worried about its returns? Follow this write-up till the end to know about it. As we take a close look at XTZ and give you a detailed price estimate for 2023 – 2025 and the years to come.
Overview
| | |
| --- | --- |
| Cryptocurrency | Tezos |
| Token | XTZ |
| Price | $ 1.1100 |
| Market cap | $ 0.0000 |
| Circulating Supply | 0.0000 |
| Trading Volume | $ 0.0000 |
| All-time high | $ 0.0000 Jan 1, 1970 |
| All-time low | $ 0.0000 Jan 1, 1970 |
Tezos Price Prediction 2023 – 2030
Growing positive sentiments and a spike in volumes could push the price to higher levels. Tezos price prediction for 2023 could range from $1.12 to $2.85 for the year.
What Is Tezos?
Tezos (XTZ) is a blockchain network linked to a digital token called a tez or a tezzie. Tezos are not based on the mining of tez. Instead, token holders receive a reward for participating in the proof-of-stake consensus mechanism. The term "Tezos" is an ancient Greek word for smart contracts as per the developers.
The platform is unique as it has worked from its roots to give a better governance process than Bitcoin and Ethereum. The Tezos has its native token, XTZ, which could be used for holding, sending, baking, or spending. In addition, users could use the token to vote on network integrations.
XTZ Crypto Price Prediction 2023
An influx of new users coming from collaborations and adoptions, resulting from the network's strengths. Such as institutional-grade security, governance, energy-efficient algorithm, scalability, and smart contracts, could push the price to greater heights.
By the year 2023, exponential growth is highly anticipated due to inbound development and adoption. In the best possible case, XTZ may exchange trades at a maximum price of $2.85 by the end of 2023.
The price may as well drop to a minimum cost of $1.12 if the bears rule the market. With average buy and sell pressures the asset is anticipated to trade at $1.985.
| | | | |
| --- | --- | --- | --- |
| Price Prediction | Potential Low ($) | Average Price ($) | Potential High ($) |
| 2023 | 1.12 | 1.985 | 2.85 |
XTZ Coin Price Prediction 2024
Because of Tezos' layered architecture and explicit upgrade process. The network can be trained to provide and incorporate new advanced technologies after they become feasible. This may aid the coin's popularity in the coming years.
Relying on its unique features, Tezos is anticipated to get the respective lowest and maximum prices in 2024. According to its fundamental study the maximum and minimum levels are expected at $4.36 and $2.51, respectively. Moreover, trading prices are projected to be $3.435 on average.
| | | | |
| --- | --- | --- | --- |
| Price Prediction | Potential Low ($) | Average Price ($) | Potential High ($) |
| 2024 | 2.51 | 3.435 | 4.36 |
Tezos Price Prediction 2025
Tezos professionals and crypto fans are optimistic that Tezos prices will keep rising in the future. If the user base of the network accelerates at an impressive pace. The network would also shake hands with bigger names in the business. In such a case, the price of XTZ might propel to a maximum of $5.92. 
On the flip side, ebbing prominence and stiffer competition amongst rivals could knock the price down to a minimum of $3.84. That said, constrained by the linear trajectory of price, the altcoin could settle at $4.88.
| | | | |
| --- | --- | --- | --- |
| Price Prediction | Potential Low ($) | Average Price ($) | Potential High ($) |
| 2025 | 3.84 | 4.88 | 5.92 |
Tezos Price Prediction 2026 – 2030
| | | | |
| --- | --- | --- | --- |
| Price Prediction | Potential Low ($) | Average Price ($) | Potential High ($) |
| 2026 | 5.26 | 6.335 | 7.41 |
| 2027 | 6.77 | 7.87 | 8.97 |
| 2028 | 8.03 | 9.235 | 10.44 |
| 2029 | 9.52 | 10.79 | 12.06 |
| 2030 | 11.07 | 12.725 | 14.38 |
Tezos Coin Price 2026: According to our analysts, XTZ Crypto Price for the year 2026 could range between $5.26 to $7.41 and the average price of Tezos could be around $6.335.
XTZ Crypto Price Prediction 2027: According to our analysts, Tezos price for the year 2027 could range between $6.77 to $8.97 and the average price of XTZ could be around $7.87.
Tezos Crypto Price 2028: According to our analysts, XTZ Coin Price for the year 2028 could range between $8.03 to $10.44 and the average Tezos price could be around $9.235.
XTZ Price Prediction 2029: According to our analysts, Tezos crypto price for the year 2029 could range between $9.52 to $12.06 and the average XTZ price could be around $10.79.
Tezos Price Prediction 2030: According to our analysts, XTZ coin price for the year 2030 could range between $11.07 to $14.38 and the average price of Tezos could be around $12.725.
CoinPedia's Tezos Prediction
As the Tezos foundation continues to gain popularity, so will the number of XTZ holders. As per Coinpedia's formulated Tezos price prediction, the Tezos Foundation will play a major role in future price movements. Tezos certainly has the potential to grow in value over the next several years.
In succession, the price of XTZ could hit a maximum of $2.85 by the end of 2023. While emerging rivals and negative criticism could draw down the price to $1.12. Regular buying and selling pressures could settle the price at $1.985. 
Market Analysis
| | | | |
| --- | --- | --- | --- |
| Firm Name | 2023 | 2024 | 2025 |
| Wallet Investor | $0.126 | $0.132 | $0.122 |
| LongForecast | $1.03 | $0.56 | $0.85 |
| DigitalCoinPrice | $2.91 | $3.47 | $4.96 |
*The aforementioned targets are the average targets set by the respective firms.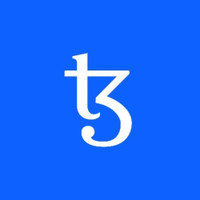 A decentralized, open-source network called Tezos uses blockchain technology to allow peer-to-peer transactions. The company operates as a deployment platform for smart contracts. With the support of a large international community of validators, researchers, and builders, Tezos removes major obstacles to the adoption of blockchain for assets and applications. They also offer smart contract security, long-term upgradeability, open involvement, and teamwork. Arthur Breitman and Kathleen Breitman, a husband and wife team, founded the media firm Tezos in 2014. The company is based in France. Tez (XTZ), the native token of the Tezos blockchain, is a fundamental accounting unit on the Tezos platform and is used to communicate with dApps, pay fees, stake the network, and engage with dApps. They easily leveled up as they added the newest innovation, delivering innovative and new capabilities through their upgrade mechanism. Proof-of-stake is used by the Tezos network to reach a consensus.
Fundamental Analysis
Arthur Breitman developed Tezos. Tezos, also referred to as XTZ, is a coin that is a multi-purpose platform that supports dApps and smart contracts. Arthur Breitman prepared the white paper on the smart contract platform.
The white paper prepared for Tezo'sTezo's network was intended to enable a better governance process. Previously, Arthur Breitman and his wife Kathleen Breitman launched a start-up known as Dynamic Ledger solutions that functions by creating an algorithm that would prop up the Tezos protocol. Interestingly, the tech firm was acquired by the Tezos foundation.
The platform's main objective is to combine a self-correcting protocol and on-chain governance to manage network modifications. Additionally, The altcoin uses delegated proof-of-stake (DPoS) and supports Turing complete smart contracts.
Finally, it would be worth mentioning that Tezos erupted into the crypto Land by collecting $232 million in their record-breaking ICO.
Tezos Historic Market Sentiments 2017 – 2022
With the end of its ICO in July, Tezos price took a few months to get listed on popular exchanges. By October 2017, it was first listed on a major exchange. Soon after the tokens hit exchanges, the price immediately surged to more than 3 times its $0.51 ICO price.
Further, until mid-November 2017, the XTZ coin price was hovering between $1.50 and $2.50. At the end of 2017,  XTZ's price rapidly gained momentum on exchanges, spiking to as high as $12.19. 
Further in 2018, besides a short growth of $6 on Jan 3rd. The XTZ coin's price suffered a drastic loss reaching the trading value of $2.
Later the price was seen hovering between $2 to $3 until June. But, as the Bears hit hard, the price sloped down to $1.65 in the mid of June. The bearish phase continued till the end of 2018 with the trading value below $0.476.
Tezos continued to trade at $0.48 by early 2019, but the digital asset embarked on a downtrend until the start of May.
Following an uptrend, the price of XTZ reached $1.65 by the mid of May. After months of swings, XTZ's price climbed back to $1.70 in December. By the end of the year, XTZ was seen trading at $1.35.
From a low price of around $1.25 in January, XTZ moved steadily to a record an ATH of $3.6 in late February. However, in March, XTZ suffered a sharp price plunge, wherefore, XTZ was seen trading at $1.25 by mid-March. 
By the beginning of the Q2, the altcoin began to rise until it faced stiff resistance at $3 during May. Consecutively, on a bullish note, the price spiked dramatically to $4.28 by mid-August. But further plunged to $3.34 by the end of August. 
Due to the expansion of Bitcoin's price rally, XTZ managed to trade at $2.50 by the end of November. Concluding, the year, XTZ's price dropped back to $2.
On a hopeful note, the coin started to accelerate dramatically. By the mid of march, the price had surpassed $5 and continued to rally up to $8 till May. However, after the market crash, the price plunged back to $2.3 on 22nd July. 
The price made a parabolic move to clinch an ATH of $9.18 on the 4th of October. However, as bears took over the reign, the price underwent a steep fall to around $4.75. 
The digital asset had commenced its trade for 2022, with its price at $4.352. Continuity in the downtrend, further took the price to $2.550, by the 24th of January. Thereafter, an uptrend took the price about 81.83% higher to $4.602, by the 9th of February. 
However, turbulence in the business resulting from geopolitical tussles and FED's tapering, pushed the price down to $2.932 by February 24th. An uptrend from then led to the quarter's closure at $4.009. 
The second quarter was ruthless for the industry, the aggravating turmoil led to a plunge of over 70% by the 17th of June. Thereafter, an uptrend led to the quarter's closure at $1.560.
FAQs
Is Tezos a good investment?
Yes, Tezos might be a good investment if you are planning to invest for the long term.
How high will the XTZ price go by the end of 2023?
The altcoin could soar as high as $2.85 by the end of 2023. 
What Makes Tezos Special?
Tezos triumphs in terms of financial performance and scalability. In addition, the XTZ environment offers an advanced consensus protocol.
 What will be the price of Tezos by the end of 2025?
XTZ's price might surge as high as $5.92 by the end of 2025. With a potential surge the price could go as high as $14.38 by the end of 2030.
On which consensus mechanism does Tezos work?
Tezos works on the delegated proof-of-stake (D PoS) consensus mechanism. 
Where can Tezos be traded?
Tezos can be traded on exchanges like Binance, Coinbase Pro, OKEx, and VCC Exchange amongst others.
Was this writing helpful?
No
Yes