News
Square Cash App Bitcoin Volume Records $875 Million Revenue in Q2 – Report
Square Cash App Bitcoin volume records Unbelievable revenue in Q2, 2020

The revenue is 3x the volume of Q1 2020, and 25x more than Q1 2018

Company's major revenue comes from Cash App

Gross profit from Bitcoin sales up +150% from last quarter
The Square Cash App's Highest Bitcoin Revenue Ever
Twitter CEO Jack Dorsey's payment firm, Square shared unbelievable stats in its Quarter 2 report. The company claimed that the Square Cash App Bitcoin volume continues to grow, adding that it is the highest ever surge in the Bitcoin revenue. Accordingly, it scored $875 million in Quarter 2 from $306 million in the first quarter.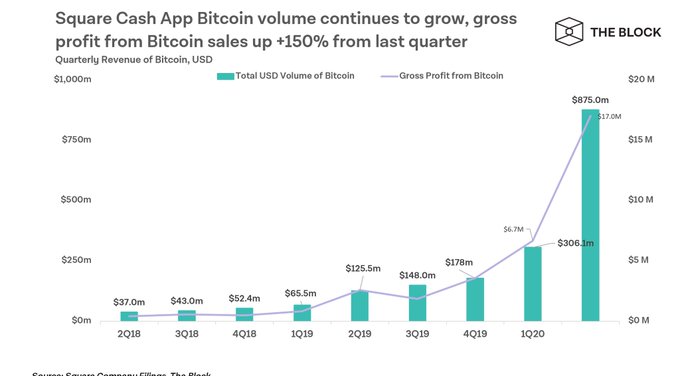 Find out the Q3 Report of cash App
Cash App Influxed the Major Revenue
The report also suggested the major revenue was from the Bitcoin profits from the Cash App, a mobile payment system developed by the company. The bitcoin profits on Cash App increased 600 percent in the Q2 and 711 percent year after year.
The Cash App's share in the company's revenue nearly doubled from the last quarter. With 1.24 percent of the contribution to the company's total gross profit in the first quarter, it jumped to 2.85 percent in the second quarter.
The increase in the bitcoin profits clearly indicates the rise in the buys and sells of the digital asset on the Cash App. The app users also witness a surge from 24 million in December 2019 to 30 million users who carried out transactions in June 2020. As per reports, the active users transacted more than 15 times in a month which is 2 times the previous quarter.
"While transactions per customer have increased over time, we recognize that engagement during the second quarter also benefited from the government funds related to the stimulus and unemployment benefits," the letter to the shareholder stated.
Also know – Story of a man in Australia who is selling his house for over 70 Bitcoins
Bitcoin as a Store of Value than Payments
The editor in chief of Marty's Bent, a daily Bitcoin newsletter, Marty Bent speculated the probable bitcoin bull run in the market with the surge in the bitcoin volume.
Similarly, many other analysts also expressed their pleasure with the increase in bitcoin revenue. Kevin Rooke presented the quarterly bitcoin revenue of the company.
However, a bitcoin educator and developer Jimmy Song, anticipated that Bitcoin might be used only as a store value rather than a means of payment. He hints Cash App as a place to buy Bitcoin and adds that the places to buy Bitcoin are popular whereas places to sell (merchant) aren't.
Bitcoin bullish trend may continue to bloom in the crypto market. Especially, in the pandemic situation, the bitcoin volume surged multiple times across some of the crypto exchanges. This certainly points to the fact that the people are getting into bitcoin and other crypto-assets than just traditional financial instruments.
You may also find this report interesting – Binance Altcoin Trading Volume Hits New ATH of $5.1 Billion
Was this writing helpful?
No Yes