News
GK8 reaffirms its commitment to trust, a secure operating environment, and data privacy with renewed SOC 2 Type II certificate
The renewal of the coveted certificate follows an audit by one of the Big Four consultancies
Tel Aviv, Israel, July — GK8, the leading institutional-grade digital asset custody platform with DeFi, staking, NFT, and tokenization support, announces renewing its Service Organization Control (SOC) 2, Type II Certification. The renewal follows an audit by one of the Big Four consultancies, confirming the company's adherence to the highest standards for secure data management with privacy, confidentiality, and processing integrity among the top priorities.
As the world moves towards more digitalization and crypto adoption, organizations have to increasingly rely on third-party vendors for various solutions enabling their day-to-day operations. This is especially true when it comes to handling digital assets, a novel and technologically-sophisticated space that requires a lot of specialist knowledge.
A solution powering crypto services must guarantee not just maximum security, but also top-notch availability, integrity, confidentiality, and privacy. SOC 2 Type II certification focuses on these key metrics to give a third-party confirmation that its holder's products and procedures comply with the Trust Services Principles and Criteria of the American Institute of Certified Public Accountants—a hallmark for client trust.
GK8 first obtained its SOC 2 Type 2 certificate in February 2020 and has since renewed the certificate annually. The latest renewal reaffirms the company's commitment to handling its clients under policies and protocols ensuring their ultimate protection against breaches, risk compliance, privacy, and confidentiality.
GK8's regulation-ready solution includes both a Cold Vault as well as an MPC vault. The company's unique Cold Vault is the only solution in the market that can create, sign, and send blockchain transactions without being connected to the internet which grants institutions an unparalleled level of security, leaving no openings for hackers to exploit. The Cold Vault is paired with a patented high-performance MPC wallet used for high-frequency automatic transactions.
GK8's solution also supports the secure tokenization of traditional assets, features general support of all Ethereum Virtual Machine-compatible layer-1 blockchains, and grants users instant access to all layer-2 smart contracts on supported chains. The platform has an arrangement with AON for customers to quickly and seamlessly access insurance of up to $750 million per Vault, the highest in the market today.
"Banks stand to gain a lot from moving into the blockchain space," says Lior Lamesh, CEO and Co-Founder of gk8 org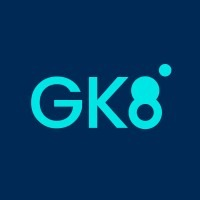 gk8 org [email protected] Tech & Design (Software)Security Solution


Followers : 0 View profile . "But to do so, they need partners who can operate under the highest standards for security and data protection. We are thrilled to once again confirm our status as a trustworthy partner to institutions looking to unlock new revenue streams in the decentralized ecosystem."
About GK8:
GK8 offers both traditional and crypto-native institutions an end-to-end platform for managing blockchain-based assets. The company developed the world's first true Cold Vault that enables its clients to create, sign, and send secure blockchain transactions without internet connectivity, eliminating all cyber attack vectors. Chosen by Mastercard to help it define the future of blockchain finance and payments, GK8 serves clients managing billions worth of digital assets, including social investing network eToro, Securrency, a blockchain fintech company backed by State Street, U.S. Bank, WisdomTree, and Abu Dhabi Catalyst Partners, Tezos Foundation, and Prosegur, one of the world's largest custodians with more than $400B assets under management. In 2022, Forbes added GK8's co-founders to its list of 30 Under 30. For more information, visit https://www.gk8.io
Was this writing helpful?
No Yes