News
Crypto News Round-Up 29th Aug – Latest Crypto Updates of The Week
Defi captures the market this week and other Defi tokens gain more dominance.

Bitcoin after a massive decline surged to maintain above $11500.

Crypto featured on the front page of leading newspapers
Check out the Crypto News Round-Up and find what excited crypto traders, investors, and what might happen next week in the crypto market.
Bitcoin Above $11500
The largest cryptocurrency nowadays has maintained a narrow aside trend within a range of $11,200 to $11,550. Bitcoin feared to slip down below $11000 when it reached $11,190 on 27 August 2020, but thank heavens, it surged. At the time of reporting Bitcoin price was $11,521 with a 0.93 percent positive change.
The reason behind the jump has been said to be the speech delivered by the Fed Chairman, Jerome Powell. The chairman announced a more smooth and relaxed approach to tackle inflation. Soon after, the market got kicked off with Bitcoin and gold recovering after the dip in the last few days.
You may like to read this – 5 Insane Things You Can Buy With Bitcoins In 2020
Defi's TVL crossed $8 billion
The expanding DeFi market has once again led to the surge in the Total Locked Value(TVL) which has surpassed $8 billion recently. The prime focus of the developing story in DeFi is a massive jump in DeFi token Aave (LEND). The token witnessed nearly 48 percent jump in the last week with a dominance of 18.99 percent.
On the other hand, yearn.finance(YFI) is all set to cross the $20,000 mark, which is the all-time high of Bitcoin's price. With a massive 57.8 percent jump in the last 7 days, YFI token managed to be at the top priced at $19,236.67 at the reporting time.
Learn about – What is Total value locked down in DeFi?
ConsenSys Acquired Quorum Platform
ConsenSys, a leading blockchain software company on 25 August 2020, announced the acquisition of Quorum, an enterprise-variant of Ethereum blockchain developed by J.P. Morgan. As per the announcement, ConsenSys will merge its existing protocol with that of Quorum, leveraging the best of both codebases.
In addition to ConsenSys's acquisition, J.P.Morgan has also made an investment with a strategy to support its developers to build next-generation networks. This would help the enterprise to launch more efficient tools in the future.
IMF's Video on Cryptocurrencies left masses unimpressed
An old, 2-minute video which was originally published in 2018, was again posted by IMF on its twitter account. The video referred to cryptocurrencies as the 'next step in the evolution of money'.
Although the video managed to gather millions of views and thousands of likes, the reviews went on to be critical pointing out the information gaps and misleading terms. The video was published without proper research and did not mention the important terminologies of cryptocurrencies.
Polkadot expected to become top 3 blockchain
Polkadot (DOT) has outperformed many coins in less than a week and increased 200 percent and hence top crypto analysts expect still more in the future. Currently, the digital asset is ranked no.6 on CoinGecko as per the market capitalization.
Recently, Acala, a DeFi start-up building on the Polkadot blockchain, has closed a $7 million simple agreement for future tokens (SAFT) led by Pantera Capital. Other investors include 1confirmation, Arrington, XRP Capital, ParaFi Capital, Coinfund, Spartan Capital, and others.
Also know – How to Invest in Defi, a Detailed Guide
Crypto Advertisement Dominates Frontpage
The crypto advertisements appearing in different platforms have been growing nowadays. Recently, the front page of Apple Daily, a major newspaper in Hong Kong, carried an advertisement on Bitcoin that said, 'Bitcoin will never ditch you,'.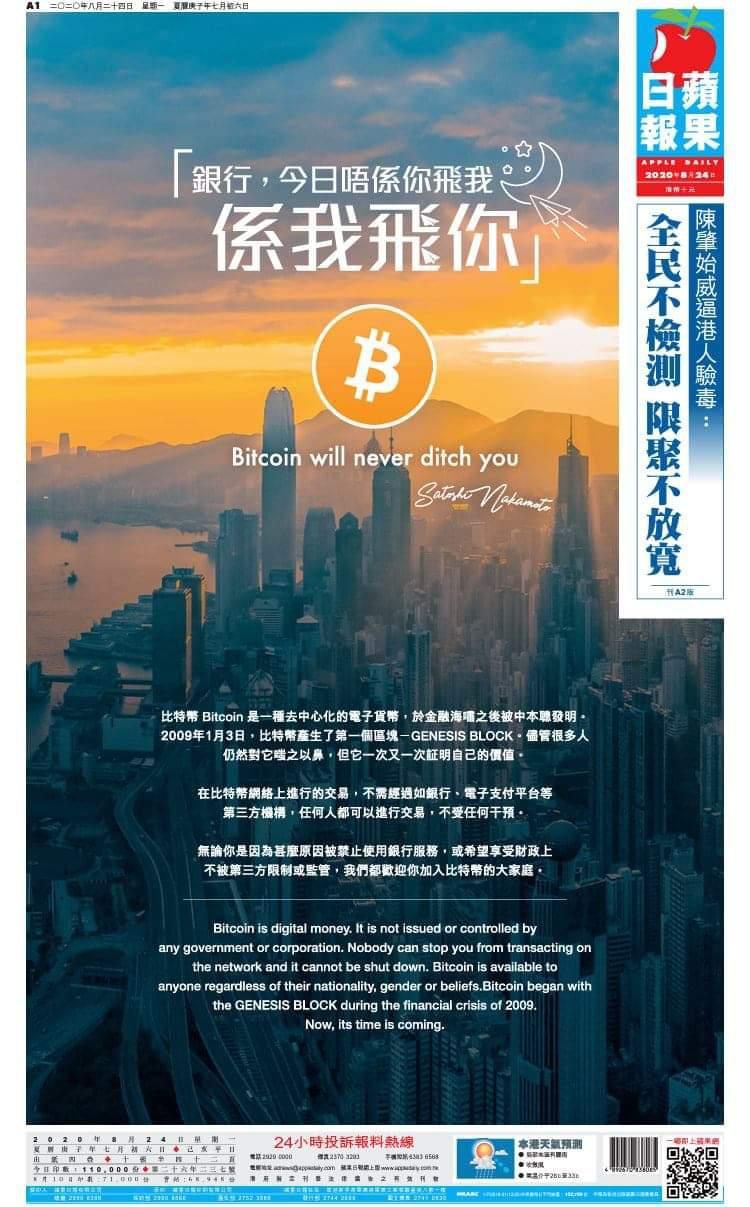 Apart from the Apple Daily, the other newspapers that featured crypto ads were Financial Times and Economic Times of India. The Financial Times featured Michael Novogratz Acer's Galaxy Digital that covered the whole first page with a headline,
"Now is the time to invest in bitcoin. In uncertain times, bitcoin is a hedge independent of the hegemony."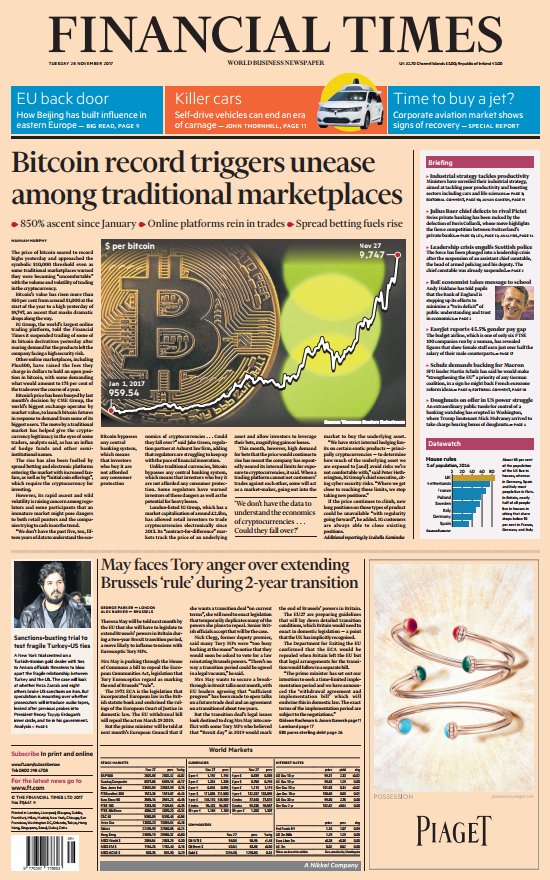 Another leading newspaper of India, Economic Times of Bengaluru edition promoted an Indian Cryptocurrency exchange Bitbns.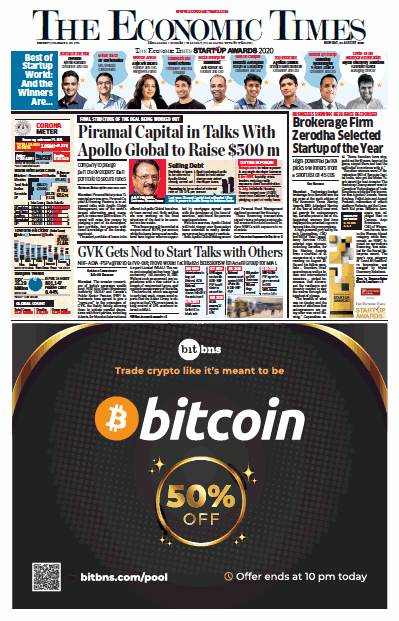 Overall, an encouraging week for the cryptos, with Bitcoin again in the race to cross $12000. Moreover, many other emerging altcoins and DeFi tokens have also managed to gather headlines.
What's waiting for cryptos in the next week? Let's discuss on Twitter.
Do you know that Very Big Bitcoin Whale All Set to Come and Bitcoin to Hit $500K Soon? Read out Winklevoss's Theory Behind $500K Bitcoin
Was this writing helpful?
No Yes