Cryptocurrency Exchange
Zebpay Exchange Review 2022: Who Should Trade On Zebpay?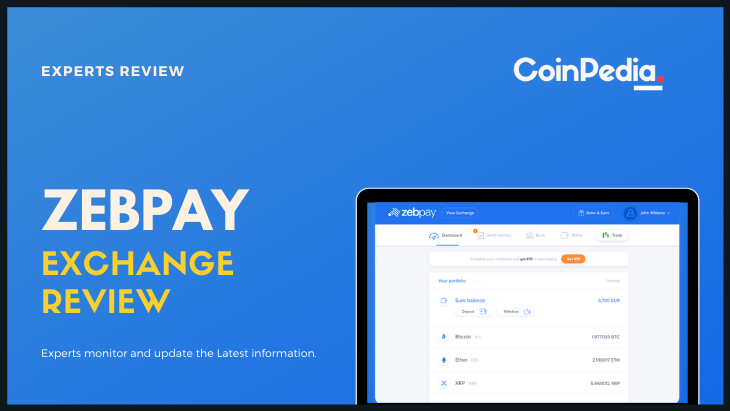 Introduction
If you are looking for an exchange that is secured and has never been hacked in the past, then you might want to know more about Zebpay. Zebpay was launched in 2014 and has more than 5.5 million users so far. The pros are so much for this exchange, read on to know if this is the right exchange for you.
Overview
| | |
| --- | --- |
| Official Web Address | https://zebpay.com/ |
| Headquarters | Ahmedabad, Gujarat – India |
| Country of Origin | India |
| Founders | Sandeep Goenka, Saurabh Agarwal, and Mahin Gupta |
| Founding Year | 2014 |
| Exchange Type | Centralized |
| Trading Options | Spot Trading (Limit, Market, Stop orders) |
| Trading fees | 0.15% Maker fees & 0.25% taker fees |
| No of cryptocurrencies | 150+ |
| Native Token | No |
| Deposit methods | Bank Transfer |
| Deposit fees | 12 Rs for Fiat deposit, No charges for Crypto deposit |
| Withdrawal methods | Bank Transfer |
| Withdrawal fees | 15Rs for Fiat withdrawal, Network fee for Crypto withdrawal |
| Supported Countries | 163 |
| Restricted countries | 7+ |
| Supported Fiat currencies | INR, EUR, AUD |
| Mobile App | Available on Google & Apple App Store |
What is Zebpay?
Zebay is one of the fastest-growing cryptocurrency exchanges in the world that was founded in 2014 by Sandeep Goenka, Saurabh Agarwal, and Mahin Gupta. In 2020, Rahul Pagidipati acquired the company and subsequently became the CEO. However, in June 2021, he stepped down from this position and made Avinash Shekhar the CEO. As Avinash is venturing on his entrepreneurial journey of Web3 Space, Rahul Pagidipati returned as CEO of the company.
It currently has 5.5 million traders and a trading volume of $3 billion from over 160 countries. It has an exclusive platform called Crypto Ki Pathshala, whose main motto is to educate Indians on Cryptocurrency in the regional language – Hindi. Though it has only 150+ cryptocurrencies, it is still one of the leading exchanges in India.
Coming to its trading price, it charges 0.25% as trading fees for beginners, and for high volume traders the maker fee is 0.06% and the taker fee is 0.10%. There are no referral programs as of now. The Quick trade feature is convenient for anyone to buy crypto.
Timeline
| | |
| --- | --- |
| Oct 2014 | Launched Zebpay, hired the first employee |
| July 2015 | Launched App |
| Dec 2017 | 1 billion USD in Trading Volume |
| Apr 2018 | 2 Billion USD in Trading Volume |
| Dec 2018 | Global Exchange Launched |
| Jan 2019 | Launched Operations in Australia |
| March 2019 | Integrated Lightning Payments |
| Apr 2019 | Granted Blockchain Australia Membership |
| Jan 2020 | Launched Operations in Singapore |
| January 2020 | Rahul Pagidipati acquired Zebpay |
| March 2020 | Relaunched in India |
| Dec 2021 | Avinash Shekhar becomes CEO of the company |
| Dec 2022 | Rahul Pagidipati returns as CEO |
Features
Trading options – Only Spot trading available with the market, limit, and stop orders
Trading Fees – The maker fee is 0.15% and the taker fee is 0.25%. However, for intraday trading, the fee is 0.10%
Crypto Lending – This is a lending feature enabled by Zebpay which helps users to get a specific annual yield based on the lending period.
Crypto ki Pathshala – An exclusive learning section to educate Indian crypto enthusiasts. It is a free video series on 70+ crypto topics. The Hindi language is used as it is by the majority of Indians. However, this can be a drawback also as South Indians are still slowly adapting to Hindi.
Security – For wallet security, Zebpay partnered with BitGo, the global leader in digital asset custody, providing $100 million of insurance to protect its members. It also partnered with Chain analysis which provides blockchain data and analysis to government authorities. This is to maintain the integrity of blockchain transactions. 98% of the funds are in cold storage.
Cryptocurrencies Available on Zebpay
There are 150+ cryptocurrencies available on Zebpay. Some of the popular cryptocurrencies available are
Bitcoin
Ethereum
Tether
BNB
USD Coin
USDC
Binance USD
XRP
Dogecoin
Cardano
Polygon
How to Create an Account on Zebpay?
Let us create an account on Zebpay
Click on [Sign Up]
Fill in the necessary details like name, email ID, and phone number
Set a 4-pin password
Click [Continue]
Enter the OTP sent to your mobile number and email ID
Enter the 4-pin password
Congratulations, Your account is open
For KYC verification, you need to register from Mobile App.
Click on [Verify KYC] on Mobile App
You need to upload your ID document and complete the declarations.
Upload your Pan Card as ID proof
For address proof, you can upload any of the supporting documents like a pan card, Aadhar card, Driving License, Passport, or Utility bill within the last three months. Click [Continue]
Select your source of funds and select your occupation. Your KYC verification will be completed soon and you will receive a notification once it is done.
You can now continue to update your bank account details to enable fiat deposits and withdrawals.
Kindly note that
The name and date of birth on the ID and address proof should match.
You can create an account with ZebPay only if your age is 18 years and above.
The name on your ID proof (pan card) should match the bank account you wish to register with u
How to Buy Cryptocurrency on Zebpay?
Let us learn how to buy crypto on Zebpay. Make sure that you have completed the KYC procedure before buying crypto
Log in to your Zebpay account. Make sure that you have deposited fiat money in your wallet using a bank transfer.
Click on [Quick Trade] or [Exchange] based on your preference
Enter the INR amount you want to invest
Preview your order and check all the order details
Place your order
You can buy bitcoin with a minimum amount of 99Rs. The exchange is operated 24/7 and you can buy bitcoin whenever you want
How to Sell Cryptocurrency on Zebpay?
Let us learn how to sell cryptocurrency on Zebpay
Log on to your Zebpay account
Click [Quick Trade] or [Exchange] depending on your preference
Select the cryptocurrency you want to sell
Enter the amount you want to sell
Preview your order and check all the order details
Place your order
The selling process is that simple.
How to Deposit Cryptocurrency on Zebpay?
Let us learn how to deposit cryptocurrency on Zebpay
Log in to your Zebpay account
Click on [Quick Trade] and Select the cryptocurrency. Click on three vertical dots near the selected cryptocurrency and Click [Deposit]
Tap on [Add New Address] to create a new receiving address
Enter a name to label that address and click [Save]
You can either scan the QR code or copy it or share the address via email or instant messaging
How to Withdraw Cryptocurrency on Zebpay?
Make sure that you have completed your KYC process in order to receive and send crypto
Log in to your Zebpay account
Select the cryptocurrency you want to withdraw, Click on three dots and click [Send]
Click on [add new address]
Add a name beneficiary name, destination tag and beneficiary platform then tap on Save
Select the cryptocurrency address from the list and initiate the transaction
Enter the amount of cryptocurrency you want to send
Enter the 4-digit PIN/ fingerprint/ FaceID (for IOS users) and OTP to authenticate the sent transaction
If there is a hash generated but funds are not credited to receiving wallet address, kindly contact the receiving wallet address provider
If there is no transaction hash generated within 5 minutes for the send transaction please raise a ticket with the details of the transaction and the support team will resolve the issue at the earliest
Exchange Fees and Supported Payment
There are no charges for depositing cryptocurrencies. However, for fiat deposits, a flat fee of 12Rs is charged and for fiat withdrawals, a flat fee of 15 Rs is charged.
Zebpay uses a maker/ taker model in a tier system with a 30-day trading volume for calculating trading fees. For a beginner, the maker fee is 0.15% and the taker fee is 0.25%. As your trading volume increases, your trading fee is also reduced. For a VIP 3 customer, the maker fee is 0.06% and the taker fee is 0.10%.
Referral
Zebpay exchange has discontinued referral programs on 26 Aug 2022 and is working on a new referral program. This will be soon announced on the Promotions pages. Meanwhile, you can subscribe to the email newsletter to get to know the latest offers and promotions.
Customer Support
If you have any doubts, you can chat with Ziva (Zeb Interactive Virtual Assistant) which is a chatbot. Ziva provides a list of topics related to crypto depositing, withdrawals, trading, and much more.
Zebpay Exchange also has a dedicated support section related to customer queries and FAQs. It is actually a knowledge base on everything related to starting an account on Zebpay, crypto deposits/ withdrawals, KYC verification, troubleshooting, etc.
If you still have an emergency or urgent issue you can raise an email ticket which will be replied to in 24 hours.
Mobile App
Zebpay Mobile App is a fast-secured cryptocurrency exchange platform that is committed to helping crypto investors from more than 160 countries. The App was launched in 2015 and has a 3.4-star rating. With the quick trade feature, owning cryptocurrency is very easy. The app has a simple user interface and is easy on the eye for both beginner and advanced traders.
Recent Updates
01 Dec 2022 – Rahul Pagiditpati return as the CEO of Zebpay. Former CEO Avinash Shekhar will embark on his entrepreneurial journey on Web3 Space.
Conclusion
Zebpay Exchange is an easy, secure crypto exchange that allows users to buy, sell and store cryptocurrencies. It has reasonable trading fees and robust security features. Moreover, 95% of its users are from India.
The exchange is on a mission to educate more Indians on cryptocurrencies in their regional languages. The Quick Trade feature is good for any investor who is interested to hold cryptocurrencies. The trading fee is reasonable and supported fiat currencies are limited to INR, AUD & EUR.
Zebpay Exchange is best for both beginner and advanced traders with its easy-to-use and navigates platform. The only disappointing fact is that it has no referral program and the earning programs are limited. Users need to pay a monthly membership fee of 75Rs and this can be easily avoided if they make at least one trade every month.
Zebpay Exchange has never been hacked and has a quick-responding customer support team who answers your queries in less than 12 hours. So if you are an Indian resident we highly recommend Zebpay
FAQs
Is Zebpay legal in India?
Zebpay closed its operation in India in 2018 due to RBI regulations. However, the supreme court lifted the ban in 2020, and Zebpay is now legal in India
Has Zebpay ever been hacked?
Zebpay has robust security features and it has not been hacked till now
Is Zebpay available in the U.S.?
No Zebpay is not available in the U.S.
Zebpay Rating
Trading & Transaction fees

Learning Programs

Website Transparency

Security
Pros
Easy to use and navigate

Reasonable fees

High secured transactions

Crypto learning modules in regional language

Vast knowledge base on crypto
Cons
No derivatives trading

The monthly membership fee is 75 Rs. But if you make at least one trade in the month, this membership fee can be avoided.

No referral or affiliate programs
Was this writing helpful?
No
Yes