Cryptocurrency Exchange
PrimeXBT Exchange Review 2020: Is It Safe?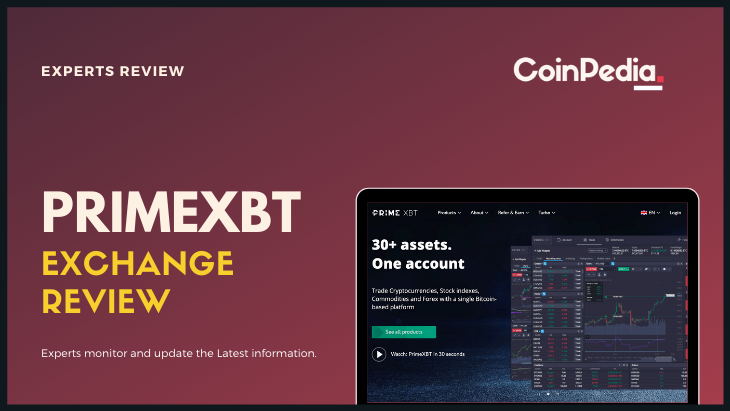 Overview
| | |
| --- | --- |
| Legal Name | PrimeXBT Exchange |
| Headquarters | Beau Vallon, Seychelles |
| Owner | PrimeXBT Trading Services |
| Year Founded | 2018 |
| Exchange Type | Centralized |
| Trading Fees | Maker: 0.05%/ Taker: 0.05% |
| Deposit Methods | Credit cards, Cryptocurrency |
| Supported Cryptos | Bitcoin, EOS Token, Ethereum, Litecoin, and Ripple |
| Fiat | Not Supported |
| Customer Service | Email |
| Trading Options | Spot Trading, Margin Trading |
Well, as the cryptocurrencies are growing in popularity over the years, so is the demand for good and reputable platforms for crypto trading. The more channels that emerge, the greater the rivalry becomes for the user's attention.
Some platforms succeed in achieving this, others fail as quickly as they came to be and perish away. One such very popular trading platform for crypto-currency is PrimeXBT.
In this article, we will cover the complete aspects of the PrimeXBT exchange such as its features, fees, supported currencies, trading, and much more. Let us dig into this PrimeXBT Exchange Review in detail now.
What is PrimeXBT?
Prime XBT is an online Bitcoin-related exchange providing on its website cryptocurrencies and CFDs for trading. This enterprise was established in Seychelles in 2018. From its launch, Prime XBT has experienced rapid growth in a short time, as it has customers from 150 different countries.
Prime XBT provides a powerful platform filled with valuable trader resources that are perfect for both beginners and middle-level traders. The Website is available in six languages namely: English, Chinese, Spanish, Korean, Portuguese, and Russian.
PrimeXBT Features
1) Prime XBT Leverage: Leverage is one of the many features that advanced traders tend to look for, but most platforms offer very limited leverage when it comes to trading cryptocurrency. PrimeXBT stands out by offering leverage of 1:100.
2) Asset Coverage: This is definitely one of the most exciting things about the PrimeXBT trading platform. Users are able to exchange a large range of markets using Bitcoin as leverage, including Forex (FX), cryptocurrencies, commodities and index.
3) PrimeXBT fees: PrimeXBT offers some of the competitive fees. They only have two types of fees and these are the trade fee and the overnight fee. The fees are fixed at 0.05%.
4) Security: Most of the coins kept at PrimeXBT are stored in cold storage. That means that they are kept away from internet access and the danger of possible hackers in a secure offline environment.
5) Customer Support: Perhaps the quickest and most effective way to get hold of their customer support is through the live chat that can be accessed right from the trading platform. This is active and available 24/7. Apart from that, there is also the email support option.
PrimeXBT Fees and Limits
PrimeXBT charges two different types of fees: a trade fee and overnight financing. The trade fee for cryptocurrency assets is 0.05% each time you buy or sell on the market. The overnight finance fee varies for the different cryptocurrencies based on liquidity.
PrimeXBT does not charge a deposit fee. There is a minimum Bitcoin network fee that is paid when you withdraw Bitcoin from the exchange which is calculated by the blockchain load. Prime XBT has set this charge at the regular 0.0005 BTC.
PrimeXBT Supported Currencies
The currencies supported by PrimeXBT can be briefly listed as follows:
PrimeXBT does not endorse fiat deposit and withdrawal currencies. However for permanent contracts, you can use fiat/crypto trading pairs.
PrimeXBT Mobile App
PrimeXBT provides both an Apple App Store and Google Play Store IOS & Android trading app. The app is very advanced and a perfect way to use the leveraged trading platform PrimeXBT on the go. There is currently no PrimeXBT APK file available, instead, you can download the PrimeXBT app from the Google Play Store.
How to register on PrimeXBT?
Step 1:

Navigate to the Official website and Go to the registration page.

Step 2:

Enter your email address and choose a strong password.

Step 3:

You can optionally provide your phone number, and then agree to the Terms and Conditions

Step 4:

Now click the 'Register' option.

Step 5:

Confirm your registration by entering the 4-digit PIN code that you receive via email.
How to recover the PrimeXBT password?
If in cases wherein you forget your password, You can reset your account password using the Password Recovery feature. Enter your email address in the space provided and a link will be sent to the registered email address along with the instructions on what you need to do to get your new password.
Covesting Module
Covesting enables traders to put their results before the public in an open environment and compete with other traders. By collecting performance payments from their followers, every trader can monetize their skills and gain second income. The more followers they receive-the more cash they create from successful trading.
Covesting enables users of the app to browse and instantly copy their trading behavior through hundreds of trading strategies offered by other traders. You will achieve the same returns as the leading traders on the platform by Covesting.
How to deposit on PrimeXBT?
Step 1:

Log in to your account and then navigate to the Deposit page of the Account.

Step 2:

Currently, there are two deposit options on PrimeXBT- Direct BTC deposits and Alternative Deposits.

Step 3:

Copy your personal PrimeXBT wallet address.

Step 4:

Paste it into the destination field on the wallet service from which you are sending funds

Step 5:

You can also use the provided QR code to paste the address.
How to withdraw on PrimeXBT?
Step 1:

Log in to your account and then navigate to the Withdraw page of your account.

Step 2:

Select your withdrawal address, or add a new address.

Step 3:

Enter the amount of BTC you want to withdraw.

Step 4:

Click 'Submit to withdraw'.

Step 5:

Open your email inbox and confirm the withdrawal.
How to buy cryptocurrencies on PrimeXBT?
How to sell cryptocurrencies on PrimeXBT?
Step 1:

Log in to your account and Go to the 'Trade' tab

Step 2:

In the Chart, widget Select the pair you wish to trade and order size.

Step 3:

Now click on the "Sell" option in red color. This will bring up the 'New Order' window.

Step 4:

You will now see a box open that asks you to enter an amount, order type, and price.

Step 5:

Once you have confirmed the details, press 'Send Order'.
PrimeXBT Pros and Cons
Pros
Competitive service fees and trading conditions
Up to 1:100 leverage on crypto assets.
Credit Card Deposits Available
It provides Referral System
They provide Anonymous Accounts
Cons
No demo account is provided
No service to clients from the USA, Canada
It is Not Regulated
Only Email Support
Conclusion
If you are searching for a leveraged cryptocurrency exchange with reasonably advanced technology, straightforward fees, and good security procedures then this exchange should be considered. It seems from this analysis that Prime XBT could be an interesting choice for you to trade leveraged cryptocurrency instruments.
PrimeXBT built a strong offering in the crowded trading space for the cryptocurrency. The trading platform is easy to use and with its low commissions, tight spreads, and excellent leverage, PrimeXBT stands out from the competition.
PrimeXBT FAQ's
Was this writing helpful?
No Yes