Cryptocurrency Exchange
Poloniex Exchange Review 2020
Do you use any other platform for crypto trading? Are you planning to use Poloniex Exchange? You are at the right place, here we present the complete review on Poloniex exchange!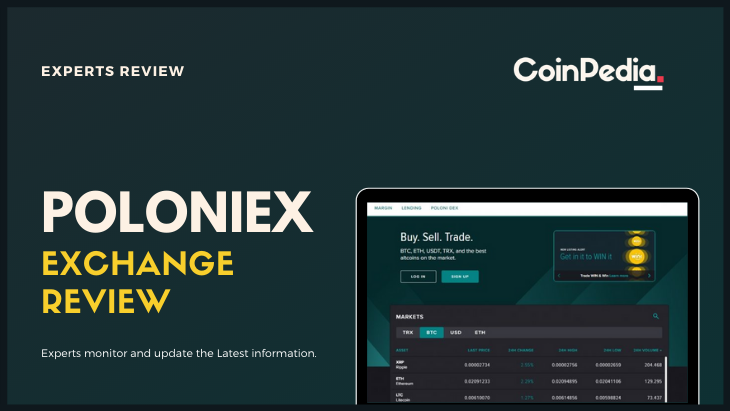 Further to its downfall in 2016, Poloniex fortunes changed after the Circle ( the Social Payment company ) acquired it for $400 million to payment services and institutional trading
The US Based Pure crypto to crypto exchange, Poloniex, has been surviving in this industry with situations but well known for its Classy service and holding endless features for Pro Traders. Poloniex exchange prides itself on providing advanced trading functionalities and maximum security.
The exchange has recently opened a Domain for Quick Access to the Exchange from the Asia-Pacific Region under the name Pwang.com.
Pros and Cons of Poloniex
Pros
One amongst the leading Ethereum exchange by trade volume
Provides detailed charts and tools for data analysis
Offers high volume margin trading and lending services
Fees are comparatively cheaper
Supports more than 50 cryptocurrencies and 100+ trading pairs.
Cons
User's have withdrawal issues with the exchange
A user cannot use Fiat currencies
Poor customer support
Unknown identity of investors, managers, and owners
The mobile app seems a problem
No wallet
After a peek into the Poloniex exchange, let me give you a detailed introduction to this crypto-to-crypto exchange for retail traders.
About Poloniex Exchange
Poloniex Exchange came into existence in 2014 by Tristan D'Agosta and is operating in the United States. In 2018, Circle- a huge Goldman-Sachs company acquired Poloniex in a deal reportedly valued at $400 million. We think it is really a piece of great news for Poloniex along with its users indeed.
Having Circle as its new owner they are planning to make this platform an initial regulated Exchange with SEC and FINRA registration as a broker/dealer. They are also exploring the markets of Asia. Moreover, it purely deals in the crypto-to-crypto network. It is a digit asset for future trading.
Poloniex exchange is ranked 8th on Coingecko in the spot trading category. The exchange has a $50,916,255 trading volume in the last 24hrs as of writing.
Poloniex is also one of the most active trading platforms available in the crypto market. It not only lets users exchange cryptocurrency but also allows them to trade on margin.
What makes Poloniex stand out among other exchanges?
Easy to use interface – The exchange has a simple trading platform. The exchange supports more than $10 million in daily transaction volume and high-speed matching engine. As a result, transactions executed on the platform happens at a faster pace.
The exchange allows its non-US customers to perform margin trades between a variety of cryptocurrency pairs. It also allows a wide array of graphing options, indicators, and technical analysis tools to help its users make informed choices about their trades.
Mobile App
The exchange introduced a mobile app in July 2018 for both iOS and Android. This mobile app features the same security checks as the exchange online interface — ensuring your funds are equally well protected.
API
The exchange has a robust API that allows third-party websites to access the exchange directly.
A secondary option is also available i.e. live chats, which address any query that a user may have. The Poloniex website comes with new revisions so that users can enjoy a better trading experience.
The platform does not accept fiat currency, i.e. traditional payments including debit cards, credit cards, IMPS, NEFT, etc. So, a user can deposit online only via cryptocurrency.
Supported currencies
The exchange supports more than 50 currencies. It also supports Circle's USDC stable coin.
Next in the review is the Fee structure of Poloniex exchange
Poloniex Fees Structure
Poloniex Exchange works in a tier fees structure, below are the complete breakdown while you select Bitcoin as the currency. Previously, the trading fee was 0.2%, which accounts for a very minimal amount. The deposit and withdrawals were dependent on the blockchain transaction fee.
Security
Two-Factor Authentication
A user should activate its two-factor authentication, which will add an extra level of security to its account. The account is linked to Google authentication. The QR code is shown on the right-hand side which needs to be scanned on the Google app.
Another alternative is just to enter a 16-digit code given below the QR code. Google sends a six-digit code. It is entered below the email ID and password section. Then click on enable 2FA. Your account will get intact with two-factor authentication on Poloniex.
Verification at Poloniex Exchange
The exchange has three levels of the verification process:
Level 1:
A user needs to feed personal details on the registration page including name, email, address and country of residence.
Level 1 enables you with a daily minimum deposit and withdrawal limit of $2,000 cryptocurrency.
Additionally, exchanging, lending and trading is limitless
Level 2:
If a user is looking to increase their daily limits, they can apply to this level.
They need to provide their phone number, physical address, postal address, date of birth and passport ID.
The user also needs to upload a passport size photograph with an ID photograph
Once the request is approved, a user has the deposit and withdrawal limit of $25,000 cryptocurrency
Level 3:
A user can only apply to this level if their limits exceed by $25,000 worth of crypto.
They need to contact the exchange support team.
Also, The utmost limit is quite high as compared to other exchanges.
Is Poloniex Exchange Safe?
Poloniex passes over fire following a major security breach that stole almost 12% of its bitcoin. The hack back in 2014, the broker and website are steadily rebuilding its image, reputation regarding the security front.
As a result, Poloniex today has sound security protocols providing trust for its customers. Mostly, the deposits are hoard offline. The exchange is also operating an auditing program. Now, it's their responsibility to report and take down the suspicious activity.
It enables 2-factor authentication, which conveniently helps to encourage user account security. The privacy topic is subject to major debates, so a user needs to dole out lots of personal information while moving to the Level 2 verification.
Customer Support at Poloniex
Although the platform says to offer exclusive customer support, however, its support team feedback is not that positive. Moreover, there are complaints regarding withdrawal issues and a long response time seems harsh.
It has also been said, Poloniex works on the ticket along with email support. These aspects are only available for existing customer account holders.
How to Set Up A New Account On Poloniex?
New account setup on Poloniex Exchange is a seamless process. A new user needs to log on to its official site i.e. "www.poloniex.com".
Go to its homepage and click on the tab, "Create your account" which will open a new window. Then the user needs to feed their basic information including:
Name
Email ID
Phone number
Password
Email ID is verified for security purposes. Then the two-factor authentication is activated.
The phone number is optional, however, a user should enter. It might prove beneficial in case of account recovery. The password is alphanumeric and should be a minimum of 8 characters in length. The password should be unique and should not be repeated from any other account.
Is Trading That Simple On Poloniex Exchange?
Yeah! Definitely, the user interface is easy to navigate, moreover, beginners, as well as professionals, can configure this exchange. Indeed, there are certain features in Poloniex that makes it worth the digital platform for crypto trading.

It offers an auditing program to monitor every transaction you perform. Poloniex auditing service is available 24*7 which assure the customers to secure their money within the exchange. Two-factor authentication is additionally accessible to secure all the accounts.
Poloniex stores all the transaction money in offline mode using air-gap cold storage. Only a minimal amount of crypto is saved online for trading purposes. This feature minimizes any risk that may occur due to exposure on an online platform. If auditing monitors any suspicious activity occurs, it is immediately blocked and also reported to the main server.
Centralized entities such as Banks operate on fractional reserves but that is not the case in trading. Once a user on Poloniex deposits an amount, it shall be used only for personal trading. Thus, Poloniex has great liquidity and users can trade on over 50 cryptocurrencies.
The exchange provides users 2 products while trading:
Poloniex Exchange
The user can swap/exchange their coins depending on the current exchange rate in the market
The available trade function is stop-limit, where the user can specify their price range as high/low limitations.
They get a basic order book that holds transaction history
Then comes, basic buy/sell trades
This gives users the biggest number of trading pairs like BTC, USDT, ETH, and XMR as their main coins.
This has a basic interface that newbies can operate for an instant transaction to enjoy the most of market trends.
Poloniex Margin Trading
This feature is used to buy and sell functions possessing stop-loss aspects as a bonus tool.
If a user is looking to borrow crypto coins from other participants, they can set a loan rate depending on the market condition of lending.
This section is mainly for traders having experience.
This product differs from standard Poloniex exchange while considering loan leverages.
How to trade on Polonix exchange?
The Poloniex website has three major options for a user- Buy, Sell and Trade. Here is a step by step procedure on how can you buy, deposit, sell, and trade on this exchange:
Deposit Cryptocurrency
Click on "Balance Tab" ⇒ Click on "Deposits and Withdrawals"
Search for the coin you wish to deposit ⇒ After selecting click "Deposit
Copy-paste the address of cryptocurrency ⇒ Send the amount you are looking to trade
Track all your transactions via the same page
Buy Cryptocurrency
Click on "Exchange Tab" appearing on the top of the screen
A chart is shown to select the cryptocurrency, check the right side section
Select the cryptocurrency ⇒ a graph will load ⇒ scroll down for "Buy and Sell Cryptocurrencies" option
Feed the amount you wish to purchase (Remember fees will be charged accordingly)
Click on "Buy Button" ⇒ Complete the buying procedure
Sell Cryptocurrency
Click on "Exchange Tab"
Choose the cryptocurrency ⇒ a graph will load ⇒ scroll down for "Buy and Sell Cryptocurrencies" option
Feed-in the amount you are looking to sell ⇒ the total amount of crypto will be shown automatically
Click "Sell Button" ⇒ Complete the selling procedure.
Recent Updates:
April 5, 2020: Poloniex is releasing a token launching platform-LaunchBase.
Tron CEO, Justin Sun has now announced an Initial Exchange Offering (IEO) launchpad on Poloniex. LaunchBase aims to be more than just a token issuance platform.
Mar 6, 2020: Poloniex exchange added a new feature – "Off-Chain Transfers"
The Off-Chain transfers allow customers to easily and quickly send funds for free between Poloniex accounts. The exchange doesn't take any withdrawal fees for these transfers as of now.
Feb 26, 2020: The exchange introduces higher withdrawal limits for its users.
The exchange has increased withdrawal limits of each user level. For more details, check the official announcement of the exchange.
Nov 29, 2019: Poloniex Exchange acquired TRON-based DEX Exchange and renamed as Poloni-DEX
Conclusion – Poloniex Exchange Review
All-in-all, Poloniex has had a rocky past but has managed to maintain a relatively good reputation in spite of this. The exchange offers a great range of features, excellent volume, and asset variety — but its terrible customer service and lack of fiat options may be just too much for many users to accept.
FAQ
What are the fees of Poloniex Exchange?
The trading fees vary between 0.1% to 0.2%. However, for high volume traders, the fees can be as low as 0.02%.
Does the exchange accept Fiat payments?
As of now, the exchange only is a crypto-to-crypto trading platform. Fiat payments are not accepted.
How can I contact polonix customer support?
Poloniex exchange has a ticket as well as email support. However, there are some negative remarks regarding time taken to resolve customer issues.
Was this writing helpful?
No Yes