Cryptocurrency Exchange
OKEx Exchange Review – Supported Currencies, Trading Fees, Deposit , Withdrawal & More
OKEx Exchange - One Of The Largest Cryptocurrency Exchange In The World. Get a detailed review on this Exchange.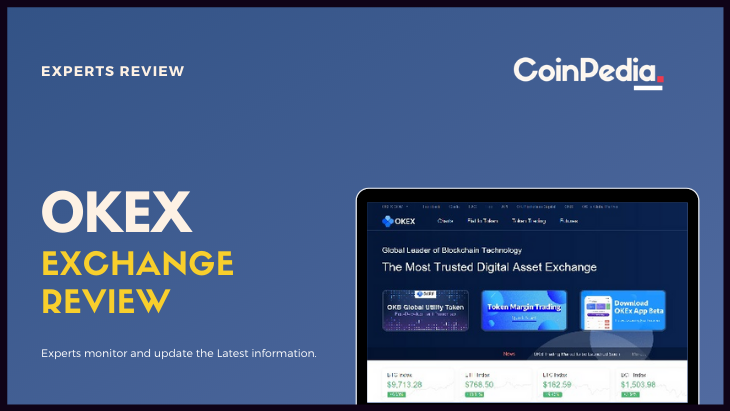 Investing and trading in cryptocurrencies have grown to a large extent in recent years. Traders and investors are always searching for a platform that is quick and stable, has good customer service, has a well-protected infrastructure, and where the investment is safe.
The Okex exchange is one of the leading cryptocurrency exchanges that allow users to trade on hundreds of digital assets.
In this article, we will provide you with the complete guide on the OKex exchange and look into its aspects such as its features, fees, pros and cons, and much more.
Overview
| | |
| --- | --- |
| Legal Name | OKex Exchange |
| Headquarters | Malta |
| CEO | Jay Hao |
| Year Founded | 2017 |
| Exchange Type | Centralized |
| Trading Fees | Maker: 0.10%/ Taker: 0.15% |
| Deposit Methods | Wire Transfer, Credit Card and Cryptocurrency |
| Supported Cryptos | 200+ cryptocurrencies including Bitcoin (BTC), Bitcoin Cash (BCH), Ethereum (ETH), Litecoin (LTC), Ripple (XRP), and more |
| Fiat | Chinese Yuan (CNY) |
| Customer Service | Email, Phone |
| Trading Options | Spot Trading, Margin Trading |
What is OKex?
OKEx is a Malta-based exchange that is currently considered one of the largest crypto-to-crypto exchanges in the world. It has its offices located in Malta, Hong Kong, Beijing, and Malaysia.
The exchange offers its users the opportunity to trade Futures, perpetual swaps, and options markets. These options give the traders a unique way to trade the crypto markets.
It has served millions of users in more than 100 countries with a BTC futures trade daily volume of over $1.5 Billion. OKEx is currently ranked 11th by trading volume according to Coinmarketcap.
How to Setup Account
Step 1: Navigate to the official website and click on the 'Signup' button on the top right corner of the screen
Step 2: Enter your email address and choose a strong password.
Step 3: Then tick the box of the terms and conditions and then click on 'signup' in the center down of the screen.
Step 4: Now click your account name for a drop-down menu and select "verification". Then provide your information to complete the verification.
Step 5: For linking a mobile number, select Security in the same drop-down menu. Then link your mobile number under "Authentication".
How to Recover the OKex password?
Go to the OKex home page, and then click the "Forgot password" option in the login box. Enter your registered email address and follow the instructions to generate a new password.
Also Read : LocalBitcoins Exchange Review : Is it Beginner friendly?
How to buy cryptocurrencies on OKex?
Step 1: Log in to your account. Go to C2C Dashboard
Step 2: Select the currency and digital asset you wish to trade with.
Step 3: choose an order of your desired price in the book to buy.
Step 4: Now, add the size/total amount of your order and confirm.
Step 5: Then select "I have paid". Once the seller confirms the receipt of your payment, they will release the tokens.
How to sell cryptocurrencies on OKex?
Step 1: Log in to your account. Go to C2C Dashboard
Step 2: Select the currency and digital asset you wish to trade with.
Step 3: Select an order of your desired price in the book to sell.
Step 4: Select the size/total amount of your order and confirm.
Step 5: Wait for the buyer to transfer the payment. Please make sure that you have received the payment before releasing the tokens
Deposit & Withdrawal Procedure
Step 1: Log in to your account and then click the "Assets" Option
Step 2: Enter the currency you would like to deposit/withdraw
Step 3: Then enter the network protocol and the deposit/withdrawal address
Step 4: Finally click the "Deposit" / "Withdrawl" option.
OKex Features
C2C trading platform: OKEx's C2C trading platform is similar to an Over the Counter (OTC) trading desk. It allows users to trade a selection of cryptocurrencies amongst themselves in an effective manner.
Futures contracts: This allows trading of the cryptocurrency at a predetermined price at a future date, irrespective of the market conditions. OKEx has a peer to peer leveraged trading platform.
Perpetual Swap: In the OKEx's Perpetual Swap, the profits and losses of the traders are realised and settled twice a day and trading up to 100x leverage is available
Security: OKEX operates a secure hot and cold wallet security procedure. This means that the majority of their funds are stored offline in a cold environment and are protected from hackers.
Customer Support: OKex offers responsive customer support through phone as well as an email-based ticketing system and several messaging apps and social media channels.
Trading Fees
The trading fees for takers charged by the exchange are 0.15%. This fee is slightly below the industry average which is around 0.25%. OKEx also offers a discount for the makers in the trades, who are charged at 0.10%.
The exchange has a discount system through which you pay lower trading fees the more you trade. This trading platform charges a withdrawal fee amounting to 0.0005 BTC when you withdraw BTC. The deposit methods include Wire Transfer, Credit cards, and cryptocurrencies
Supported Currencies
The OKex exchange supports over 200+ cryptocurrencies. Some of the major ones include:
Bitcoin (BTC)
Bitcoin Cash (BCH)
Dash (DASH)
Dogecoin (DOG)
Litecoin (LTC)
Stellar Lumens (XLM)
EOS (EOS)
Ethereum Classic (ETC)
Ethereum (ETH)
Gnosis (GNO)
Iconomi (ICN)
Melon (MLN)
Augur (REP)
Tether (USDT)
Monero (XMR)
Ripple (XRP)
Zcash (ZEC)
The only fiat currency supported by the OKex exchange include
OKex Mobile App
The OKEx exchange offers both iOS and Android apps for trading on the go. You can download these apps via the official Apple Store or Google play store.
Referral Commissions and Other Services
OKEx Referral Program
By recommending your friends to open accounts on OKEx and begin trading, you can earn incentives through the OKEx Referral program. You will receive $10 for each of the following three tasks that one of your referrals completes within 180 days of their registration.
The 3 tasks are Buy and Deposit crypto worth $100 or above, and Trade Crypto
OKEx Affiliate Program
When any of your suggested users trade on OKEx, you can earn free Bitcoin and a minimum of 30% commission through the OKEx Affiliate program. If 10 of your invited friends have completed the first job on the Rewards webpage, you can become an affiliate.
As an OKEx affiliate, you are entitled to a number of apart from trading commissions. For instance, you will receive support from OKEx regarding in-depth content and community collaborations, such as airdrops and AMA sessions.
Is OKEx Safe and Secure?
OKEx is registered in Malta and Hong Kong and complies with the Malta Financial Services Authority's Virtual Financial Asset Act ("VFAA"). The platform's token security is based on an industry-standard cold and hot wallet technology and a core private key encryption technique.
The exchange is said to have the most advanced privacy encryption technology in the space
It is equipped with 2-factor authentication, a Mobile verification code for security settings and withdrawal, of funds, and Email verification codes
Conclusion
OKEx Exchange has a simple and easy-to-use interface. This makes it a perfect exchange option for customers. The exchange features a large number of listed coins with various functions and competitive trading fees.
Derivatives trading is another function that puts OKEx among one of the most utilized trading platforms in the market with a great track record of security. Thus OKEx being one of the largest exchanges in the world comes out as a reliable platform for traders of all types.
FAQ
Can US citizens use OKEx?
OKEx does not offer its services to citizens of the United States.
Is OKEx safe and legit?
OKEx is registered in Malta and Hong Kong and complies with the Malta Financial Services Authority's Virtual Financial Asset Act ("VFAA")
Does OKEx require KYC?
Identity verification is not required for users to deposit or trade crypto on OKEx.
Is OKEx the same as OKCoin?
NO, OKEx and OKCoin are not the same. The latter was founded in 2014 while OKEx was founded in 2017.
Is there any initial cost for an account with OKEx?
OKEx does not have a minimum initial deposit or account operating balance
Okex Exchange Ratings
Currency Support

Online Reputation

Fees

Customer Suppor
Pros
Simple and easy to use charts

Over 100 cryptocurrencies supported

Fiat to cryptocurrency support

High-level trading platform

Leverage trading

Inbuilt software wallet
Cons
Not available in the US

Can be complicated to use

No Demo Account

CNY only fiat currency supported
Was this writing helpful?
No
Yes