Cryptocurrency Exchange
KuCoin Exchange Review – Best Exchange For Beginners
Kucoin Exchange - The People's Exchange is a world class blockchain asset exchange. Best platform for Beginners with high quality services.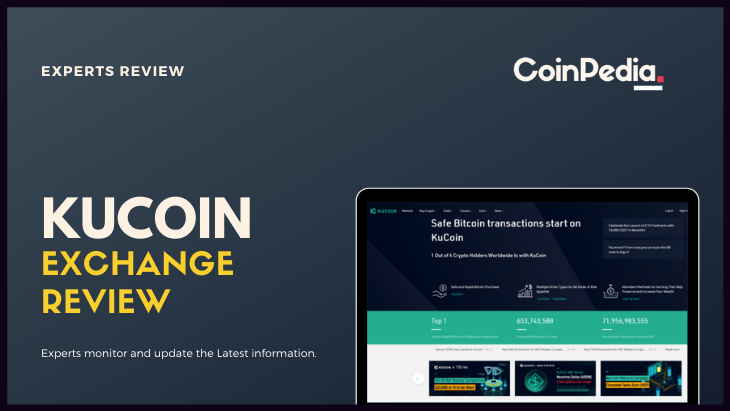 Overview
| | |
| --- | --- |
| Legal Name | KuCoin Exchange |
| Headquarters | Singapore |
| CEO | Johnny Lyu |
| Year Founded | 2013 |
| Exchange Type | Centralized |
| Trading Fees | Maker: 0.10%/ Taker: 0.10% |
| Deposit Methods | Credit Card and Cryptocurrency |
| Supported Cryptos | 250+ supported cryptocurrencies including Bitcoin (BTC), Bitcoin Cash (BCH), Ethereum (ETH), Litecoin (LTC), Ripple (XRP), and more |
| Fiat | US Dollar (USD), Euro (EUR), Pound (GBP), Australian Dollar (AUD) and more |
| Customer Service | Email, Phone |
| Trading Options | Spot Trading, Margin Trading |
KuCoin has grown into a top cryptocurrency exchange that is popular among the crypto holders worldwide.
Since it launched, KuCoin already has over 5 million registered users from over 100 countries and regions.
In this article, we will provide you with the complete guide on the Kucoin exchange and look into its aspects such as its features, fees, pros and cons and much more. Let us look into detail in this Kucoin exchange review now,
What is Kucoin?
KuCoin is a global cryptocurrency exchange for numerous digital assets and cryptocurrencies. It is also popularly known as "The People's Exchange". KuCoin is a cryptocurrency exchange based in Singapore. The company wants to make it as easy as possible for everyone to trade in cryptocurrency.
KuCoin went live for the first time in the year 2017 and has grown very rapidly since then. The platform is very user-friendly and easy to use even for the absolute beginner. It is also possible to buy the native currency KuCoin Shares, so you can benefit from KuCoin's growth.
KuCoin Features
Low Fees: KuCoin offers some of the lowest fees for trading. The cryptocurrency deposits are free. When it comes to making a trade, you will only pay 0.10% of the amount you are buying.
Lots of Currencies supported: KuCoin has a huge range of cryptocurrencies and you can trade them yourself against different cryptocurrencies like BTC, ETH, NEO, USDT and KCS.
Security: KuCoin uses many security measures, including micro-withdrawal wallets, industry-level multilayer encryption etc which look into the day-to-day data operations according to strict security standards.
Customer Support: KuCoin's support staff is available 24/7 via the exchange's website and by email. In Spite of the high volume of requests from the users all over the world, The staff replies to all of the support inquiries efficiently.
Margin Trading: KuCoin launched their margin trading services recently. This platform initially supported 12 different assets, which provided a way to trade with up to 10x leverage.
KuCloud: KuCloud is a cryptocurrency trading solution to allow developers to launch their own crypto spot and futures trading platforms.
KuCoin Fees and Limits
This trading platform does not charge different fees between takers and makers. Instead, the exchange has a so-called "flat" fee model. They offer a flat trading fee of 0.10%, which is below the global industry average.
If you pay the trading fees with KuCoin's native token KCS, you could get an extra discount. KuCoin charges a withdrawal fee amounting to 0.0004 BTC when you withdraw BTC. This fee is also below the industry average.
Previously, KuCoin only accepted deposits of cryptocurrencies. But it now accepts the deposits of fiat currencies as well.
KuCoin Supported Currencies
The Kucoin Exchange supports more than 250+ cryptocurrencies. Some of the major ones include:
Bitcoin
Bitcoin Cash
Ethereum
Litecoin
Bitcoin Gold
Ripple
Dash
Monero
FunFair
Golem
KuCoin Mobile App
KuCoin is a powerful and beginner-friendly exchange. For users who prefer to trade on the go, KuCoin has a convenient mobile app available on both Android and iOS mobile devices.
How to register on KuCoin?
Step 1: To register a new account with KuCoin, you will first need to visit their official homepage.
Step 2: After that, click on "Sign up", which is at the top right-hand side of the screen.
Step 3: You will then be presented with the exchange's terms of conditions. Once you have, tick the accept terms and conditions box, followed by clicking on Next.
Step 4: Input your Email address and click the "Send Code" button.
Step 5: Wait for the email verification code to be sent to your mailbox and enter the verification code you received.
Step 6: Then set the login password, read through and agree to the "Terms of Use", click the "Sign Up" button to complete your registration.
How to recover the KuCoin password?
Click "Forgot password?" on the login page. Then input your Email address or phone number and click the "Send Code" button. Please check in your mailbox/phone for the email verification code. Click "Submit" after filling in the verification code you received. Now you can set a new login password.
How to deposit on KuCoin?
Step 1: In the upper right corner of the website, find "Asset" and click "Main account (Deposit & Withdraw)" from the drop-down list.
Step 2: Click "Deposit" on the left side, Select the coin you want to deposit from the drop-down list or search for the coin's name directly and select it.
Step 3: Just copy your deposit address and paste it into the withdrawal platform, and then you can deposit coins to KuCoin.
How to withdraw on KuCoin?
Step 1: Log in to your KuCoin account. Click on the "Overview" under the "Assets" tab, then the "Withdraw" tab.
Step 2: You may type the token name in the search box, or scroll down and click on the token you want to withdraw.
Step 3: Once you have selected the correct token, you will need to add the wallet address (composed of remark name and address) and amount.
Step 4: The Remark column is optional. Then click "Confirm" to carry out the withdrawal.
How to buy cryptocurrencies on KuCoin?
Step 1: Visit KuCoin homepage, click "BUY".
Step 2: Enter the total/amount you want to buy and click "Place Order".
Step 3: On the order page, confirm the amount (total) and payment method of the order. Ensure to transfer your payment to the seller within the limited time.
Step 4: Then Click on the "I've Paid" option after your payment is done.
Step 5: After the seller releases the coins, the digital assets will arrive at your Main Account and the order is completed.
How to sell cryptocurrencies on KuCoin?
Step 1: Visit KuCoin homepage, click "SELL".
Step 2: Then you then need to search for the coin you want to sell.
Step 3: To do this, enter it into the search box that can be found on the right of the page.
Step 4: Enter the total/amount you want to sell and click "Place Order"
KuCoin Pros and Cons
Pros
Low trading and withdrawal fees
User-friendly exchange
Vast selection of Altcoins
24/7 customer support
Ability to buy crypto with fiat
No forced KYC checks
Ability to stake and earn crypto yields
Cons
No fiat trading pairs
No bank deposits
May appear complicated for new users
Conclusion
The exchange has experienced significant growth since its launch in 2017 and is now amongst the top industry's players in terms of security, reliability, service quality, and features. As such, the exchange is best suited for both new and experienced traders who want exposure to popular as well as less-known small-cap crypto tokens and assets.
By buying KuCoin Shares (KCS), they offer you an opportunity to generate a passive income by distributing 50% of their commissions. These commissions are paid daily and you will receive them immediately.
Recent Updates
On Oct 05, 2020, The deposit and withdrawal service of AVA, CHZ have now resumed on KuCoin.
On Oct 04, 2020, The deposit and withdrawal service of $SHA, $TOMO, $VET, $GO, $HPB, $STX, $WAN, $VRAB, $VTHO have now resumed on KuCoin.
On Oct 03, 2020, Presearch (PRE) is now included in the Kucoin Safeguard Program.
On Oct 01, 2020, BetProtocol $BEPRO Deposits and Withdrawals Now Open
Was this writing helpful?
No
Yes