Cryptocurrency Exchange
itBit Exchange Review: The Regulated US based Crypto Exchange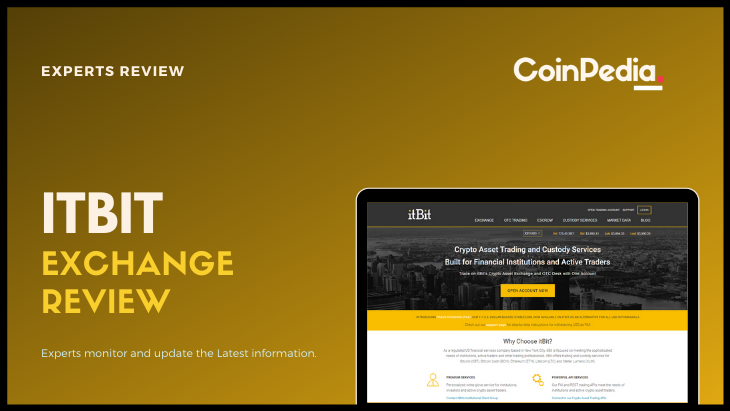 Overview
| | |
| --- | --- |
| Legal Name | ItBit Exchange |
| Headquarters | New York City, U.S |
| CEO | Charles Cascarilla |
| Year Founded | 2013 |
| Exchange Type | Centralized |
| Trading Fees Maker | 0.00%/ Taker: 0.20% |
| Deposit Methods | Cryptocurrency, Wire transfer, Bank transfer |
| Supported Cryptos | Bitcoin (XBT), Bitcoin Cash (BCH), Ethereum (ETH), Litecoin (LTC), Stellar Lumens (XLM), Paxos Standard (PAX) and more |
| Fiat | USD, Euro and Singapore Dollar |
| Customer Service | Email, Phone |
| Trading Options | Spot Trading, Margin Trading |
Some cryptocurrency exchanges are gateways between the fiat currencies of the world and the world of cryptocurrencies, while others are only places where you can trade one crypto token for another.
One of the names you may have come across while reading about crypto trading is itBit.
In this article, we will cover the complete aspects of itBit and help you to find out whether ItBit is right for you. Let us look into this ItBit exchange review in detail now,
What is ItBit?
ItBit is a Bitcoin exchange that offers cryptocurrency trading services including the over-the-counter (OTC) service. The company was launched in November of 2013, and its headquarters is in New York. They have an international office in Singapore and offer free deposits and withdrawals in Singapore dollars.
ItBit is a highly reputable cryptocurrency exchange for the trading of Bitcoins against fiat currency. The exchange markets themselves to institutional and professional investors as they operate with high liquidity and large trades.
ItBit Exchange is now fully regulated as a bank in the state of New York, which allows them to offer exchange services in all 50 states.
ItBit Services
ITBIT API: ItBit offers several APIs to integrate their crypto assets market data into your trading or investment programs. The FIX API is geared towards institutions and high-frequency traders. Market Data API is used to access ItBit's order books, pricing data, and trade data. REST API offers full trading functionality for algorithmic trading or algorithmic market analysis
ITBIT COINS: On ItBit's exchange, you can buy Bitcoin (XBT) with US dollars (USD), Euro (EUR), and Singapore dollars (SGD). OTC Bitcoin purchases can be made with ETH, BCH, LTC, XLM, PAX, BUSD, PAXG, and USDT.
OTC TRADING DESK: ItBit offers an over-the-counter trading desk for buying Bitcoin with fiat currencies and some other cryptocurrencies. Transactions are generally fast; most are settled within a day. There are a flat transaction fee and no withdrawal fees.
FDIC INSURANCE: FDIC means that all accounts are insured up to $250,000. ItBit has gone to great lengths to monitor and protect investors and traders, addressing issues that pose risks to the exchange.
ItBit Fees and Limits
There is a 0.20% taker fee and a 0% maker fee. Special ItBit exchange fees are available for those making large-block-size trades of over 25 BTC. When it comes to deposits, USD Wire Transfer has a fee of $10 from the US and $40 from other countries. SWIFT deposit fee is $40+ agent fees.
US dollar withdrawal via ACH is free up to $3000 for US citizens, and over $3000 the fee of $20 is applied. The International Wire Transfer fee is $40. SWIFT transfers are also charged $40 plus intermediary charges paid to the third party.
Singapore Dollar and Bitcoin withdrawals are free of charge. The withdrawal limit is set to $2,500 daily and $15,000 monthly by default.
ItBit Supported Currencies
ItBit supports three fiat currencies:
US dollar
Euro
Singapore dollar
The cryptocurrencies supported by ItBit can be listed below:
Bitcoin (XBT)
Bitcoin Cash (BCH)
Ethereum (ETH)
Litecoin (LTC)
Stellar Lumens (XLM)
Paxos Standard (PAX)
PAX Gold (PAXG)
Binance USD (BUSD).
ItBit Mobile App
ItBit is easy to use because of its clean and user-friendly design. While it is optimized for mobile use, but there is no app available for Android or iOS as of yet.
How to register on ItBit?
Step 1: Visit the official website and click the "Sign Up" option
Step 2: It requires providing an email address and setting the password.
Step 3: The next step is confirmation via the email address.
Step 4: When the confirmation is done, the website requires to set a multifactor authentication that can be conducted via Google Authenticator apps.
Step 5: This step requires the providing of personal data, photos of documents, and face photo. After the verification, the trader is free to use the itBit platform.
How to recover the ItBit password?
In certain cases, to recover the ItBit password, Go to the ItBit Exchange login page and click on the "Forgot Password" option. Then enter your personal information and user id after which you can reset your password.
How to deposit on ItBit?
Step 1: Log into your itBit account
Step 2: To deposit Bitcoin on itBit, choose the wallet account you would like to fund, then click on "Deposit".
Step 3: Next, select your Bitcoin and click the "Deposit" button. A pop-up window with your Bitcoin deposit address will appear.
Step 4: You can either send your Bitcoin to this deposit address or scan the QR Code provided using your wallet service.
Step 5: The deposit address auto-generates a unique value for each deposit transaction. You must rescan or input the new deposit address for any future deposits to avoid losing funds.
How to withdraw on ItBit?
Step 1: Log in to your itBit account
Step 2: To withdraw from itBit, choose the "wallet" account which you would like to withdraw.
Step 3: On the right-hand side of the screen, under "Withdraw", select your currency.
Step 4: Choose the bank account you would like to withdraw to or add an additional bank account by clicking the "Add bank account."
Step 5: If you scroll down the funding page, you would be able to see your withdrawal transactions.
How to buy cryptocurrencies on ItBit?
Step 1: Visit the Official Website, Sign in to your ItBit account.
Step 2: In the menu, Click on buy option
Step 3: Choose a currency pair you wish to buy
Step 4: Continuous book screen will appear
Step 5: You can choose an existing order in the order book or create one (a limit order)
Step 6: Select the trade amount and then click on Buy option
How to sell cryptocurrencies on ItBit?
Step 1: Visit the Official Website, Sign in to your ItBit account.
Step 2: In the menu, Click on Sell option
Step 3: Choose a currency pair you wish to sell
Step 4: Continuous book screen will appear
Step 5: You can choose an existing order in the order book or create one (a limit order)
Step 6: Select the trade amount and then click on Sell option
ItBit Pros and Cons
Pros
Good liquidity and competitive fees
High-security level
Keeps BTC in cold storage
Available in all 50 states of the USA
FDIC insurance for all accounts.
Cons
No margin trading and short selling
Bitcoin is the only tradeable asset
Limited trading types and options
No mobile app
No ACH transfers
Conclusion
All in all, itBit is a great cryptocurrency exchange for professional traders who are dealing with large sums of money. the exchange is licensed and regulated within the United States. Therefore, investors' funds are guaranteed to be safe and are ensured.
Their fees are competitive and the trading platform's liquidity is good in all currency pairs. Ultimately, itBit is particularly appealing to those who routinely make trades over 100 BTC in value or anyone who trades more than 2500 BTC per month
Share your thoughts on this itBit review and let us know! Like and comment on our FB and Twitter page.
Recent Updates
On March 15, 2020, itBit becomes the first fiat-to-crypto exchange with maker rebates for all trades.
On Jan 14, 2020: It was announced that users can trade PAXG against dollars on Paxos' exchange, itBit.
On June 24, 2020, The New York Department of Financial Services (NYDFS) approved itBit to engage in virtual currency services.
On June 26, 2020, In the Cryptocurrency Markets, ItBit was second to Bitstamp at $2,874.17
Was this writing helpful?
No Yes