Cryptocurrency Exchange
Huobi Exchange Review : Supported Currencies, Trading Fees, Deposit , Withdrawal & More
This Huobi Review will give you a walkthrough Huobi exchange, it's features, and other aspects.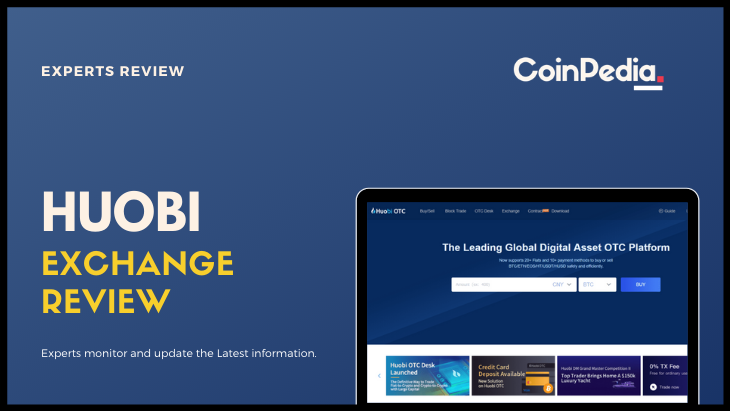 As the cryptocurrency market picks uprise, numerous exchange services have entered the market. Each presents a different mix of fees, pairing, geographical features, and user interfaces.
Huobi is an Asian cryptocurrency exchange and it is considered one of the largest digital currency exchanges operating in Asia.
In this article, we will cover the complete aspects of Huobi exchange such as its fees, supported currencies, pros and cons, and much more. Let us look into this Huobi exchange review in detail now.
Overview
| | |
| --- | --- |
| Legal Name | Huobi Exchange |
| Headquarters | Singapore |
| CEO | Leon Li |
| Year Founded | 2013 |
| Exchange Type | Centralized |
| Trading Fees | Maker: 0.20%/ Taker: 0.20% |
| Deposit Methods | Cryptocurrency |
| Supported Cryptos | 220+ supported coins including Bitcoin, Ethereum, Ripple, Bitcoin Cash, Litecoin, Stellar and more |
| Fiat | GBP, USD, AUD, EUR, INR, BRL, KHR, CAD, CNY, NZD & 15+MORE |
| Customer Service | Email, Phone |
| Trading Options | Spot Trading, Margin Trading |
What is Huobi Exchange?
Huobi Exchange is an online cryptocurrency exchange accessible by both desktop and mobile devices. The exchange was established in 2013 by Huobi Group and has become one of the world's most well-known crypto exchanges.
Huobi Global is an extremely liquid exchange over multiple crypto trading pairs including BTC, ETH, LTC, XRP, and more. The CEO of Huobi Global is Leon Li, who has been in the position since 2019. The exchange also has offices in Hong Kong, South Korea, the USA, and Japan.
Huobi Exchange holds over $1 billion in various assets which can be accessed over 130 countries. The exchange offers both spot and margin trading, meaning that you can trade with more than your account balance.
Huobi Exchange Services
Institutional trading accounts: As one of the largest exchanges in the world, Huobi has attracted the attention of institutional traders and accounts the world over. Huobi has created a separate trading desk for the institution and firm size users that involves both OTC and dark pool trading.
Huobi User Protection Fund: Huobi provides profits into its User Protection Fund as an insurance policy against hacks, thefts, and other unforeseen events that affect the users' wallets.
Customer Service: Contacting Huobi regarding any of the issues often means you can expect a response within the hour. That quick response time puts it well above any other exchange.
Derivatives Trading: Huobi has also launched its own derivatives products for both Futures and Swap trading markets.
Margin Trading: Along with derivatives trading, Huobi has also become one of the leaders offering support for Margin and C2C lending.
Huobi Exchange Fees and Limits
The Huobi exchange withdrawal fee is below the industry average. This exchange charges a withdrawal fee amounting to 0.0001 BTC when you withdraw BTC. Huobi does not charge any fee for depositing funds into your account
Huobi has a trading fee of 0.2 percent on each trade made by both makers and takers for a trading volume of less than 5 million. It's trading fees reduces with an increasing trade volume, and gets to 0.015 percent for makers and 0.025 percent for takers when trading volume is up to 300 million and above.
Supported Currencies
Huobi supports a wide range of 220+ more cryptocurrencies. Some of the notable cryptocurrencies include:
Bitcoin
EOS
Ethereum
Bitcoin Cash
Cardano
Monero
Bitcoin SV
USD Tether
Stellar
Ripple
Huobi Token
Ethereum Classic
Litecoin
TRON
Zcash
Huobi Mobile App
Huobi can be downloaded from both the App Store and Google Play. It is also available as a download client for both MacOS and Windows.
This application allows users to trade, access wallet, fund account, receive notifications and check transaction history on the go. Buying BTC or ETH with it is as simple as clicking around for a minute or two and you're good to go.
How to register on Huobi Exchange?
Step 1: Visit the Huobi Official Website. Click on the "Sign Up" option
Step 2: Select your nationality from the dropdown menu, enter your email address or your phone number and a strong password
Step 3: Agree to the terms and Conditions and then click SignUp
Step 4: Click on your profile icon located at the top right corner of the page. In the dropdown menu click on the Verification tab.
Step 5: Fill in the details including your nationality, government-issued ID card, first and last name, and photo of your ID which details you need to insert in the required field.
Step 6: Click on the 'Verify' button to complete the verification of your account and then log in through your Huobi exchange login.
How to recover the Huobi password?
In certain cases, to recover the Huobi password, Go to the Huobi login page, click on the "Forgot Password" option. Then enter your personal information and user id after which you can reset your password.
How to deposit on Huobi Exchange?
Step 1: Log in to your Huobi account
Step 2: After logging in, Go to "Balances" then click on "Deposit".
Step 3: Then select on "Exchange Account"
Step 4: here you will find all the cryptocurrency deposit address for your account. Choose the crypto you want to use to deposit
Step 5: Copy the address and then send funds to that address.
How to withdraw on Huobi Exchange?
Step 1: Log in to your Huobi account
Step 2: After logging in, Go to "Balances" then click on "Withdraw".
Step 3: Then select on "Exchange Account"
Step 3: here you will find all the cryptocurrency deposit address for your account. Choose the crypto you want to use to withdraw
Step 4: Copy the address and then you will get the funds to the address.
How to buy cryptocurrencies on Huobi?
Step 1: Log in to your account
Step 2: Click on 'Buy Crypto' on the top left
Step 3: Enter which currency you want to Pay with and then select Bitcoin.
Step 4: On the order screen, confirm the payment method and amount and place the order by clicking 'Go to simplex'
Step 5: Fill in your credit card data and personal data and proceed your order
Step 6: Simplex will send your Bitcoin to your Huobi account
How to sell cryptocurrencies on Huobi?
Step 1: Log in to your account
Step 2: Click on 'Sell Crypto' on the top left
Step 3: Click on Exchange and select your favorite trading pair, like BTC/USDT
Step 4: Scroll down and choose between a market or a limit order. A market order will be executed immediately. Limit order needs to get filled by a seller
Step 5: Fill in the amount and select your preferred order
Step 6: Click on Sell BTC to complete the order
Is Huobi Exchange Safe and Secure?
Yes, Huobi exchange is one of the exchanges available, there have been no reports of security breaches since its inception. The exchange offers advanced security measures such as two-factor authentication and 98% of crypto assets are protected in multi-signature cold storage wallets.
Conclusion
Huobi exchange is a safe and solid exchanging platform for a wide range of cryptocurrencies. It has a great user-friendly interface, strong storage, an intervention fund for users. It also has an exchange application available for Windows, Mac, iOS, and Android devices.
When it comes to security, they have taken all of the safety precautions. Their 20,000 BTC strong insurance fund keeps them well protected. Huobi seems to have it all for any investor, regardless of skill or experience.
Thus it is a wonderful exchange to trade on and one of the highly recommended amongst other cryptocurrency and digital assets exchanges.
Huobi Ratings
Currency Support

Security

Online Reputation

Trading and transaction fees

Customer Support
Pros
Access to a wide range of digital coins and tokens.

24/7/365 customer service.

Pre-trade education programs for new users.

Strong liquidity is available for traders.
Cons
Has previously been accused of faking trading volumes.

Low withdrawal limits.
Was this writing helpful?
No
Yes