Cryptocurrency Exchange
Bithumb vs Bitglobal Review: Which one should you choose?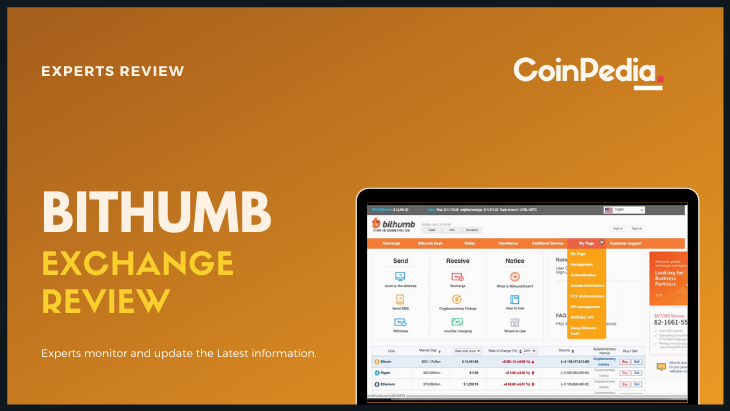 Introduction
So many regional cryptocurrencies are now stepping to become global cryptocurrency exchanges. With the experience they gained in the initial years, can they meet the expectations of global users? Today, let us check a Korea-based cryptocurrency exchange – Bithumb. Bitglobal is the Global exchange of Bithumb. Let us understand the Pros, Cons and compare them and then decide whether you should use them!
Overview
| | |
| --- | --- |
| Official Web Address | https://www.bithumb.com/react/ |
| Headquarters | Seoul, Korea |
| Country of Origin | Korea |
| CEO | Heo Baek-young |
| Founding Year | 2014 |
| Exchange Type | Centralized |
| Trading Options | Spot & Margin |
| Trading fees | 0.25% trading fees |
| No of cryptocurrencies | 180+ |
| Native Token | No |
| Deposit methods | Bank Transfer |
| Deposit fees | Only for the minor deposit amount |
| Withdrawal methods | Bank transfer |
| Withdrawal fees | Depends on cryptocurrency |
| Supported Countries | 18+ |
| Restricted countries | 10+ |
| Supported Fiat currencies | KRW |
| Mobile App | Available on Google & Apple Play Store |
What is Bithumb?
Bithumb is a South Korea-based digital asset exchange formed in 2014. It was initially known by the name Xcoin but, it was rebranded as Bithumb in 2015. In 2017 it reached a trading volume of 1 trillion KRW equivalent to $764 million. Their headquarter is in Seoul, Korea.
Bithumb offers customers services such as cryptocurrency trading, auto trading, Bot trading, lending, deposit & interest. It offers an easy-to-use platform and with its advanced trading features, it is suitable for both beginners and seasoned traders. It also offers bot trading for users who don't want to indulge in emotional trading.
It primarily serves Korean users and has KRW (Korean Won) as its main Fiat currency. All the cryptocurrencies in the exchange have been paired with KRW for easy buying for Korean users.
The exchange has robust security features like 2FA, anti-phishing code, whitelisting, SMS & email notification. It has got the highest number of users from Korea. It has got dedicated customer phone support in Korea.
In 2019, Bithumb launched Bitglobal – a cryptocurrency exchange dedicated to its Global Users
Timeline
| | |
| --- | --- |
| 2014 | Launched Xcoin – a BTC exchange |
| 2015 | It renamed as Bithumb |
| 2016 | Opened Mobile Website for wire service |
| 2017 | Reached 1 trillion KRW in trading volume |
| 2018 | Launched DEX – a decentralized exchange |
| 2019 | Launches Bitglobal exchange for Global users |
| 2020 | Established own R&D laboratory |
| 2021 | Ranked as the No.1 digital exchange by Korean Brand reputation Institution |
Bithumb Vs Bitglobal
Bithumb
Bitglobal
Korean-based Cryptocurrency exchange for Korean users

Founded in 2014

Headquarters – Seoul, Korea

Official website – https://www.bithumb.com/react/

High trading volume0.25% trading fees

Offers Spot & Margin trading

Offers staking180+ cryptocurrencies listed

Call Center support for users and has won award for best services

Supports only KRW fiat currency254k followers on Twitter

Good reviews from users based in Korea

Supports 2 languages on the website

30% trading fee commission for the referral program

It has Mobile App in Korean and English
Korean-based cryptocurrency exchange for Global users

Launched in 2019

Headquarters – Seychelles

Official Website – https://www.bitglobal.com/en-us

Low trading volume0.10% trading fees

Offers Spot, Margin & Smart Tokens

Offers staking, staging & mining 80+ cryptocurrencies listed

Customer support restricted to email and 24/7 chat support

Supports 7 fiat currencies73.4k followers on Twitter

Mixed and biased reviews by global users

Supports 8 Languages on the website

It does not have a referral program currently

It has Mobile App that supports 7 languages
Features
Trading types – It offers spot and margin trading. It also features auto trading where orders will be executed as per the set limits by the user.
Trading fees – The trading fee is 0.25% for new users. If you hold KRW coupons and have high-volume trades in the last 30 days you will get a trading fee of up to 0.04%.
Bithumb Plus – the exchange offers a staking option where you can earn up to 9% as the annual interest rate. This also allows you to earn through compound interest.
Referral – The exchange allows a 30% commission on trading fees for referrers. Referees get a 10% commission on trading fees.
Bot trading – Bithumb has tied up with Bot trading platforms like Arbibot, Korbot, Copybot, and Hunterbot where users can select a 3rd party bot and incorporate it into the Bithumb trading platform. Kindly trade with caution as Bithumb won't take responsibility if users face any loss
Virtual Asset Deposit – It is like a fixed deposit where you can deposit your digital assets for a fixed rate of interest.
Virtual Asset Lending – Bithumb offers cryptocurrency when you give KRW or any other cryptocurrency as collateral. The payback period is 3,7 days with a basic service fee of 1% and 0.0001% as a daily service fee with a max limit of 300 million KRW.
Cryptocurrencies Available on Bithumb
With more than 180 cryptocurrencies available on the platform it is suitable for the investor who is in need of a broader portfolio. However, the global platform offers only 80+ cryptocurrencies. Some of the popular cryptocurrencies are:
Ethereum
Litecoin
Ripple
Dogecoin
Cardano
The Sandbox
Tron
Polygon
Polkadot
How to Create an Account on Bithumb?
Let us learn how to create a Bitglobal account
Log on to www.bitglobal.com/en-us/register
Enter your email address
Enter the verification code sent to your mail
Set password
Complete the Verification process through google authenticator or SMS verification
Identity verification is of 3 levels. Level 1 is mobile verification. Level 2 is address proof verification and a photo of the user. Level 3 is for high-volume traders who trade more than 100 BTC, it will be automatically done.
Congratulations, you are now all set to explore the full features of Bitglobal
How to Buy Cryptocurrency on Bithumb?
Let us learn to buy cryptocurrency on Bithumb
Log on to your Bithumb account
Click on Trade
Select the cryptocurrency you wish to buy
Select your fiat currency (KRW) and type the amount
Review the order and Click Buy
How to Sell Cryptocurrency on Bithumb?
Let us learn how to sell cryptocurrency on Bithumb
Log on to your Bithumb account
Click on trade
Select the cryptocurrency you want to sell
Click on sell
Enter the amount you want to sell and choose the KRW or USDT as receiving currency
How to Deposit Cryptocurrency on Bithumb?
Let us learn how to deposit crypto on Bithumb
Log on to your Bithumb account
Click on Assets and Select Deposit
Choose the cryptocurrency you want to deposit
Copy the address and select the network
Paste the address in your previous exchange and choose the network
Review the details and submit them.
You will get a notification once the transaction is completed
How to Withdraw Cryptocurrency on Bithumb?
Let us learn how to withdraw crypto from Bithumb
Log on to your Bithumb account
Click on Assets and Select withdraw
Choose the cryptocurrency you wish to withdraw
Copy and Paste the deposit address from the new exchange/ wallet
Select the network and submit once you have reviewed the transaction
You will get a notification once the transaction is completed
Exchange Fees and Supported Payments
There is a withdrawal fee for each cryptocurrency and it varies from each cryptocurrency. There are no deposit charges for most cryptocurrencies, however, if you deposit a very minor amount, then a small fee is charged. You can view the fee details for each cryptocurrency deposit and withdrawal here.
The exchange recommends waiting till cryptocurrencies reach the required amount and avoiding small deposits as it is chargeable.
The number of small deposits of cryptocurrencies
| | | | | | |
| --- | --- | --- | --- | --- | --- |
| Bitcoin | Bitcoin Cash | Bitcoin Gold | Nervos Network | Polkadot | Kusama |
| 0.005 | 0.03 | 0.15 | 61.99999999 | 2 | 0.00999999 |
The trading fee (both maker & taker fee) is 0.25% for a new user. However, if you purchase KRW coupons and reach a required high trading volume, your trading fee can go as low as 0.04%
Referral
Bithumb offers a referral program where the referrer earns 30% of the trading fees as commission for the first 90 days. The referee earns 10% of trading fees as a commission. You can invite unlimited referees to the exchange.
Mobile App
Bithumb, a leading exchange in the Korean community, is available in both Apple and Google Play stores. It has a rating of 3 stars from around 26k reviews. It allows you to manage your portfolio, keep a track of market trends and stay up to date on market events. The mobile app is secured with 2FA and device restriction features.
Customer Support
You can raise an email ticket if you have any issues with your account. If there is any urgent issue, you can contact 24/7 online customer support. The learning section is with a good amount of articles on How to create an account, how to deposit/withdraw crypto etc.
Conclusion
Bithumb is a cryptocurrency exchange based in Korea. It was launched for Korean users. The website is available in both English and Korean. It has a good rating for live chat support and also won appreciation from Korean Brand Reputation Institution for its services.
However, users from other user review sites report that priority is given to Korean users. Even though they launched Bitglobal to focus on international users, the exchange is facing many bad reviews for slow verification, less guidance for account troubleshooting, etc.
The exchange has been hacked in the past and more than 31 thousand user accounts were affected. It was also hacked in 2018 & 2019 where it lost a considerable amount of assets. The company said that user accounts were not affected this time as they had kept it in cold storage. The security of this exchange is doubtful for many users. The customer review on many rating sites is biased and mixed. Mostly it has negative reviews due to website issues or delays in response to the international user.
If you are a Korean, we recommend this exchange as it gives prior support to Korean users. Korean users have call center support also. Even though they launched Bitglobal for global users, some of the functions are in their infancy. With high rates of negative reviews from Global users, the service offered by Bitglobal is questionable.
FAQs
Can I trust Bithumb?
The exchange is based in South Korea and has been awarded as the best digital asset exchange by Korean Brand Reputation Institution. Even though it has been hacked in the past, the security features have been improved, and has a 24/7 risk management team to monitor malicious account behavior. We recommend you do your own research before investing in this exchange.
What is the difference between Bithumb and Bitglobal?
Bithumb focuses on Korean users and Bitglobal focus on international users. Bitglobal is the international wing of Bithumb. However, only deposits and withdrawals are allowed in other countries that don't follow AML regulations.
Has Bithumb ever been hacked?
In 2017, Bithumb was hacked and it lost more than 1 billion KRW worth of assets. More than 31 thousand user accounts were affected. Bithumb has given compensation of around $900 for each account holder. It was also hacked in 2018 & 2019 where it lost $30 million & $13 million respectively. 
Can I use Bithumb without verification?
To use the full features of Bithumb, you need to complete KYC verification. A fully verified user can have unlimited withdrawals and other benefits like priority customer support.
Bithumb Rating
Trading & Transaction Fees

Learning Programs

Website Transparency

Security
Pros
High trading volume

Low trading fees

High liquidity pools

Good customer support

Easy-to-use user interface

More number of cryptocurrencies
Cons
Slow verification process

It has been hacked in the past

No in-depth tutorials or learning resources

A high number of bad customer reviews
Was this writing helpful?
No
Yes