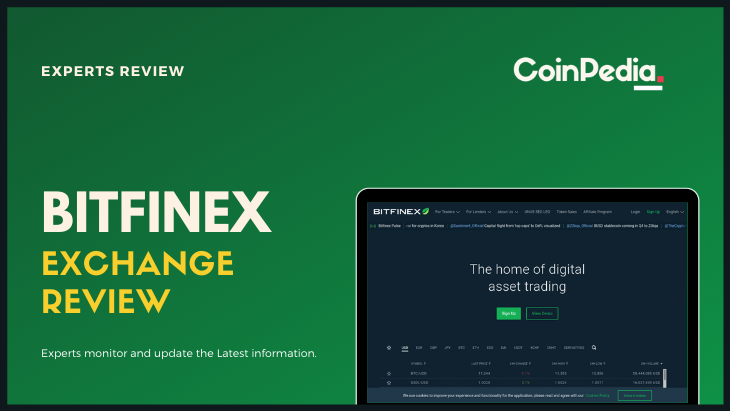 Overview
| | |
| --- | --- |
| Legal Name | Bitfinex Exchange |
| Headquarters | Hong Kong |
| CEO | Jean-Louis Van Der Velde |
| Year Founded | 2012 |
| Exchange Type | Centralized |
| Trading Fees Maker | 0.10% / Taker: 0.20% |
| Deposit Methods | Cryptocurrency, WireTransfer |
| Supported Cryptos | Litecoin (LTC), Bitcoin Cash (BCH), Ethereum Classic (ETC), Dash (DASH), Ripple (XRP) and much more |
| Fiat | US Dollars, Euro. |
| Customer Service | Email, Phone |
| Trading Options | Spot Trading, Margin Trading |
With the rise in the popularity of cryptocurrencies, There are a large number of exchanges that are rising and offering their services. One such major cryptocurrency exchange that is hugely popular with online traders is Bitfinex
If you are thinking about opening an account with Bitfinex, ensure you read our article. We will cover everything from fees, services, supported coins, pros and cons and much more
Let us look in detail regarding this review now,
What is Bitfinex?
Bitfinex is a Hong Kong-based trading platform that was founded in 2012 by Raphael Nicolle. The exchange is both owned and operated by iFinex, Inc. It has managed to work its way to the top of the charts in terms of trading volumes and user activity on the platform.
Bitfinex gives users the choice to easily trade over 160 assets, including Bitcoin, Ethereum, EOS, Tron, and Tether USDT. Bitfinex has the reputation of being one of the world's biggest and most advanced cryptocurrency exchanges. It offers some of the best features such as Advanced trading features, deep liquidity, and access to multiple altcoins.
The Bitfinex exchange currently handles approximately $2Billion worth of trades a day. Bitfinex had a 24-hour trading volume of USD 391 million. This placed it on place no. 55 on Coinmarketcap's list of the exchanges in the world ranked after 24-hour trading volume.
Bitfinex Services
Bitfinex offers its customers a variety of services which can be listed below:
Advanced trading platform: Bitfinex's trading platform interface is customizable. You can also get access to advanced charting functionality and API access. These features combine to make it a popular exchange with more sophisticated cryptocurrency traders.
Margin Funding & Trading: Bitfinex offers margin funding. The Bitfinex margin funding market provides a secure way to earn interest on fiat and digital assets by providing funding to traders wanting to trade with leverage. Users can offer funding across a wide range of currencies and assets at the rate and duration of their choice. Bitfinex also allows users to trade with up to 3.3x leverage by taking advantage of funding from the peer to peer margin funding market.
Over the Counter Services: For such users who like to trade major amounts ($100,000+) of cryptocurrency privately, Bitfinex provides an over the counter trading facility. This service helps to secure major private deals.
Bitfinex Fees and Limits
If you choose to deposit funds into your Bitfinex account via a bank transfer, then you will pay a fixed fee of 0.1%. For example, if you deposit $10,000, you will pay a fee of $10. If you instead deposit by cryptocurrency, then you will pay a small fee, which is dependant on the specific coin you find your account with.
In terms of withdrawal fees, you will also pay 0.1% if you want to cash-out via bank wire. If you need your funds within 24 hours, you can pay a 1% express fee. Alternatively, cryptocurrency withdrawal fees vary depending on the coin.
Bitfinex offers a trading fee structure that is based on how much you trade in a single month. As you will see below, unless you trade more than $500,000 per month, you will pay a huge 0.2% in fees.
Bitfinex Supported Currencies
Approximately 72 market pairs linked to the four base currencies of USD, EUR, BTC, and ETH are currently available on the site. USDT Tether is also available on the platform, while Bitfinex is one of a few exchanges that allow its users to purchase IOTA (MIOTA).
In addition to allowing fiat purchases of the two major cryptocurrencies, a number of other currencies are also available to be traded and these include Litecoin (LTC), Bitcoin Cash (BCH), Ethereum Classic (ETC), Dash (DASH), Ripple (XRP), Monero (XMR), EOS (EOS), OmiseGO (OMG), NEO (NEO), Zcash (ZEC), and 0x (ZRX).
Mobile App
Bitfinex offers a native mobile app on both Google Play and the iStore, free of charge. The app allows you to trade, access your wallet, fund your account, receive notifications, and check your transaction history.
How to register on Bitfinex?
Step 1: Head over to the Bitfinex homepage, click on 'SIGN UP', and then enter your email address, which you'll need to confirm. You also need to choose a username and a strong password.
Step 2: Click on the "Verification" button within your account portal, and follow the on-screen instructions. You will need to enter a range of personal information and then upload a copy of some government-issued ID.
Step 3: Once your Bitfinex account has been verified, click on the 'DEPOSIT' button, which you will find at the top right-hand side of the screen.
Step 4: Once your account is funded, you can then begin day trading at Bitfinex. Click on the 'TRADING' button at the top of the screen, and you will be taken to the main trading area.
How to recover the Bitfinex password?
In certain cases, to recover the Bittrex password, Click on the "Password Reset" option. Then enter your personal information and user id after which you can reset your password.
How to deposit on Bitfinex?
Step 1: To make a deposit, Visit the Deposit section of your Bitfinex account, found on the wallet tab of the top bar
Step 2: After which you will be directed to the deposit page and here you can choose Us Dollar, Tether, or from a list of cryptocurrencies in order to deposit.
Step 3: Generate an address in the wallet you wish to send to and add that address as the receiving address.
How to withdraw on Bitfinex?
Step 1: Enter the receiving address into the "Address" field,
Step 2: Enter the amount you wish to send in the "Send Amount" field,
Step 3: Select the wallet balance to withdraw from in the "From" drop-down menu,
Step 4: Press the "Request Withdrawal" button.
How to buy cryptocurrencies on Bitfinex?
Step 1: Go to your deposit page and select the payment card option.
Step 2: Select the gateway: Mercuryo or OWNR.
Step 3: Select the currency you would like to purchase and the destination Bitfinex wallet.
Step 4: After you agree to the Terms of Service you will be redirected to the service provider to finalize the payment.
Step 5: Once you have completed the payment you will be redirected back to Bitfinex to confirm that the process has been successful and the tokens will be credited to your Bitfinex account.
How to sell cryptocurrencies on Bitfinex?
Step 1: Go to the Trading page and choose the pair you want to trade. For example, IOTA/BTC.
Step 2: In the ORDER FORM select the Exchange tab. Then you will need to specify the type of order, order size, and price if you choose the "Limit" order type. If you choose instead "Market" order type, your order will be executed at a current market price.
Step 3: Click the "Exchange Sell" button. Your order will appear in the Orders tab.
Step 4: Once the order is executed, your funds will be credited to your Exchange wallet.
Step 5: The executed/canceled order will then move to the Order History tab.
Bitfinex Pros and Cons
Pros
Advanced trading features and order types
Low trading and withdrawal fees
Accepts bank wire deposits and withdrawals
It has Competitive fees
Mobile app supported
Cons
High trading fees
U.S. citizens not accepted
Long time for account verification
Hacked on more than one occasion
No debit/credit card or e-wallet deposits
Support team only available via email
Conclusion
Bitfinex is one of the most established exchanges in operation today. the exchange enjoys high USD liquidity while offering extensive orders and trading options and is the largest BTC exchange by volumes traded.
However Bitfinex has courted controversy on a number of occasions and is not a very transparent company, In view of this, we would recommend that anyone using Bitfinex to only keep a small balance on the exchange at any time.
Make sure to withdraw your currencies to your own wallet and also ensure to use all the security features available to you on the site. In terms of trading volume, Bitfinex has the largest volume. It is known in the industry for providing the lowest fees as a result of which is highly recommended.
Recent Updates
On April 10, 2020, Bitfinex Enables Deposits and Withdrawals for Tether (USDt) on Algorand
On June 26, 2020, Bitfinex Introduces Zero Fees on Tether/US Dollar (USDt/USD) Pair for Users Generating $15 Million-Plus, 30-Day Volume.
On June 30, 2020, Bitfinex Launches Paper Trading for Margin Trading and Funding
On July 03, 2020, Bitfinex Launches Over-the-Counter Paper Trading
On July 09, 2020, Bitfinex Lists Dogecoin (MDOGE)