Quick News : TimeCoin's Special Token Sale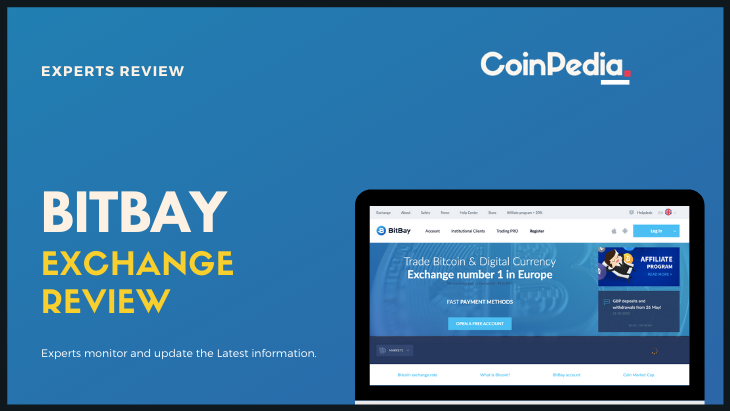 Overview
Legal Name
BitBay Exchange
Headquarters
Atlanta, Georgia, United States
CEO
Sylwester Suszek
Year Founded
2011
Exchange Type
Centralized
Trading Fees
Maker: 0.30%/ Taker: 0.43%
Deposit Methods
cryptocurrency wallets, bank wire transfer, credit/debit cards, through the Polish post office, Express DotPay, or the Zabka store chain.
Supported Cryptos: Bitcoin Cash (BCH), Ethereum Classic (ETC), Dash (DASH), Ripple (XRP), Litecoin (LTC), and more
Supported Cryptos
Bitcoin Cash (BCH), Ethereum Classic (ETC), Dash (DASH), Ripple (XRP), Litecoin (LTC), and more
Fiat
United States Dollar (USD), Euro (EUR), UK pound sterling (GBP), Polish Zloty (PLN)
Customer Service
Email, Phone
Trading Options
Spot Trading, Margin Trading
Rewarded as The Best Cryptocurrency Exchange in 2017 and 2018 by the Cryptocurrency World Expo, BitBay is one of the popular exchanges on the market. BitBay is a Polish cryptocurrency exchange, which ranks 54th worldwide (out of 208 exchanges) on CoinMarketCap.
Advertisement
BitBay aims to be a "professional and intuitive trading platform" for crypto trading.
In this article, we will cover all the aspects of the BitBay exchange including fees, services, supported coins, pros and cons, and much more. Let us take a look into the review now,
What is BitBay?
BitBay is the third-largest cryptocurrency exchange in Europe. It is a polish based cryptocurrency exchange that was founded by Sylwester Suszek in 2014. BitBay is a free, decentralized marketplace for buying and selling goods and services on the blockchain
BitBay initially started out as a dedicated Polish exchange. However, the company has expanded rapidly, offering a broad range of different services to its users in different countries with unparalleled security.
BitBay exchange provides an excellent selection of cryptocurrencies, which you can trade against each other or fiats.
BitBay Services
BitBay Exchange: The basic BitBay service includes a cryptocurrency exchange. While originally aimed at Polish traders, nowadays the exchange serves most European countries. The exchange has over 1million users.
BitBay Pro: BitBay Pro is a special trading interface for professional traders that includes advanced tools, MACD (Moving Average Convergence Divergence ), RSI (Relative Strength Index) indicators, and a customized interface.
Bitcantor: Bitcantor is an "instant" cryptocurrency exchange aimed for Polish users. It allows for a fast transaction without signing up or verifying your identity. However, with this, you will be paying a higher rate than the traditional trading platform.
OTC Trading: Like many other exchanges today, BitBay offers OTC trading, a service aimed at buying large amounts of Bitcoin or any other cryptocurrency. OTC services usually offer dedicated support and lower fees than traditional trading.
Bitbay Fees and Limits
In Bitbay, The following actions are free of charge:
Account registration and maintenance
Cryptocurrency deposits
Fiat wire transfers
Crypto to crypto maker trades
BitBay fees for takers when trading fiat-to-crypto is 0.43%. For makers in a fiat-to-crypto trade, the trading fees are 0.30%. Should you instead trade crypto-to-crypto, the trading fees are substantially lower.
Takers only pay 0.10%, and makers don't pay anything at all, in a crypto-to-crypto trade. BitBays withdrawal fee is 0.0005 BTC per BTC-withdrawal. This fee is a bit below the industry average.
BitBay Supported Currencies
The platform supports the following fiat currencies:
BitBay allows its users to perform trading transactions in the following cryptocurrencies:
Bitcoin
Bitcoin Cash
Litecoin
Ethereum
Lisk
Game Credits
Dash
Bitcoin Gold
KzCash
Infinity Economics
Ripple
BitBay Mobile App
BitBay app provides a complete solution for both beginners and advanced traders on the go. It is available on both Google Play and the iStore, free of charge. The app allows you to trade, access your wallet, fund your account, receive notifications, and check your transaction history.
How to register on Bitbay?
Step 1: Go to the Official Website and Click on "Register" Option.
Step 2: Provide your email in the box provided. Then you need to tick three boxes and a reCAPTCHA box.
Step 3: You will receive a confirmation mail. Click on the link to verify your email address
Step 4: Once you have clicked on the link, you will be taken to the second stage where you can create your username along with a chosen password and a PIN code.
Step 5: Once an account has been created, you need to verify it by providing your identification information along with a confirmation document of the address.
Step 6: After the verification has been completed, a user can move forward with availing all trading services on the BitBay platform through the BitBay login.
How to recover the BitBay password?
In certain cases, to recover the BitBay password, Click on the "Forgot Password" option. Then enter your personal information and user id after which you can reset your password.
How to deposit on BitBay?
Step 1: Visit the Official Website, Sign in to your BitBay account.
Step 2: Go to the "Wallets" section. You begin by selecting the type of crypto you wish to deposit. Then click "Deposit".
Step 3: Take either the QR code or the deposit address you are given.
Step 4: After you receive funds, go to your BitBay account and select the "Balances" section from the menu on the left.
Step 5: Then select the currency of your deposit and use our dedicated system tool to move funds from the usual wallet to your BitBay wallet.
How to withdraw on BitBay?
Step 1: Log in to your BitBay account. Go to the "Wallets" section.
Step 2: Click on 'Withdrawal' from the options on the right and select the currency you want to withdraw.
Step 3: On the next page, click on 'Bank transfer.'
Step 4: Enter all the information that the system requires and click the 'Withdraw' button to proceed.
Step 5: The system will send an authorization code to your email. Open your email to retrieve this code.
Step 6: Paste the code on the box and hit "Confirm". The transfer may take up to two business days.
How to buy cryptocurrencies on BitBay?
Step 1: Navigate to the Official Website, Login to your BitBay account.
Step 2: Go to the "Exchange" Tab. Click on the "Funding" option to deposit the type of currency to your BitBay account
Step 3: In the menu, click on 'Trade' on the upper left side. You can now select which of the available markets you want to trade.
Step 4: When you have selected the market you would like to trade-in, click on 'New Order'. On this page, you will see several ways of placing an order. There are three options, 'Simple', 'Intermediate', and 'Advanced'. Select Accordingly.
Step 5: Then Enter a value that you want to trade for Bitcoin in the field 'Total'. In the entry field on the left, you will see how many Bitcoins this amount will net you.
Step 6: Click on "Submit Order". When the orders are executed, your Euros have been converted into Bitcoin. You can see the amount of Bitcoin under the page 'Funding'.
How to sell cryptocurrencies on BitBay?
Step 1: Navigate to the Official Website, Login into your BitBay account.
Step 2: In the menu, click on 'Trade' on the upper left side. Check on the list of all of the available markets to trade.
Step 3: You can trade the same pairs and choose between the same order types: market, limit, and fill or kill. Select Accordingly.
Step 4: Hit the "Sell" Button. If you have got the requisite funds in your account, the order should be filled immediately
BitBay Pros and Cons
Pros
Two-factor authentication and crypto funds stored in encrypted cold wallets.
Fast deposits and withdrawals.
24/7 security monitoring.
The quick and easy registration process
Mobile trading app available.
Cons
A limited number of coins and tokens available.
Lack of fiat deposit methods
Fees vary based on account turnover
Some service limited to Polish residents
Conclusion
BitBay is an interesting platform that provides a lot of nice trading options and a simple interface. It provides a unique chance to turn your cryptocurrency into everyday spending money with the help of a physical card. You will also find a number of flexible deposit options there, which is also a great thing for trading platforms.
BitBay assures its users that it uses high-level encryption on its servers. The website also has SSL in order to keep its funds of the users safe. BitBay wallet also offers some of the best security features. It has over more than 800,000 users from the entire world and an annual BTC trading volume of 547,000.
Thus we can conclude that BitBay is a trustful platform, which is recommended and really worth your attention.
Recent Updates
On Feb 12, 2020, BitBay partners Poynt to bring bitcoin payments to the streets.
On June 11, 2020, BitBay's Prepaid Mastercard Launches in the US to Make Crypto Accessible.
On June 16, 2020, Bitcoin makes up over 90% of payments processed by BitPay.
On June 23, 2020, BitBay Accepts Company of the Year Accolade.
On July 07, 2020, BitBay App Updates its app: Supports Segwit, Dark Mode, & Manage Coinbase Wallet Capability.