Cryptocurrency Exchange
A Guide To Binance Exchange 2022: The Top Crypto Exchange, Features And Updates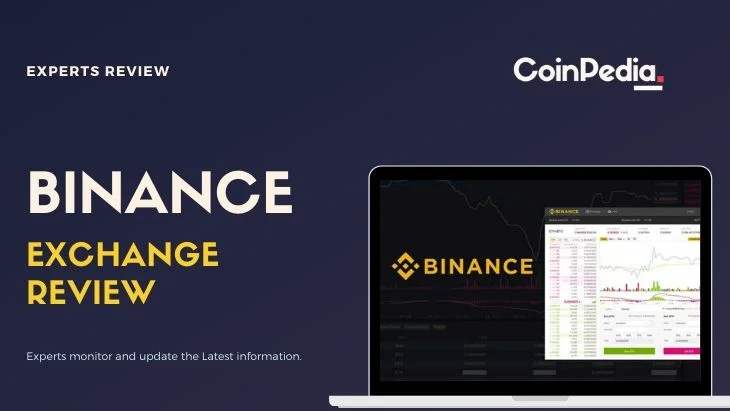 I am a Crypto trader and all my trader friends have one crypto exchange account in common which is Binance. We all believe in the diversity and trading experience offered by the platform and prefer the first palace.
Binance with 24 hours trading volume of $12.6 billion is the world's Largest Crypto Exchange. This offers a wide range of coins and tokens to trade and multiple features.
If you're willing to start your crypto investment or searching for the perfect crypto trading platform. Binance could be your ultimate option. It is the fastest-growing platform today.
In this Guide, we will help you understand the basics of Binance, how-to guide, fees & Limits, and the latest updates for traders and investors. Let us look into this exchange review now!
Overview
| | |
| --- | --- |
| Legal Name | Binance |
| Official Web Address | https://www.binance.com/en |
| Headquarters | Cayman Islands |
| Founder | Changpeng Zhao |
| Exchange Type | Centralized |
| Trading Options | Buy crypto, spot trading, derivatives, NFTs, P2P, Margin, strategy trading, swap farming, and OTC trading. |
| Trading fees | Maker fee: 0.1000% / Taker fee : 0.0750%. |
| Trading pairs | 1432 + |
| Native Token | BNB |
| Deposit methods | Cryptocurrency, debit/credit cards, bank transfers. |
| Deposit fees | No fees |
| Withdrawal methods | Cryptocurrency |
| Withdrawal fees | Depends on the cryptocurrency |
| Supported Countries | No list of all the countries |
| Restricted countries | Canada, China, Europe, Malaysia, Japan, UK, Thailand. |
| Supported Fiat currencies | 46 |
| Mobile App | Google play and App store |
| Customer Support | 24/7 support, online forms, Community. |
What is Binance?
Binance was started in 2017 in China by its founder Changpeng Zhao. Today it is the world's biggest crypto exchange with a $36.45 Billion 24 Hr volume. Later it was moved to 'Malta' on account of China not supporting cryptocurrency.
Binance stands out to be a complete crypto exchange platform right from easy payment methods, multiple features, and a wide range of currencies to trade.
A verified crypto account can enter the crypto investment and buy crypto in multiple ways.
Bank deposit: Direct bank deposits of fiat currencies or debit and credit.
P2P Exchange: Peer-to-peer exchange of assets with 0% fee.
It supports third-party wallets like simplex and banxa.
The exchange is also popular for its user-friendly access, security, speed of trades, and transactions which give investors and traders a scope of trust.
Furthermore, Binance features P2P exchange, futures trading, strategy trading, Auto investments, margin trading, Binance NFT, and much more. Thus making it a perfect platform for crypto trading needs.
Is It Safe And Legit?
Yes, Binance is absolutely safe and secure. Trusted by most users worldwide. Binance takes its security in all earnestness. It launched BNB auto burn which helps them to build a healthy blockchain system.
It has also established 2FA (Two-factor authentication) where it sends you a code each time when you log in.
Other security reasons like SAFU, whitelisting, and offline storage of funds(cold wallets) make binance outstanding and ahead of the pack.
If you log in from another device that is not known to Binance, then you have to confirm by Email.
Despite the fact that it has been hacked in the past, it is still heeded as the best crypto exchange among traders. Its increasing popularity adds nothing but users to the platform.
Binance Features:
Trading Options: Binance offers a variety of trading options like Spot trading, derivative trading, vanilla options in European style, leveraged tokens, NFTs, Swap farming, and P2P trading.
Order types: Binance offers extra 4 types of crypto derivatives. They include stop market order, trailing stop order, post-only order and limit TP/SL order.
SAFU : Security asset fund for users provides insurance to Binance traders. During exceptional events like hacking or in uncertain circumstances.
Multi-level security: SMS verification, two-factor authentication(2FA), and U2A device authentication. Due to SIM hacking events, Binance is discouraging the use of SMS verification.
Family Access: In case of your death Binance allows your family members to have access to your account.
Binance Academy: Binance enables you to learn about Bitcoin technology and cryptocurrency, where you can read it at any time and anywhere.
Trading fees: New users are charged 0.1% for every trade. It depends on your 30 daily trading volume. The higher you trade, the lower you pay.
Rewards: You can earn rewards by staking, mining, and by saving funds into your savings account.
Languages: At present Binance supports more than 15 languages and customer support in 7 languages.
P2P trading: Verified accounts can directly buy and sell cryptocurrency with other participants. Further adding escrow services for its security.
Acquisition: Binance has acquired Trust wallet. Sideways developing its features far better.
Fiat currency: Binance allows you to deposit and withdraw by fiat currency. At present, it is only available by bank transfer and credit cards. Available only in a few locations.
Withdrawal Asset Whitelist: By enabling this feature you can only withdraw funds from only this address. An effective way to protect it from hackers.
Binance Fees and Limits
Binance collects the lowest fees to trade at a general rate of 0.1% for every maker or taker trade called a standard fee. 0.5% for a quick trade.
If you hold a Binance coin you will get a 25% reduction on the fees charged. For using BNB to pay for futures trading you are getting 10% off on the fees.
No fee is charged for opening an account and depositing your funds.
There are VIP levels according to which fees are charged based on your 30-day trading volume. For more clear information click on Binance Fees.
Binance supported currencies:
Binance supports 600 + crypto coins and 1432 trading pairs on its platform.
Some crucial coins are:
Bitcoin
Tether
Binance coin
Ethereum
Terra
Polygon
Phantom
Polkadot
Ripple(XRP)
Binance supports crypto-to-crypto pairs and crypto-to-fiat pairs, some of the major trading pairs include.
AAVE/BUSD
1 INCH/USDT
ADA/BNB
ACA/BTC
ADX/ETH
TRX/XRP
WIN/TRX
SHIB/DOGE
ADA/AUD
AVAX/EUR
BNB/DAI
The most popular trading pair is BCT/USDT.
More knowledge about pairs will be found on www.binance.com.
Binance Supported Countries
Binance does not have an authorized list of supported countries. It does have a list of supported SMS Countries, and Issuing countries for EUR or GBP withdrawals.
Austria
Belgium
Bulgaria
Croatia
Czech Republic
Denmark
Estonia
Finland
France
Germany
Greece
Hungary
Ireland
Italy
Latvia
Lithuania
Malta
Poland
Portugal
Romania
Republic of Cyprus
Slovakia
Slovenia
Spain
Sweden
Ukraine
United Kingdom
Russia
Binance mobile app
Here's why you should use Binance mobile app which makes your trade go easier:
This mobile app provides users with 24/7 customer support and security where you can chat online.
Fast and easier login into your account on the desktop by scanning QR codes like Whatsapp.
This app has got a lite version where you don't need high-speed internet.
Binance mobile app communicates your language. Go to the settings option where you can set your local language.
You can transfer and receive payments through Binance Pay where you can lessen transfer fees charged by other Apps.
How to register on Binance?
Following are the steps to be followed to register on Binance:
Go to the homepage of Binance. Navigate to the register icon.
Complete the information required like Email, mobile number, and password.
Agree to – "I understand Binance Terms of Use". Tap to "create an account".
Binance will send you a verification code on your Email. Click 'enter'.
How to do KYC verification?
Login into your Binance account.
Go to the user icon. Select 'Identification'.
To start the process click on 'Get Verified'. Enter your nationality and fill in your personal details.
Requirements are personal ID, facial recognition and proof of address.
How to Recover your Binance account password?
On the portal page enter your Email ID. Tap on the Forgot password which will be right below your password option. After that link is sent on your Email ID, open the link and reset your password.
How to add payment methods on Binance?
Go to Binance.com. Login to your account.
Navigate to the profile icon. Select 'Dashboard'.
Click on 'payment'. It will ask you to verify your account if you have not done it yet.
Tap on 'Add a payment method'. Select your desired payment method.
How do deposit funds in your Binance account?
Go to the portal page of Binance. Log in and click on 'All'.
 Tap the 'wallet' option available on the dashboard on the left side.
Tap 'Deposit & Withdraw'. 
Choose the currency you want to deposit.
For crypto deposits, copy the address or scan the QR code for a quick transaction. Example: Assume you have chosen BTC. Copy the deposit address and go to another platform where you have the money and paste the address and click 'OK'.
Choosing the right network is necessary if you choose the wrong one you will be losing all your funds.
For fiat deposits, select currency. Enter the amount and payment method.
Click on 'continue'.
Note: Avoid using a debit card because, for every 10,000$, the fee is charged around 650$.
 How to Withdraw on Binance?
Login to the portal page of Binance. Click 'wallets'.
After that tap onto the 'withdrawal' option.
Tap onto crypto and select the currency you want to withdraw.
Select the network that matches the network address you have chosen.
Wriggle in the amount you want to withdraw.
Click on the continue option.
The last step is to verify the transaction where you need to verify Email, phone and google code.
Tap onto the 'submit' button.
How to buy crypto on Binance?
Following are the techniques through which you may buy cryptocurrencies on Binance.
Go to the homepage of Binance and select 'Buy Crypto' on the top navigation bar, you will find these options:
Bank deposits(swift bank transfer)
Select whether you want to deposit through fiat or crypto.
For fiat: Select currency and payment method, click 'continue'.
For Crypto: Select coin. Copy and paste the address and transfer the funds.
You are required to fill in your Bank details.
Once the funds are received by the seller then cryptocurrencies are released.
Credit/debit card (buy crypto via card)
Login into your Binance account.
Go to the right corner of the screen. Click 'Buy Option'.
Place your cursor on it. You will find different buying options.
For simple trading let's choose Debit/Credit payments.
Select the currency. Enter the amount.
Click 'continue'.
Confirm your payment details and check your order summary.
P2P Trading (Bank transfer of 100 + options)
Click on Buy and select the cryptocurrency.
Fill in the price and choose the payment method and press the Buy USDT.
Enter the amount and quantity you prefer to buy and click buy USDT.
Select a payment method to complete the transaction.
Tap on 'Transfer Next' and then 'Confirm'.
Third-Party Payment (simplex,Paxos)
On the horizontal navigation bar click on third-party payment.
Decide whether you want to buy crypto or fiat currency.
Select the payment channel and tap on 'continue'.
Pick your payment method on the website you are redirected to.
If you are buying crypto for the first time on the channel, you need to verify and submit the documents needed.
Enter your bank account details and wait for confirmation.
How to sell crypto on Binance?
Following are the approaches where you can sell crypto on Binance.
Click on 'Buy Crypto' and select 'P2P' trading.
Tap on the red button. Choose the currency you want to sell.
Go to 'All payments' and pick an ad. Tap on 'Sell'.
Pin down the amount(fiat) or quantity(crypto). Faucet sell button.
Make payment to the buyer in the given time frame. Hit 'Confirm release'.
Binance fiat and spot wallet
Go to the 'trade option' which is located on the left side of the page. Tap on the 'sell' button.
Select the crypto you want to sell.
You will be finding various cryptocurrencies' prices changing according to the market trends.
Select the 'market option'. Enter the amount.
Hit the 'Sell' link.
Customer Satisfaction
Beginners will find it difficult at first to understand Binance. It receives many customer complaints about the service not responding to its users.
Many customers complain about their accounts being blocked. They don't justify the reason and the token disappears. They deactivate users' accounts without their consent and don't hear you right.
It is active on social media like Twitter, Instagram, Youtube, and Facebook.
By using a Binance jersey you will get a 24 hr chat facility.
Recommendation: Research the exchange before you enter the platform. Think twice before jumping over that puddle.
FAQ's
What is the difference between Lite and professional versions?
There are no advanced charts like Fibonacci lines, moving average, and other methods in the lite version of the app, its interface is not as rich as advanced versions of the app, hence reducing the overheating of the phone.
Is Binance trading available in all the countries?
No binance is not available in the following countries: US, the Republic of Belarus, The democratic republic of the congo, Cuba, Iran, Iraq, North Korea, Sudan, Syria, and Zimbabwe.
Is the binance transaction once made is reversible?
No, it is not reversible, you are advised to check before confirming the transaction.

What are Hard limits?
IT can take up to 1,60,000 orders per 24 hours, if you exceed the limit then it will result in an IP ban.
How many cryptocurrencies does US Binance provide?
It provides 60 cryptocurrencies for US Citizens.
Closing Thoughts:
Binance is completely safe and secure if you are looking for the best crypto exchanges. Although Binance is targeted by cyberattacks, it has remained at the top-notch in the lists of exchanges.
The escrow services, liquidity, and security make binance an impressive platform to trade.
Besides Binance coin can be a millionaire-maker having a maximum supply of 200 million tokens, the price may get spiked up. It looks promising in the future considering Blockchain Technology.
Binance Exchange
Trading and transaction fees

Number of cryptocurrencies

Website transparency

Customer service
Was this writing helpful?
No Yes