Cryptocurrency Exchange
A Detailed Insight About LocalTrade Exchange 2020
Read this detailed review of LocalTrade exchange along with its features, advantages and disadvantages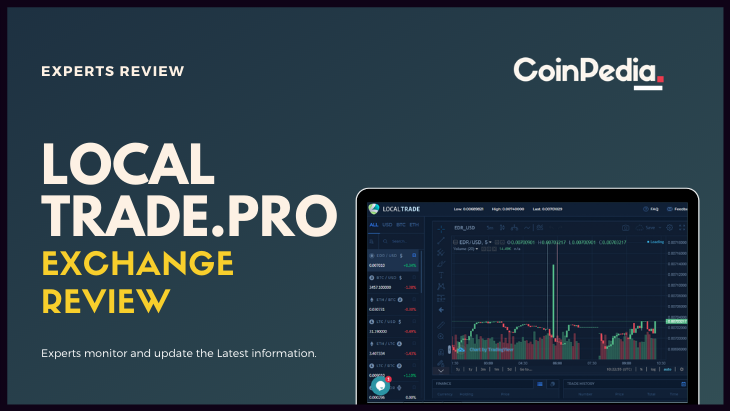 A good cryptocurrency exchange guide provides reviews for all the top crypto exchanges out there so you can find the best cryptocurrency exchange site for you. Today we will review UK based LocalTrade exchange.
LocalTrade Exchange review
QUICK NAVIGATION :
What is LocalTrade Exchange?
LocalTrade, which came into existence in the year 2017 is one of the cryptocurrency exchanges from the United Kingdom. United Kingdom has the most cryptocurrency exchanges in the world.

As of writing, Localtrade exchange 24 hours trading volume is $73,477,412.21 (8,291.00 BTC). The exchange supports 21 cryptocurrencies and 69 market trading pairs.
The exchange has also developed its native token, LocalTrade token.
The platform is designed in such a way which provides a hassle-free exchange service to CryptoCurrency Traders. Also, Local Trade supports all kinds of cryptocurrencies such as Bitcoin, Ethereum, Litecoin, Ripple, Monero and many more currencies. Moreover, The exchange also provides a secure transaction system with the inbuilt escrow system, making 100% of the traders are not scammers and securing the funds. Local Trade also provides a feedback system for traders to leave feedback after each transaction, giving users an insight about their trades.
LocalTrade Fees
LocalTrade Trading Fees
It offers over 6 cryptocurrencies and 20+ pairs for trade.This trading platform doesn't charge different fees for takers and makers. Their fee model is a "flat fee model". LocalTrade's flat fee is at 0.20%. This fee is slightly below the industry average. The industry average is around 0.25%. The fee thus creates an advantage against most other top crypto exchanges in the market.
LocalTrade Withdrawal fees
Many exchanges have competitive trading fees, but then will charge you high with their withdrawal fees. The withdrawal fees here are 0.0002 BTC when you withdraw BTC. This fee is below the industry average and hence makes this platform a strong competitor against most other top crypto exchanges in the market.
Deposit Methods
This cryptocurrency trading platform allows wire transfer as a deposit method, credit card deposit is unavailable.
Localtrade fees at a glance
Features of the exchange
The platform aims to be one of the best execution P2P Exchanges developing a safe situation to change with the security. Additionally, it gives you assurance to protect your spending covered and makes it difficult to be visible for assailants or hacker. They offer a simple user-friendly platform allowing you to buy and sell Cryptocurrency in minutes.
Secure Transactions.

Digital Cash.

Wallets accommodated all coins.

Transactions with escrow bolster.

Fewer fees.
LocalTrade TOKEN
You can have a LocalTrade token by depositing ETH in the purchasing menu area. After you send ETH, you will get the ERC20 Token in your account for the ETH you have sent.
Tken Name: LT
Price Toke: 1 ETH = 2000 LT
Payment Received: ETH
Minimum Purchase: 0.5 ETH
LocalTrade Advantages and Disadvantages
Advantages
Focused Fees
The exchange charges 0.20% per exchange, which is competitive pricing. Most exchanges charges in the range of 0.10%–0.25% per exchange. Additionally, most deposits at LocalTrade are free (aside from those in Dash), while withdrawals in many monetary standards (with the exception of EDR) attract fees.
Altcoins Available
LocalTrade offers a fair measure of altcoins for exchange, including ETH, LTC, DASH, ZEC, and E-Dinar. Right now, there are more than 20 sets available at the exchange. Presently most actively exchanged are DASH/USD, LTC/USD and ETH/BTC. Moreover, the exchange continues to add new coins.
Conventional Fiat Monetary Forms Offered
The exchange supports a few "customary" fiat monetary standards: American dollar (USD), Indonesian rupiah (IDR), UAE dirham (AED), and South African rand (ZAR). Furthermore, users can buy cryptographic forms of money straightforwardly with money or cash out their coins.
Payment Strategies
LocalTrade customers can use PerfectMoney and Advanced Cash for fiat deposits and withdrawals, which is rather helpful. Surprisingly, nothing is said on the LocalTrade about bank wire exchanges.
Cloud-based EDR Mining Choice
The cloud-based E-Dinar mining(localtrade cloud mining) is available at LocalTrade exchange, which is more productive and more advantageous than mining at home.
Disadvantages
Users Without Verification Not Allowed
In spite of the fact that Bitcoin was launched with the possibility of uncertainty, LocalTrade does not allow trading without user verification with ID.
Lack of Corporate Introduction
This exchange does not provide enough information for its corporate introduction; it basically defines a company name, localtrade.pro. There is no information about the company's background, team, nor its headquarter. According to the Twitter account information of the exchange's, it's base is in London, UK.
No information about the capacity of customers' funds
Not enough information on LocalTrade's site regarding the capacity of customer resources.
Not Guided
While this is the case with most crypto-exchanges, LocalTrade isn't guided properly. Nevertheless, this circumstance makes a potential for counter-party chance, as concentrated are the lion's share of crypto-exchanges. Likewise, remember that some exchanges might be tricky.
Conclusion
LocalTrade is a light cryptocurrency exchange, a ranking that supports a great deal of fiat monetary standards and has focused fees. Plus, it has an attractive offer regarding cloud-based EDR mining. However, what makes us think more about this exchange is that it doesn't reveal some imperative insights about the company that owns it, and additionally about the capacity of customers' coins. But, overall good for the beginners and this exchange ranks among the top 50 in coinmarketcap.
Also read related information: How To Use Tradesatoshi | What is Localbitcoins | Bibox Review
Was this writing helpful?
No
Yes