Cryptocurrency Exchange
BCEX- Exchange Overview And Trading Guide 2019
Check out this in detail BCEX exchange review and get a complete insights on how the platform works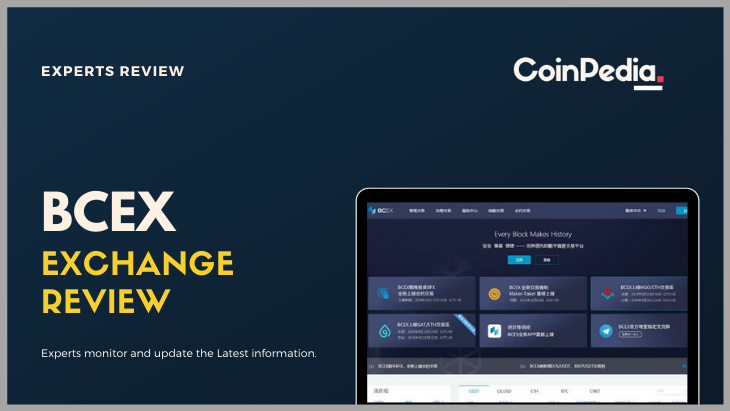 For the past few years, Cryptocurrency has been creating buzz in the financial world. This has led to the establishment of many crypto exchange platforms, such as BCEX exchange. This BCEX review will give you the working structure of the platform along with its advantages and disadvantages.
BCEX Review
QUICK NAVIGATION :
About BCEX Exchange
BCEX cryptocurrency exchange is very popular in Asia, Especially in the Chinese territory. BCEX is a multi-cryptocurrency Exchange platform which came into existence in the year 2017 with headquarters in Vancouver, Canada. It is a product of Biomass Exchange Co.Ltd.
The platform is very friendly to beginners and supports a lot of Altcoins. The company along with its partners Allcoin and OTC789 offers altcoin trading on the platform.
But unfortunately, BCEX does not support EU, US and African investors.
BCEX Fees
BCEX transaction and withdrawal fees for users, and other services (such as registration account, recharge, etc.) are free of charge.
At present, the whole platform adopts the maker-taker mechanism, and the specific commission rules are as follows:
Rule:
The roles of the user are divided into Maker and Taker. The exchange stipulate the transaction fee as follows:
Maker: When the transaction is executed, BCEX will reward 0.1% to Maker.
Taker: Including purchase orders and sales orders, transaction fees are 0.2% for each transaction.
If the user makes a deal with himself or herself, the user is both Maker and Taker. BCEX will charge the transaction fee of 0.2% and reward 0.1% to the user, the user shall pay 0.1% transaction fee in making a deal.
The "Maker-Taker" implemented by BCEX to encourage users to make the Maker to earn the trading fee. BCEX reserves the right of final interpretation.
Trade Guide
Step 1: Open a BCEX account and go through the Real-Name Verification process.
Step 2: Go to "OTC". Use Chinese Yuan to buy CK.USD (1 CK.USD is approximately $1.00 USD)
Step 3: Transfer CK.USD or USDT you have just acquired from OTC account to BCEX Exchange account. Or you can transfer your coins from other platforms, like Huobi.
Step 4: Go on to trade your coins with other users.
Step 5: Sell your coins to get CK.USD or USDT.
Step 6: Transfer your CK.USD or USDT from Exchange account to OTC account.
Step 7: Sell your CK.USD or USDT in OTC account will get you, Chinese Yuan.
Go to the correct section to trade. Not all kinds of coins are listed in all sections.

BCEX Advantages
Competitive trading fees – the industry standard 0.20% fee is applied to market takers at BCEX. There are no fees for market makers.
No deposit fees – most of the exchanges which don't accept fiat currencies have started implementing this policy and this one follows suit. That being said a blockchain fee will be in place, depending on the cryptocurrency you transfer.
Wide range of altcoins – Despite the fact it is not so famous in western countries, still there are a lot of coins available at BCEX. The most famous ones are Bitcoin, Ethereum, Ethereum Classic, Litecoin, Ripple, NEO, Stellar Lumens, Zcash, Dogecoin and Qtum. Also, there are a lot of less popular ones. All the trading is done against BTC, ETH, CNET and CK.USD.
Video tutorial – To help users understand how to trade on this platform, BCEX has uploaded some videos. However, the videos are only in Chinese.
BCEX Disadvantages
Many western countries not accepted – BCEX does also not accept traders from mostly US, Middle Eastern, African and European countries.
Not an established company – very less information about the company behind this platform. We are not certain if they are based in China or not.
the website is not user-friendly – Poor website design and its little hard for beginners. The website is slightly low than compared to other cryptocurrency exchanges.
Tether token – CK.USD is looking to challenging the tether, without looking the traditional backing the USDT has. Where regarding Ck.USD you can never be certain of its actual backing.
unusual altcoins – there are some not so known China-specific altcoins listed on BCEX. This isn't a problem, but investors must beware the risks involved in these assets.
Latest Updates
Jun 19, 2019: BCEX planned an Airdrop token
May 19, 2019: BCEX started Bitcoin Diamond (BCD) trading services
Final verdict on BCEX Review
BCEX cryptocurrency exchange focuses mostly on the Chinese market. The offering is interesting, with some positive and negative sides, but according to our views, there is basically very less information on the team behind this project. This means the security of your investment with them is not guarantee.
But it has been growing popular in the Far East, with investors taking a risk in the trade.
Also read: IDAX | Gemini | Coinpulse | BitStamp | LocalTrade | OKEX
What is your opinion on this BCEX review? Do you have any interesting crypto stories ? Share your Experience with us and follow us on Twitter and Facebook pages.
Was this writing helpful?
No
Yes