Ethereum
Ethereum (ETH) Price Takes The Lead In Driving The Crypto Market Bull Run
Recently, the crypto market seems to have picked up its pace as the market cap has reclaimed its $1 trillion mark, owing to the remarkable surge in cryptocurrencies like Bitcoin, Ethereum, Cardano, and XRP, among others.
Ethereum tops the list of gainers for the day with a surge of 14%- a recurring trend. The asset traded at a high of $1,667 in the early hours yesterday before a slight pullback.
At the moment, Ethereum is trading at $1,620 after seeing an increase of 11.19% over the last 24hrs.
Hence, the overall crypto market rally could be led by Ethereum and the upcoming merge event, a pathway towards proof-of-stake.
Additionally, it is noteworthy that the ETH/USD is heading towards gaining its highest possible mark as the currency is surpassing the other assets trading.
According to Ethereum supporter and Bankless founder, David Hoffman, the upcoming bull market will see Ethereum as the main lead.
Ethereum Adoption
However, this rosy scenario does seem subject to certain conditions.
The Ethereum network must successfully scale sharding and side-chains, which might not happen till 2023, according to several experts.
It's important to remember that Ethereum still has to surpass several hurdles before the currency sees massive adoption. The same was confirmed by founder vitalik buterin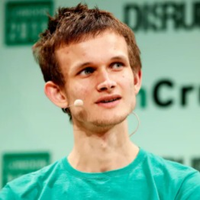 vitalik buterin co-founder at ethereum, Bitcoin Magazine Vitalik Buterin is a professional programmer and writer who is famous as the Co-Founder of Ethereum. Buterin along with Gavin Wood, Charles Hoskinson, Joseph Lubin, and Anthony Di launched Ethereum in 2014. He co-created Ethereum when he understood that he could construct a new, possibly enhanced version by iterating on the Bitcoin blockchain. He has been involved in the Bitcoin community since 2011, writing and co-founding articles for Bitcoin magazine. Vitalik linked Bitcoin to a calculator and a future blockchain to a smartphone and used the same method of improving the system's strength by making it more general purpose to blockchain network space. He was honored with the Thiel Fellowship Award in 2014 for bringing his innovative scientific and technical projects to reality, won the World Technology Network prize, Fortune 40 under 40 lists, and appeared on the Under 30 list of Forbes at the age of 23. EntrepreneurDeveloper/ProgrammerAuthor
when he said the network would be complete by only 55% after the Merge.
As investors look for long-term gains, a drop in issuance and staking rewards will be a significant factor at play too.
Was this writing helpful?
No
Yes