Bitcoin
This is Why Bitcoin (BTC) Price Might Drop 20% by End of September 
The crypto winter is not letting Bitcoin (BTC) build an upward momentum as Bitcoin had its most significant drop in three months on Tuesday. Bitcoin fell nearly 10% when the August US Consumer Price Index (CPI) report gathered experts' attention. It builds a fear among investors as the Federal Reserve may increase interest rates for the third time this year amid crypto winter.
Correlation With S&P 500
Bitcoin's price drastically dropped with S&P 500's price drop as it fell by 4.5% and came below $4000. On Chain data analyzer Santiment said,
"After a brutal #CPI report on disappointing inflation news Tuesday, #Bitcoin fell alongside the #SP500's biggest daily drop in two years. The correlation between the sectors remains high, and #crypto typically thrives best with zero #equity reliance."
Bitcoin has been correlated with S&P 500, and it is expected that Bitcoin will drop further if it continues to follow equity markets.
Bitcoin Might Drop By 20%
The correlation between crypto and tech stock is getting deeper. Bitcoin price is likely to drop by another 20% to $16,000 following S&P 500 as it can drop by 2% more when the US equity market opens. Jurrien Timmer, director of the global macro at Fidelity, commented, "If a 14x forward multiple is the correct valuation, then simple math will tell us that the fair value for the S&P 500 is 3200-3400 at an EPS of $230. This suggests that this bear market is not yet over."
The Bitcoin Fear & Greed Index slipped from 34/100 to 27/100 as overall US stocks fell by $1.6 trillion in one day, which is more than four times Bitcoin's market capitalization. However, Bitcoin is yet to enter the "extreme fear" zone, which indicates that Bitcoin has the support of some investors. Following S&P 500's drop, Dow Jones had a sharp fall of 3.87% and touched $31,163.99. On the other side, the tech-heavy Nasdaq fell by 3.76% to $61.68.
According to CoinMarketCap, Bitcoin had fallen from $22,814 to $20,132 yesterday. Bitcoin is currently trading near $20K with a market cap of $387 billion. It is proved once again that the inflation report has stopped Bitcoin from breaking its resistance at $22K, which could be a turning point for BTC.
The stock market has influenced the crypto space as elon musk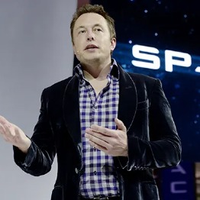 elon musk founder, ceo at tesla, spacex Elon Musk is an enthusiastic cryptocurrency believer, quivering the crypto world through his sparkling tweets. He has a complex relationship with cryptocurrencies. His tweets solely are responsible for the crypto volatility. Musk splendidly purchased $1.5 billion in the king of cryptocurrency. He was born on June 28, 1971, and is based in Pretoria, South Africa. His mother is Maye musk and his father is Errol musk, he is a South African electromechanical engineer, pilot, sailor, consultant, and property developer. He graduated from the University of Pennsylvania, earning a bachelor's degree in Arts and physics, and the Wharton School, earning a bachelor's degree in science, and economics. Musk was honored by Axel Springer Award, an annual award given to remarkable personalities who are extremely innovative, build new markets and change markets, shape culture, and confront their social responsibility. In 1995, Elon Musk and Greg Kouri founded a web software company called ZIP2. The company developed and marketed an Internet city guide for the newspaper publishing industry, with maps, directions, and yellow pages.X.com and PayPal: in 1999, he co-founded X.com which is an online financial service and email payment company. Space X: on 14, March 2002 he founded space x company which provides space transportation services. On July 1, 2003, he founded TESLA. Tesla is an electrical vehicle and clean energy company which designs and manufactures electric cars, battery energy storage from home to grid-scale, solar panels and solar roof tiles, and so on. His other activities involve SolarCity and Tesla Energy, Neuralink, the boring company, Managerial style and treatment of employee Hyperloop, openAI music, and ventures. Etc. he made $165 by selling PayPal to eBay. And was first listed on the Forbes Billionaires List in 2002, with a total net worth of $2 Billion. [email protected] EntrepreneurInvestorChief Executive Officer
backed Dogecoin also dropped 5.85% on Tuesday, trading at 6 cents. Ether fell by $7.96% and was trading near $1,586.92, and popular crypto exchange Coinbase had a steep decline of 8.61% to $75.44.
Was this writing helpful?
No
Yes