Bitcoin
Bitcoin Price To Plummet By More Than 20% Soon, Claims Analyst
Time to rejoice! The crypto market, which has been struggling to stabilize for a while now, is finally trading in the green. However, still, the overall market is being hit with extreme volatility where the cryptocurrencies are trading to and fro.
Currently, Bitcoin, the world's largest crypto by market cap has surged by 1.15% over the last day and is trading at $19,582. The next immediate resistance lies at $19,800 before moving above the $20,000 area.
As the King currency tries to climb up, a closely followed crypto strategist and analyst is issuing warnings against a new crypto market drop. Back when Bitcoin was trading at around $40,000, the analyst had claimed that Bitcoin will decline by 50%.
The analyst, anonymously known as il capo of crypto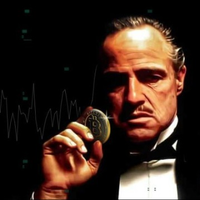 il capo of crypto cryptocapo TraderMarket Analyst
, has put forward his analysis where he informs his 535,000 followers over Twitter that once the crypto market concludes the bounce, a capitulation phase will erupt.
As per the analyst, this is one of the largest bearish hammer patterns ever.
Though the global crypto market cap is still below $1 trillion, in the last 24hrs it has surged by 1.39% and is now positioned at $948 billion. Last week, the global market cap had dropped nearly $940 billion which was a two-month low.
Bitcoin Price At $14k ?
Next, the analyst discusses Bitcoin, where he gives out two possible frameworks. The first is where the King currency will reclaim $20,000 and $20,500 before declining. The second scenario is where BTC fails to climb above $18,400 and $18,700 and starts its downward journey.
Under both frameworks, the analyst believes that Bitcoin will fall between $14,000 and $16,000 area.
As per Capo, Bitcoin is currently on the verge of completing its negative head and shoulder pattern; this was started when the currency fell below $18,000 in June.
Was this writing helpful?
No
Yes